The Most Impressive 'Star Wars' Creations to Celebrate May the 4th
LEGO masterpieces, real lightsabers, jewelry and more.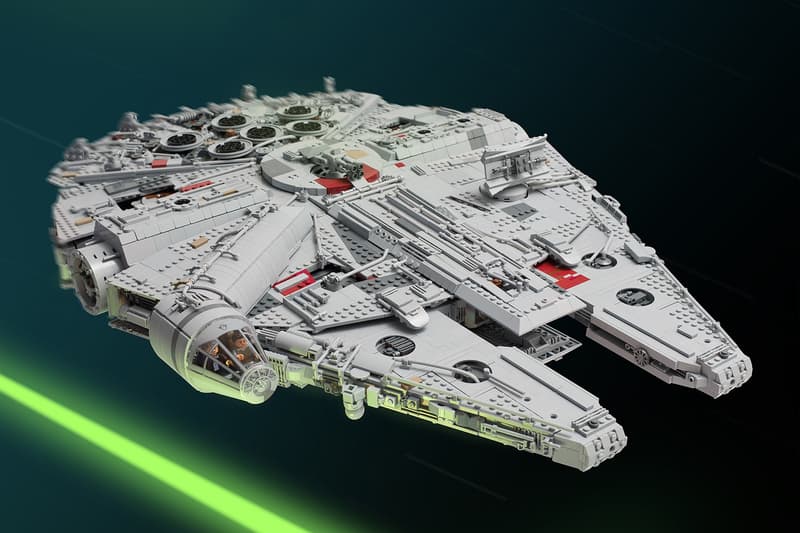 May 4 aka Star Wars Day is upon us and whether you're a fan of the popular franchise or not, you'll surely get a kick out of the pun, "May the Fourth be with you." The phrase apparently dates back to 1979, which was around the time that Star Wars: Episode V – The Empire Strikes Back premiered on the big screen. Now, it's become an annual event-slash-awesome excuse for die-hard devotees to throw galactic parties, dress like Ewoks, and engage in intricately choreographed lightsaber battles. Not to mention, George Lucas' birthday lands on this month as well.
To commemorate Star Wars Day, we rounded up several of the most impressive fan-made creations. From a Darth Vader helmet constructed out of 24-karat solid gold to a Millennium Falcon meticulously made of cardboard, check out our list below and let us know any other wild examples you've come across. Conclusively, look out for Star Wars: The Last Jedi to hit theaters on December 15.
24-Karat

Darth Vader Mask Worth a Whopping $1.4 Million USD

Japanese jeweler Ginza Tanaka has recently crafted a 24-karat gold Darth Vader helmet to honor the 40th anniversary of the Star Wars franchise which coincides with the label's 125th anniversary. The life-size helmet is valued at the immense amount of approximately $1.4 million USD and weighs roughly 33 pounds. Additionally, a set of three commemorative gold coins featuring the notorious galaxy villain will also be sold for approximately $11,000 USD each on May 4.
Death Star Made of 4,000+ LEGO Pieces
LEGO aficionado Bart van Dijk used approximately 4,016 LEGO bricks to create this stunning replication of the Star Wars Death Star. Dijk captured the entire construction process, showing carefully placed laser turrets, operators, vehicles as well as a primary weapon. Check it out for yourself by watching the stop-motion video above.
Millenium

Falcon Crafted out of Cardboard Boxes

Japanese artist Monomi Ohno has a real talent for creating elaborate 3D sculptures using only cardboard. Ohno's striking creations first started when she attended Osaka University of the Arts. She studied 3D animation, but according to BoredPanda, didn't have enough money to pay for the needed software. Instead, she practiced on a slew of empty Amazon boxes which immediately turned into an ongoing project consisting of intricately crafted tanks, mainstream cartoons, food as well as rifles.
Real-Life
Lightsaber

That Actually Burns

Last December, electrical engineer Allen Pan created a lightsaber that is capable of burning real-life objects. The quirky craftsman fitted the lethal device with a nichrome ignition starter that spews a fuel and propellant mixture of methanol, acetone, and butane. Additionally, Pan added a sound FX feature that triggers the iconic humming sound once you trigger the valve control. Watch Pan slay stormtrooper balloons and a Jar Jar Binks paper-cut-out in the video above.
Animal-Inspired Stormtrooper Helmets
NYC-based designer Blank William reimagined the iconic stormtrooper helmet as animal-inspired variants. The animals in question consist of armored-out hippo, elephant and rhino renditions. William created the series to pay tribute to the Star Wars: The Force Awakens film which launched in 2015. Take a look at the photos above and head over to the designer's official website to check out some more cool projects.
A Moving
R2-D2

Mini-Refrigerator

Japanese electronics expert, AQUA, created a remote-controlled R2-D2 refrigerator in 2015. You can stow away your favorite six-pack in this life-size gizmo that is complete with flickering lights, a twisting top unit (the head portion) and more. Check out the gadget in action above.
Star Wars Samurai Figurines
Japan-based collectible toy expert Tamashii Nations created a striking series of Star Wars samurai figurines in August 2015. The vinyl range consists of the Akazonae Royal Guard inspired by the Emperor's Royal Guard which first appeared in Return of the Jedi (1983). Additionally, the company crafted a Teppou Ashigaru Stormtrooper, a Japanese warrior style Darth Vader alongside Boba Fett in an imposing iteration. Take a look at the toys above and let us know which one is your favorite.
Star Wars-Themed Geometric Watercolor Prints
New York-based artist Adam Lister produced a stunning series of watercolor prints touting several of the most popular characters in the franchise. Yoda, Darth Vader, Obi-Wan Kenobi and more get rendered in Lister's signature geometric/pixelated motif. There are a total of fifteen prints and are roughly 7×7-inches each. Peruse select compositions above and head over here to view more.
Bling'd

out Star Wars-themed Jewelry

Japanese jewelry veteran, Justin Davis, presented a gorgeous jewelry collection that spotlights a plethora of Star Wars characters. The Parson's School of Design alum slapped diamonds on a bevy of necklaces and rings emblazoned with the mugs of Stormtroopers, Darth Vader, Boba Fett and more. The pieces range between $1,000 and $10,000 USD. Head over to Justin Davis' official website to view the complete collection.