'Margiela: The Hermès Years' Explores Relatively Unknown Side of Martin Margiela
As explained by MoMu director and curator Kaat Debo.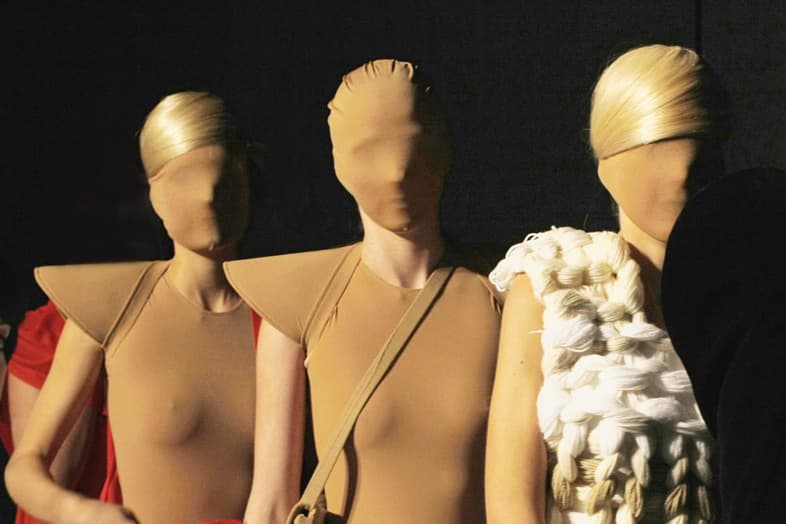 After announcing that a Margiela retrospective would take place this year at the MoMu fashion museum in Antwerp, we now give you a closer look at the enigmatic Martin Margiela during his years at the helm of iconic fashion house Hermès. Margiela: The Hermès Years takes a look back at the private and relatively unknown collection while he was at the famous orange hue brand and examines the fears people had that he would deconstruct the Kelly bag and patterned carré silk scarves. In an interview with Dazed & Confused Magazine, Kaat Debo, the director and curator of Antwerp's MoMu fashion museum where the exhibit will take place starting March 31, talks about Margiela and the inspiration behind the exhibition.
Read some select excerpts below and the full interview here. You can also read about how Jenny Meirens was a major figure in Margiela's formative years and success.
Where did the idea for the exhibition first come from?

Well, for a number of seasons I noticed that Martin's name and heritage were very much alive in the press and in the collections of different designers, which I found remarkable as he quit his house almost a decade ago. I wondered, 'Why now?' I feel that in a time where a lot is changing within the fashion industry, when the fashion system is very much under pressure and designers and brands are looking for a new business model, Martin's work becomes very relevant again. It's so rich in ideas and concepts that if you are looking for an alternative, you somehow always end up with Martin Margiela.

Why focus on his time at Hermès?

I was in contact with Martin and we ended up talking about his work for Hermès. I said that I felt it a little bit of a pity that you didn't find a lot of it online – this was (the) pre-digital era, before the big boom of social media – and we didn't have his Hermès work in the collections at the museum. That's how we ended up doing an exhibition, and I think he was immediately very enthusiastic about the idea because he had very good memories about his work for Hermès. I think he also realised that somehow there was this danger of it getting lost in fashion history, that nobody would pick it up and really show it. There is a generation of journalists who saw the shows, but I think younger people are just not aware of the collections.

In the exhibition catalogue, Olivier Zahm says how Margiela's vision could've translated to almost any brand. He could've done Ralph Lauren and it'd still be Margiela.

Yeah, absolutely. From the outside, they are two very different worlds, but we tried with the exhibition to show that it's two different translations of the same vision. He designed a vision for Hermès very well aware of the boundaries. He knew he was designing luxury fashion for a bourgeois woman, he knew it was going to be very expensive. I think he could've designed for other brands and still stayed honest to his vision and passion. I think a lot of his passions come back at Hermès – his love for tailoring, his love for the male western wardrobe – the archetypal male western wardrobe, like the trench coat, the blouson, the white shirt. He keeps on invented translations of these archetypal garments, both for Maison Martin Margiela as well as for Hermès.

So it wasn't about creating something boldly new for the house, but exploring things he was interested in?

With Hermès it wasn't about a revolution, but evolution and I think the hardest thing for creative directors is when they take over an existing brand or house – to make sure you evolve it, that it becomes relevant today in 2017. I think it's only within fashion that you take over a name, and every five years, three years, you welcome a new creative director that has to translate the work of the founder, who might even be dead. You don't have that in art! It's quite a crazy idea if you think of it.

Do you think that it was a success, his period there?

In part, yes. I think it was a success with customers. I don't have the sales numbers, but I'm quite sure it sold well and that they for sure reached a new audience – a fashion audience. But I think (the) press was really critical. They were getting frustrated, more and more frustrated each season, saying he has so many great ideas for Maison Martin Margiela, why does he refuse to come up with ideas, each season it's all the same.

Would you call Margiela a feminist designer?

It was not in his intention, but for sure there's a feminist part to his work. I think the basis of all of his work for Hermès is just an incredible respect for women. He was designing for women of different ages, so he didn't want to show his collections on girls 16, 17, 18 years old. He really wanted to have natural, mature women from 25 up to 65 which is even now today still very rare for designers to do. He also wanted his models to feel comfortable in the garments – if you didn't like the look, you didn't have to wear it. He invited professional massagers to give a massage backstage, models received a glass of champagne, and he gave them a compliment before they went on the catwalk to make sure they really communicated the comfort of the clothing they felt.

I think Martin is really someone who observes women really well, who asks a lot of questions. He said that his team at Hermès were almost entirely women, that through the very first season were wearing his collections, so from the start made sense that they were also his most critical audience. He really thought it was important to get their feedback. I think it's so beautiful how he talks about women and also observes how women move in garments, how they behave. The idea of the deep v-neck, that you can slide the arms down and knot it around your waist so you don't have to pull the jacket over your head and mess up your hair. It's just small details that are very important often in the daily life of a woman and I think a lot of designers design with an ideal body and an ideal woman in mind. He doesn't do that. Of course, he has a type of woman in his mind, but it's more about that character. How they live and not just about their body.