Why Are High Fashion Labels Obsessed With Scribbles?
The modish mania has its roots in the '70s punk scene.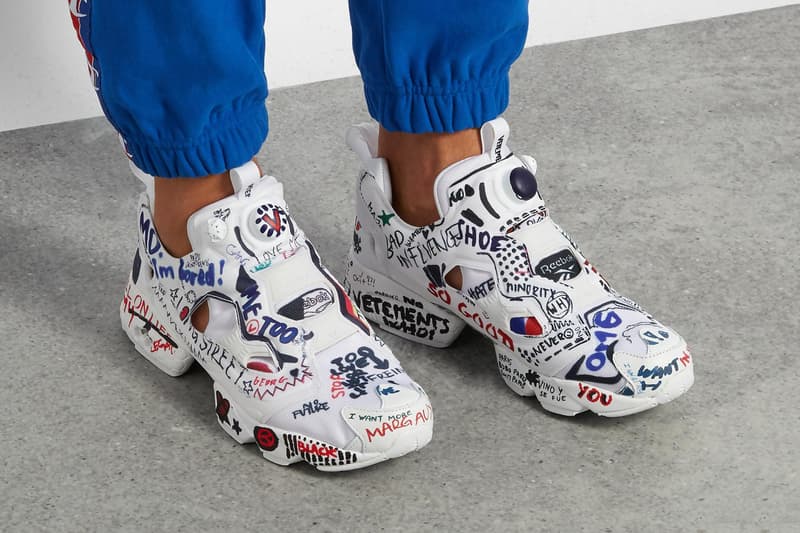 Doodling on a pair of kicks, most notably Converse Chuck Taylor All Stars, is the epitome of middle school distraction. What was once a diversion to blow off some creative steam is now a recognized art form that has been elevated into high fashion. Perhaps, now more than ever, scribbled text and graphics on wares are all the rage for luxury designers. From Gucci's leopard collared denim jacket in its 2017 cruise collection to the Vetements x Reebok Instapump Fury that released this past January, there's no denying that high fashion labels are completely eating up this longstanding mode and a humongous thanks goes to the punk subculture which spawned in the 1970s.
This rebellious movement culled a strong DIY ethic whilst rejecting the mass-produced mania of consumer culture. Extreme self-expression, ear-piercing music, and an edgy attitude are prized elements of the punk ideology. It's safe to say that top-tier imprints desperately want to sell these wayward facets, even if it means deviating from their trademark styles. All in all, the cultural revivalism surrounding this defiant subculture and all of its tenets is real. A plethora of punk-inspired aesthetics have been utilized for years upon years, but it looks like the scribble crusade is here to stay for quite a while.
Read on for key takeaways including the origins of the trend, examples from top designers, as well as a quick primer of today's budding influencer: Australian artist Pauly Bonomelli, aka @himumimdead.
Origins
The DIY sound of '70s punk—brought to you by Sex Pistols, Iggy Pop and the Stooges, The Ramones and The 101er's to name a few—marked a new era for unbridled and unhindered creative expression through clothing and hairstyles. From New York City to London, the unruly coterie latched onto the youth like a contagious virus. Devotees sported Liberty Spike mohawks or messy pompadours like The Clash. In fact, kids back then went crazy with hair dyes in a plethora of shock-bright, unnatural colors such as blue, green, red and vibrant pinks.
This unconventional take on beauty extended itself to outlandish wares that consisted of black leather jackets, studded belts, plaid trousers, ripped denim, skin-tight button-downs, Doc Martens, Chuck Tailors, et al. When it comes to scribbles on wares, you can blame Black Flag or New York City-based band, The Cro-Mags, for introducing ink into the punk subculture. Scrawled Anarchist slogans, X's for the straight edge movement, or the symbol of a girl with a fist going through it for the Riot Grrrl movement are just a few examples of what's to be found and Sharpie-d on a series of punk clothing.
The First to Do It
All hail the queen of punk fashion: Vivienne Westwood. The legendary British fashion designer alongside ex-partner Malcolm McLaren (former Sex Pistols manager) are to blame for bringing modern punk styles and new wave aesthetics onto the catwalk. The pair may not have been the sole architects of this stylistic revolution, but they were the A1 in purveying its modish cocktail of safety pins, dog collars, tartans and of course, leather. In fact, the duo's tiny boutique at 430 Kings Road in London (now named Words End) is packed with punk ephemera—from throwback vinyl to 1950s garbs. One of the key elements in Westwood's high fashion punk aesthetic is her unconventional cloth-cutting techniques that were initially inspired by 17th- and 18th-century styles.
When it comes to scribbles, the designer was extremely zealous in adding scrawled texts onto the wares of her past collections. However, she may be passed that now, considering that her most recent 2017 fall/winter assemblage features scribbles, not on the garbs, rather, the faces of the models. Punk fashion innovation at its finest.
Scribbled Sneakers
What Vivienne Westwood is to the world of high fashion punk, these Maison Margiela Graffiti Sport Shoes are to the realm of scribbled sneakers. According to GQ, this extremely rare pair of trainers were presumably produced in 2002 and initially designed by Adolph and Rudolph Dassler for the German army in the 1970s. The sneakers were passed around and doodled on by Margiela staffers in the company's design studio. Not to mention, the small number of pairs produced were accompanied with an info card that says "Feel free to add your own graffiti." It may have been the one pair of shoes that first started the whole scribbled shebang on footwear.
Vetements' recent take on the Reebok Instapump Fury is undoubtedly one of the most memorable pieces featuring scribbles this year. The crisp white variant emblazoned with a mishmash of doodles in red, black and blue ink was first seen at Demna Gvasalia's 2017 spring/summer runway show last July. The model touts a wide array of phrases like "No future," "Full on life" and "I'm bored."
Earlier this March, Converse unveiled a new collaboration with former Lanvin creative director, Alber Elbaz. Dubbed the "Avant Converse" collection, the high-end partnered footwear range was a tribute to the All Star model's 100th anniversary. The sneakers were adorned with Elbaz's signature scribbles and were offered in both natural and monochromatic color schemes.
Scrawled Wares
Alessandro Michele brought his messianic zeal for punk fashion to one of Gucci's most traditional items: the denim jacket. The outerwear piece features witty wording throughout its panels such as "Don't beat your croutons, you'll get bread crumbs." The jacket which is culled from the company's 2017 Cruise collection comes in a stone-washed blue hue alongside leopard print on the collars.
Comme des Garçons' Rei Kawakubo had her creative sights on the punk movement since the late '70s. Since then, she produced a myriad of collections that brought forth an edgy, abstract and outlandish appeal. It's safe to say that she jounced the status quo and still continues to do so. The menswear button-down shirt above shows Kawakubo's intense fervor for the DIY punk aesthetic.
There is at least one scribbled garment in each namesake collection that Yohji Yamamoto presents on the runway. However, the Japanese luminary went pretty bonkers with doodles for his 2017 spring/summer menswear collection which made its debut at Paris Fashion Week. One example is the white long-coat depicted in the photo above which proudly purveys the designer's first fragrance line for men "Yohji Homme."
Tapping Outsider Art
Without a shadow of a doubt, Pauly Bonomelli (aka @himumimdead) is helping pave the way for outsider art's influence in high fashion. The Australian artist is widely-recognized for his striking, hodgepodge of scribbles boasting anarchist slogans on a diverse range of apparel and footwear such as jackets, jeans and one of his more recent canvasses, an Air Force 1 custom made especially for A$AP Ferg. However, Harlem's hood pope isn't the first hip-hop icon to notice Bonomelli's punk aesthetic. The Melbourne creative has been enlisted by a slew of streetwear's favorite A-listers such as Kanye West and A$AP Rocky. Needless to say, you'll be seeing a lot more DIY projects from himumimdead very soon.