The Worlds of Athletics & Creative Collide at the SMSB Event in Singapore
With the help of Mister Sabotage and the Storror Parkour Collective amongst others.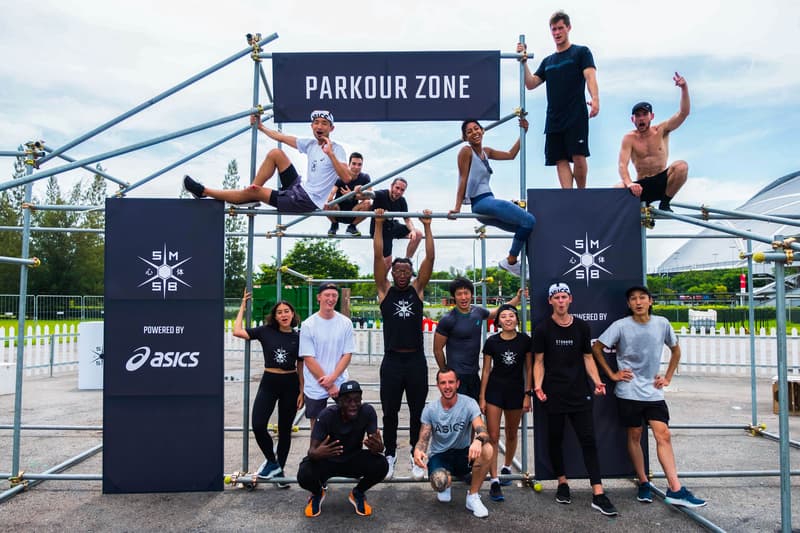 The global Sound Mind, Sound Body community recently got together in Singapore for an all-encompassing sports and creative experience. Along with the help of a hand-selected group of workshop leaders, The Lion City served as an inspiring backdrop for local and global collectives to move and create through the lens of the aforementioned philosophy, which also aligns with the founding values of ASICS. A variety of influencer-led workshops and activities built around the program's four pillars of creativity, movement, community and mindfulness allowed the participants to get acquainted with each other and share their respective approaches to lifestyle and fitness. Notable activities from the three-day experience included a sneaker customization workshop led by Mister Sabotage, a parkour workshop headed by elite parkour collective Storror, an urban photography walk by photographer Jeryl, and a wellness tutorial taught by Holiday Phillips.
The highlight of the festivities, however, was the much-anticipated ASICS relay. Kicking off at the historic Kallang airport, the competing four teams took on a scenic half marathon route along the Kallang river passing by some of Singapore's most iconic landmarks along the way. All runners were fueled by the dedicated SMSB cheer zones throughout the race, though in the end, SMSB SEL + TYO were able to claim the bragging rights over SMSB London, SMSB Paris and the Storror parkour collective. Following the competition all participants and influencers gathered 71 floors up to celebrate in style at Bar Rouge.
We chatted to five members of the SMSB program to gain some insight into the festivities and how they integrate movement into their respective lives and work schedules. Coming together from varying creative realms and cultural backgrounds, Drew Taylor, Mark Ong, Jeremy Esteve, Naomi Clement and Junya Nishigawa share their thoughts on how they interpret the core elements of the Sound Mind, Sound Body program.
How do the worlds of creative and sports come together in your world?
In what way do you associate yourself with the four pillars of creative, movement, community and mindfulness?
Does movement play an important part in creating your work?
What's an essential daily regimen that helps you maintain a healthy mind and body?
How do your respective cities inform your creative process?