Meet the Guys Running Your Favorite Streetwear Instagram Accounts
With over 38 accounts and an aggregated following of over 828K.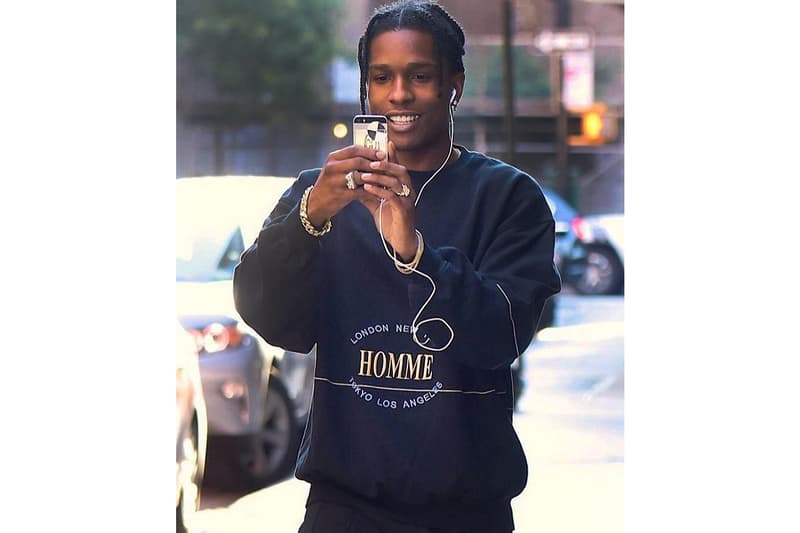 When it comes to consuming content, our dependence on social media grows increasingly stronger each day. Be it news, pop culture, product releases and the like, gone are the days when people relied on newspapers, magazines and television to discover topical happenings. For the fashion industry, especially streetwear, social media is the biggest tool used for promoting brand awareness, and many people's careers are bolstered by their influential Internet presence.
Of all the platforms out there, Instagram is undoubtedly the most popular. For avid users Geo and Zac, the app not only serves to satiate personal interests, it's something that has turned into a full-fledged job. With over 38 accounts – including @streatwear, @fashionfuckery and @fihts – and an aggregated following of over 828K, the UK-based duo run some of Instagram's biggest fashion accounts. By reposting street style photos, celebrity fit pics, fashion memes and product leaks, the two have amassed a substantial online community that engages over 20-30 million weekly impressions across their various pages.
We caught up with Geo and Zac to find out how they managed to build such a big following, what each of their 38 accounts specializes in and what ambitions they have beyond Instagram.
Where are you guys based?

Geo: Proud to be from Manchester, UK.
Zac: I'm currently based in Wiltshire due to a recent move, but I'm from and have lived in London for the majority of my life.
When did you first join Instagram?

Geo: I joined back in 2012 on my personal account, but I started my first page January 2017, and then started taking it seriously by the end of February.
Zac: I first joined Instagram a year ago, September 2016 to be precise.
How many people run your various accounts?

Geo: I've just recently taken on two more admins, so at the moment it's 10. It's hard to find the right admin because they have to be willing to listen and invest time into it. I try to focus on quality over quantity.
Zac: In total across our 38 accounts, around 32 people.
How many accounts do you run?

Geo: I just run my main one, @fashionfuckery. I enjoy running it but I'm considering on recruiting an admin to help with it as it'll free up more time for me so I can focus on other stuff but I always want to be in touch with my audience.
Zac: I run one, @streatwear (not including my personal @zahcy).
What are they and what does each one specialize in?
Geo: All my accounts are "streetwear" but nowadays that word has a wide spectrum – @fashionfuckery is more high fashion (Balenciaga, Vetements, Gucci) then @thupreem, @streetwearss and @streatweardontcare are more mainstream "hype" fashion (Nike, adidas, Kappa, etc). Then I've got @classystreetwear which is more low-key, cleaner pieces and fits. Currently looking to branch out across different areas.
Zac: They're majority all streetwear pages, most become unique depending on the admin's style; some more feminine, others more high fashion and these vary across each sector of our niche.
How did you initially build such a strong IG following?

Geo: By doing my due diligence and being involved before the wave. Also by producing good content and knowing what my audience wants and investing time into it.
Zac: Mindset. Since my first days on Instagram I've always put great focus on learning, whether it's understanding the explore pages algorithm, analyzing trends, follower behavior and so on.
How many followers do you have with all of your accounts combined?

Geo: We have a little over 828.6K, with 35-45 million weekly insights.
How much time do you devote to posting content daily?

Geo: I could spend 0 if I wanted. I only personally run one account so I could just use and app to upload for me, but on an average day, I probably spend a couple hours if needed. Most of the time it's spent managing the accounts and making sure everything's good.
Zac: 1-8 hours, but it can vary based on how much time I have and if I need to spend time in anything specifically on Instagram.
Do you all share the accounts or is a specific person designated for each?

Geo: I own all my accounts fully and share a few with Zac. There are specific admins designated for each account; the best admins get put on the bigger accounts and we all help each other out if needed.
Zac: I also own all of my accounts, apart from the ones I share with Geo.
Are they monetized at all?

Geo: FashionFuckery has a big potential to be monetized but we have no desire to at the moment, as we want to hold off and only work closely with good brands in the future. We believe we'll ruin that chance if we take the small bags off the unestablished brands at this moment in time.
Zac: Yes, via promotions for brands and influencers primarily.
How has IG/follower engagement changed since you first started posting on IG?
Geo: The culture has just grown so much bigger and you can see that in the activity of the accounts and how fast they grow.
Zac: Our niche is now greatly more saturated, which correlates with competition, of course; this makes it harder than ever to be original.
What do y'all do outside of running these accounts?

Geo: I have a role as a social media executive at the CEO of Miss Guided's new menswear line, Mennace.
Zac: I'm an 18-year-old entrepreneur, I have multiple businesses, mostly streetwear-related. I do partnerships with brands and like Geo said working on launching the online shop.
In other fashion-related news, Supreme is reportedly selling stake to a U.S. investment firm.