London to Los Angeles: Grime Don Novelist Decodes His Collection for JOYRICH
A collision of workwear and sportswear.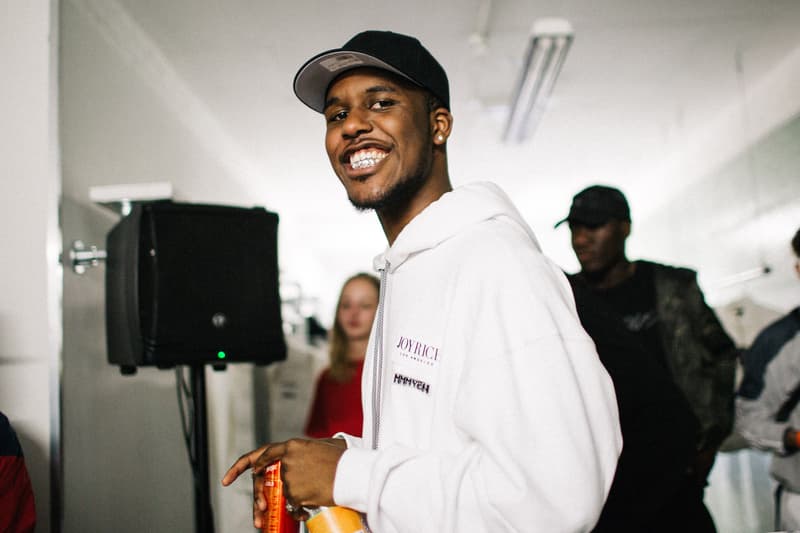 1 of 4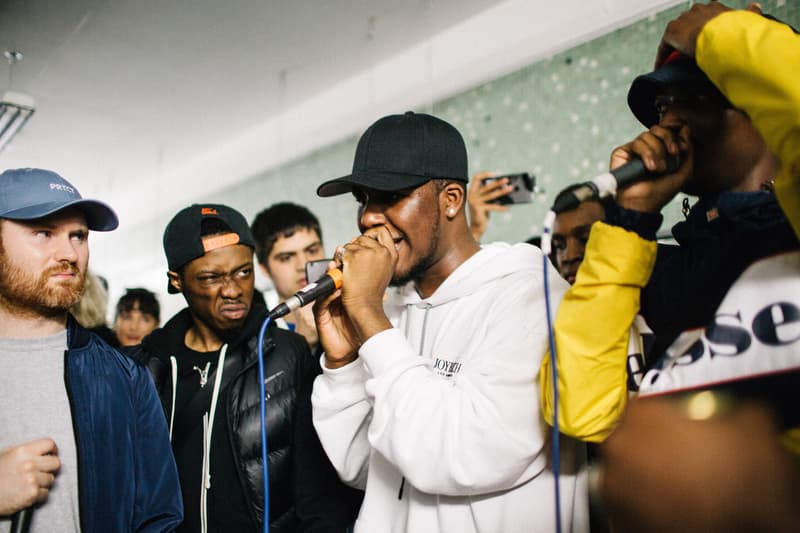 2 of 4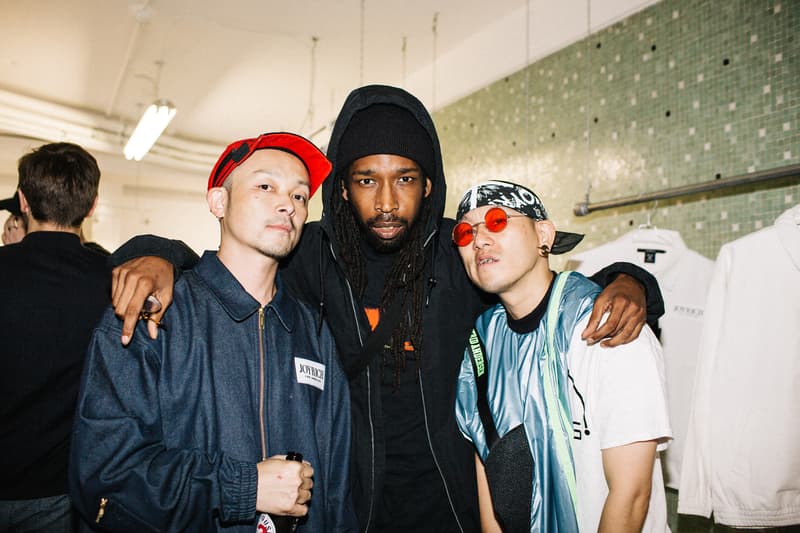 3 of 4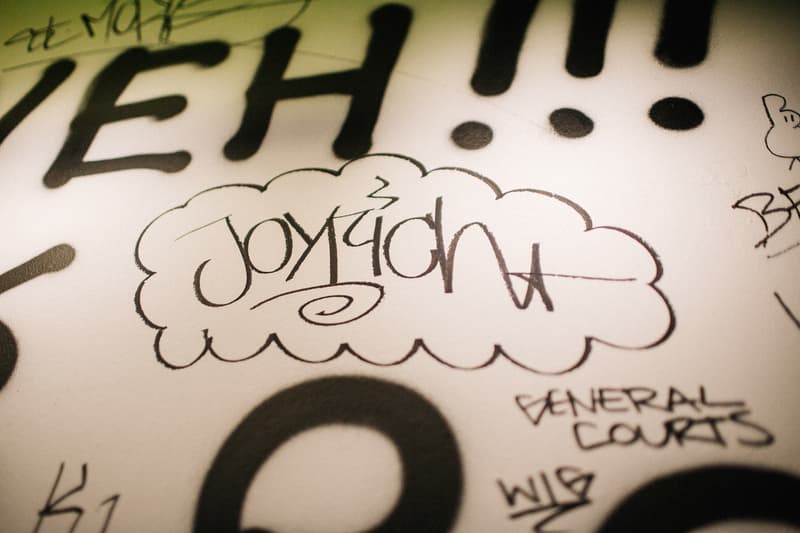 4 of 4
"Go straight ahead and through the underpass" said the kebab shop owner without raising his eyes from the cashier. These directions, for most who inquire when passing through East London, will lead you to Old Street underground station. Yet on this brisk summer evening during the height of London Collections: Men, they lead to EJDER, an underground retail haunt converted from a subway station toilet.
Inside the boutique, shelves were stripped bare from its usual array of curated goods from 424 Fairfax, 3.Paradis, Midnight Studios, HUMAN MADE and Medicom Toy. Instead, a pair of CDJs, a mixer and a pop-up bar provided substitution, setting centre stage for an evening where the once divided tribes of fashion week patrons and grime heads collided in a pop-up frenzy. Reinforcing this harmony between fashion and music was JOYRICH's latest collection drop designed by rising grime star Novelist.
Inspired by the Lewisham rapper's love for workwear, the collection consisted of trucker hats, denim suits, and oversized gilets detailed with paisley prints, silhouettes that conjure up that of classic workwear rehashed with a distinct West Coast flavor. Yet there's no denying the aura of London's urban uniform: the tracksuit, as the jacket's half-zip closure, loose matching fit, and embroidered "Mmm yeah" slogan patch offer a stern nod to the region's unruly youth culture. With grime having made a strong footing State side in the past 12 months, a collaboration which brings together street sensibilities of  both the UK and the U.S. only seems timely, yet Novelist insists that grime's new audience had nothing to do with his ideas for the range. "JOYRICH just has this vibe to it, its lively but crisp, our ideas just go hand-in-hand" said the 19-year old MC.
While the likes of Rihanna, Nicki Minaj and Wiz Khalifa have all been advocates of the Los Angeles streetwear label's daring, kitschy designs, this capsule marks the brand's first artist collaboration. We caught up with Novelist at the JOYRICH pop-up party to learn more about the inspirations behind the capsule line, his love for West Coast rap videos, and his plans now as a solo artist.
1 of 4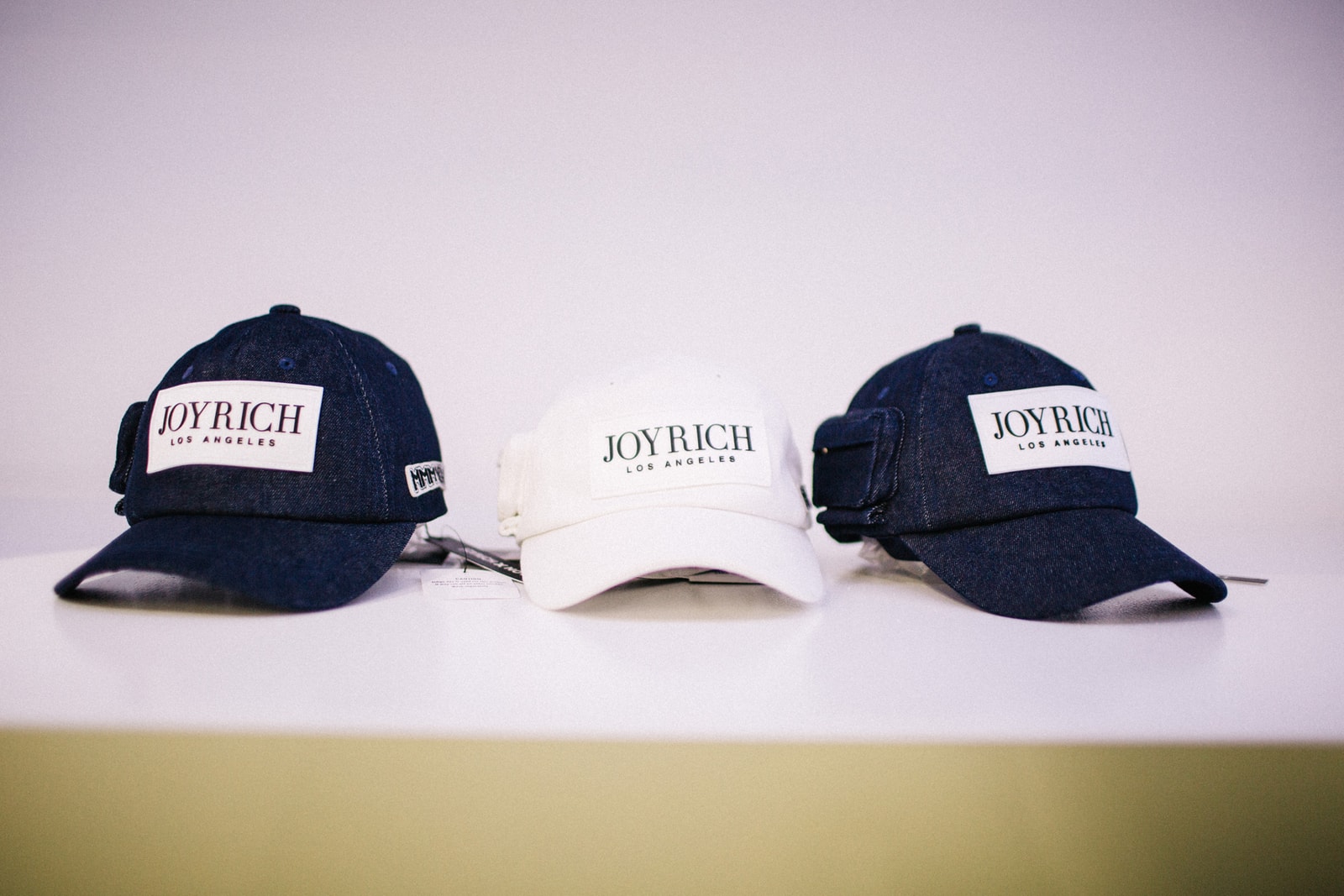 2 of 4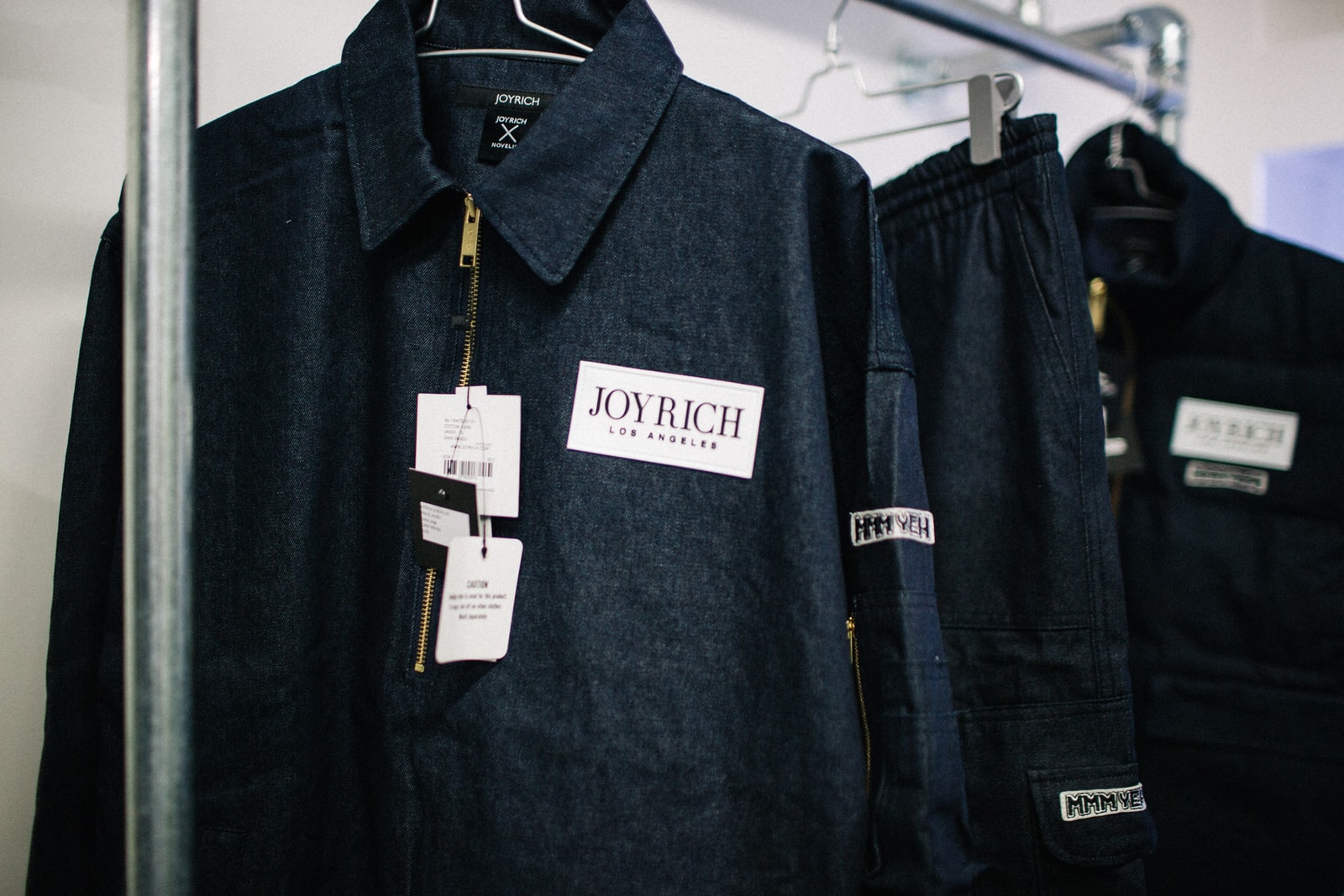 3 of 4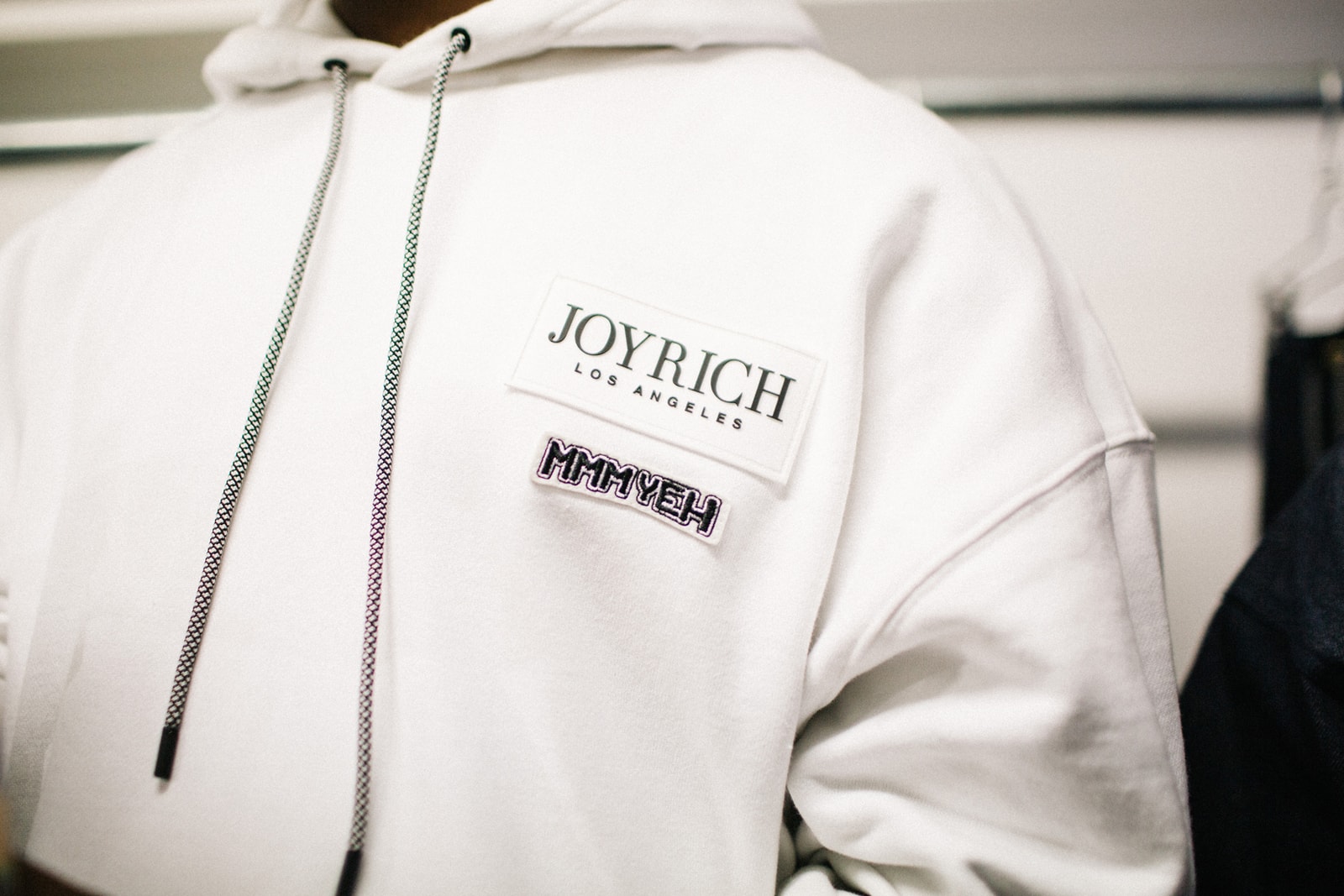 4 of 4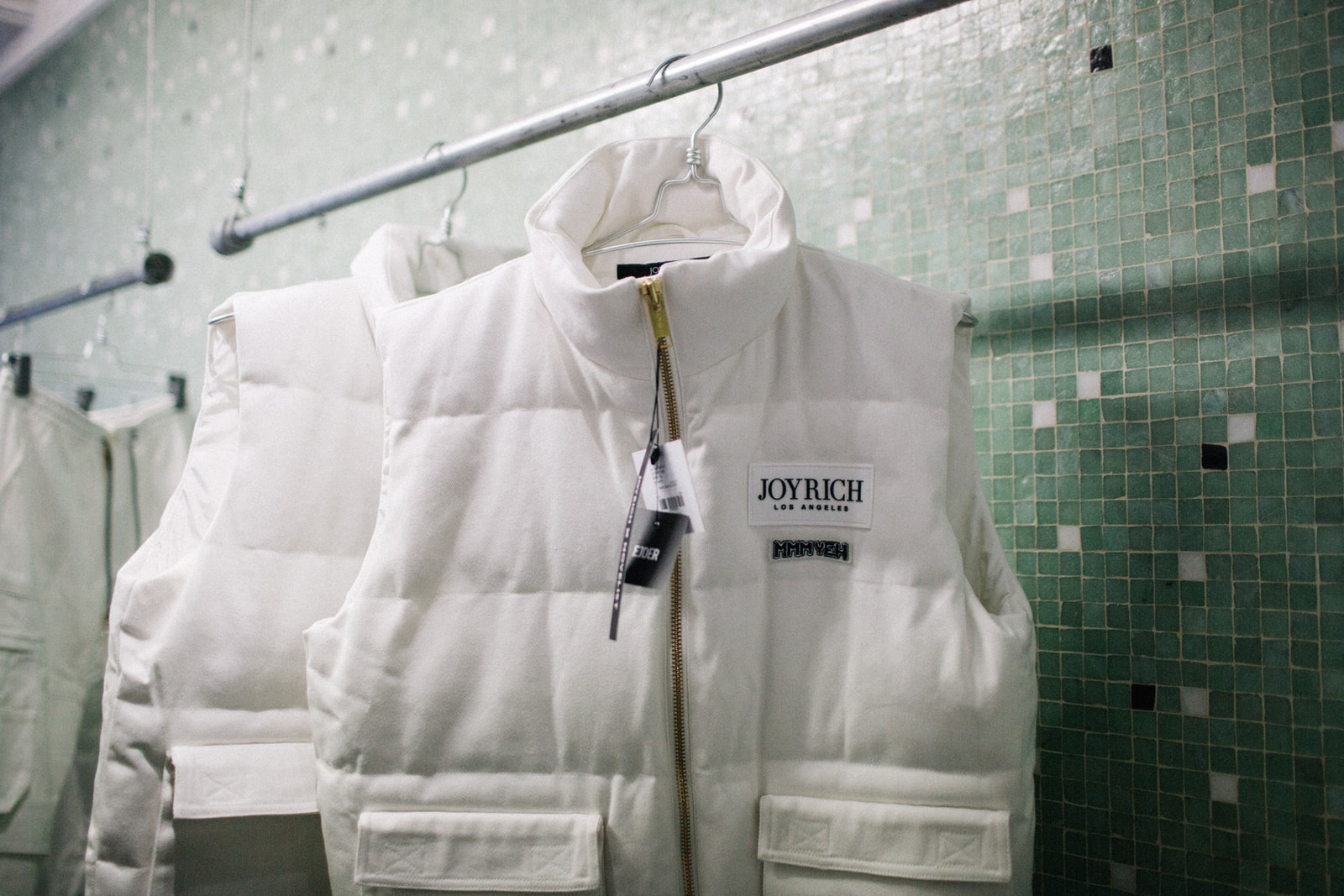 How did this collaboration come to fruition?  
I met Tom Hirota from JOYRICH originally in New York but the idea of a collaboration came from when I went into my friend Ella's office once, she has a PR company called Ella Dror, and immediately I was vibing off the JOYRICH samples. They're bright and daring and have some youthful color to them. Alot of tracksuits and streetwear designs take a darker route these days with weird cuts. JOYRICH to me is just straightforward and clean.
Can you talk us through the creative process on how the collection was conceived? 
It was very straightforward. We didn't have any clashes with our ideas, all the cuts are simple but very effective. Essentially, the collection is mix between workwear and tracksuit. In the UK we like to wear body warmers a lot. JOYRICH had already made body warmers in the past so this went hand-in-hand. You wouldn't normally see denim body warmers, so we've taken a wardrobe staple and given it a bit of a a twist while still keeping things distinctly UK.
And the lookbook? Where was this shot? 
Bruv, it was shot in Lewisham, in my hood, in my ends. I saw a palm tree and was like rah, that has a West Coast vibe to it. I was tripping how that frame was so much like Los Angeles but it feels like Lewisham at the same time. I had my droptop and we just shot it there. The lookbook is a distinct reflection of the cross-cultural feel of the capsule drop.
1 of 2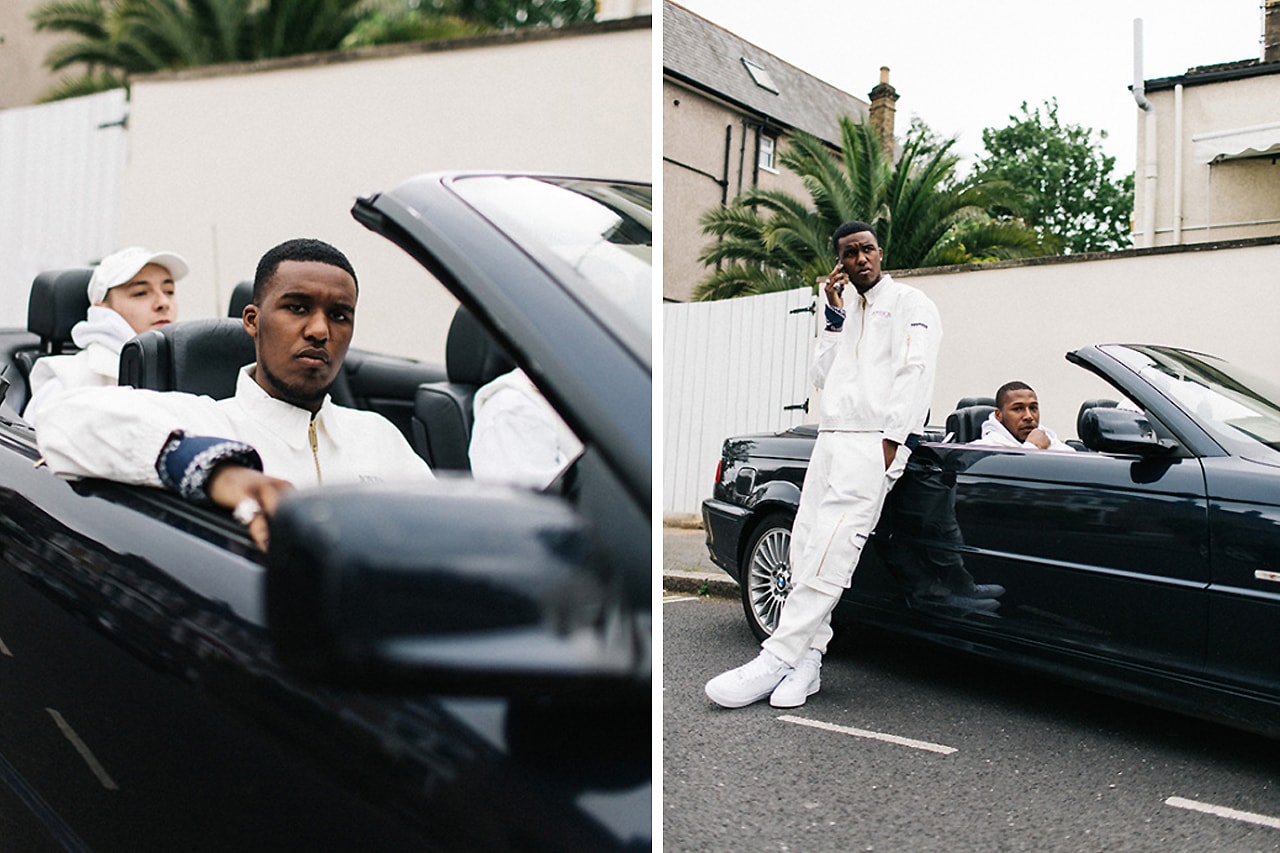 2 of 2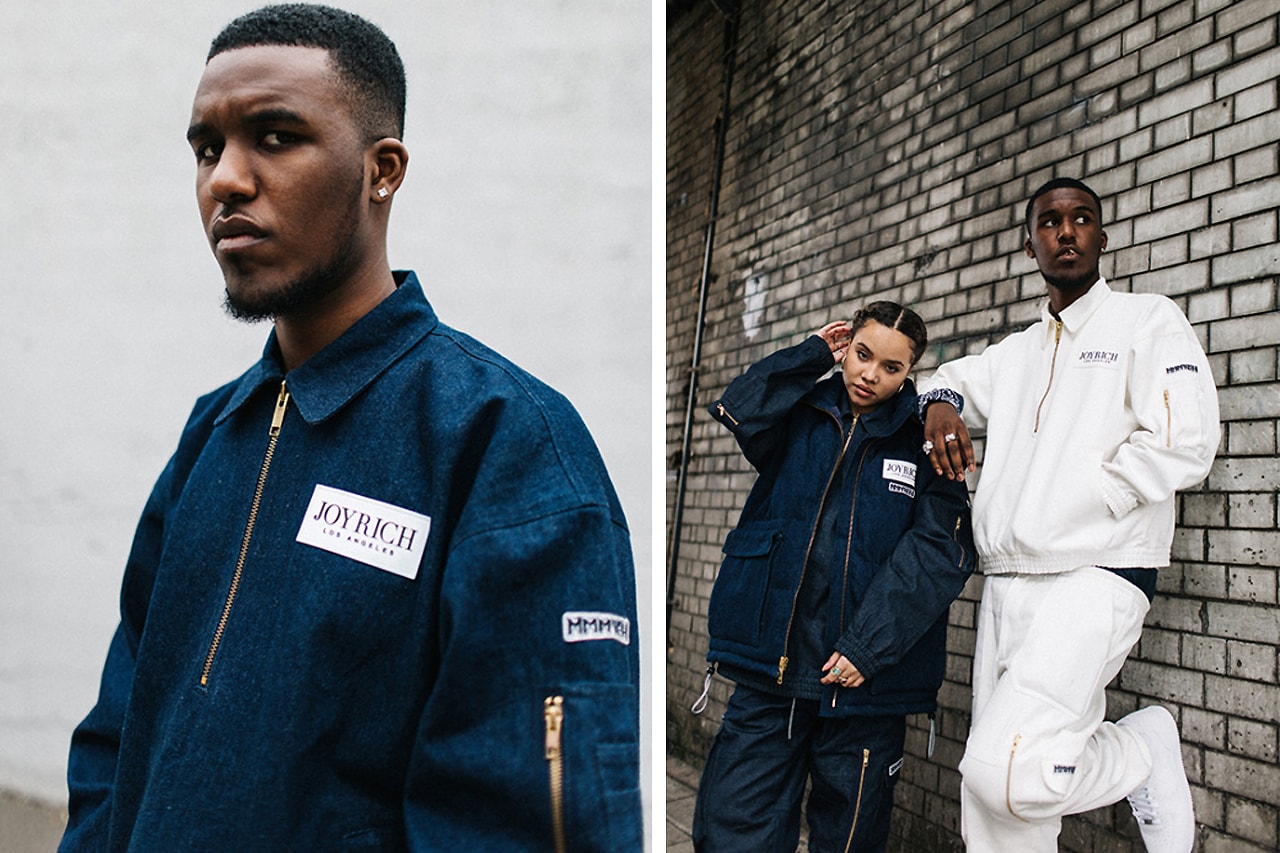 We can definitely see the UK reference, but it also upholds a West Coast sensibility, with the use of denim giving nod to Japanese appreciation of Americana.
Well Tom's from Japan originally but the brand was founded in Los Angeles so we definitely wanted to bring West Coast and London together. I've always loved workwear and styling in West Coast rap videos. That kind of lounge-y, casual look was a big part of my youth. I used to skate too, so it worked.
Why did you choose to do the launch party at a renovated toilet-turned-shop at Old Street Underground station?
Shout out to Ella. She connected the dots and organized the party at the EJDER store. The store's been really supportive of the crossover between grime and fashion so it was a natural fit. Nothing flashy, very community orientated. Perfect for a pop-up party.
There's an ongoing relationship between grime and runway designs. Fashion wise, where do you think the future of grime is going? Will we see the return of Akademiks jackets? 
Ha! It's hard to say but young people know what they like and things get recycled over time. We're in a time where we bring various styles together rather than making a whole new style exclusive to one tribe. This collection was blending UK with U.S. which isn't unoriginal but it is refreshing. Someone might follow-up with Japanese cuffs on trackpants, who knows? A lot of fusions will happen because inspirations can be pulled from anywhere
A lot of grime artists have delved further into the North American market, will you follow these footsteps?
To be honest I don't really care about the U.S. market, all I care about is good vibes. I just go where there's good vibes. If there are vibes in Seoul, I'll be there, if there are vibes in LA, I'll be there. North Pole, I'll go there. A lot of people focus on the U.S., I'm not focused on anywhere, I'm focused on everywhere.
You left The Square in 2015 and have embarked on a solo career. Any forthcoming projects you can share with us?
I'm staying solo and will focus on bringing high-end video productions to the UK. A lot of West Coast videos I grew up watching are on this Hollywood level. I want to spend more budget on creating visually appealing videos, spend up to like £10,000 GBP so I'm levels up from my peers.
Join Our Discussions on Discord
The HYPEBEAST Discord Server is a community where conversations on cultural topics can be taken further.