AJ30: The First Time Jordan Dropped 30
Ahead of tomorrow's Air Jordan 30 unveiling, we look back at a special night for MJ.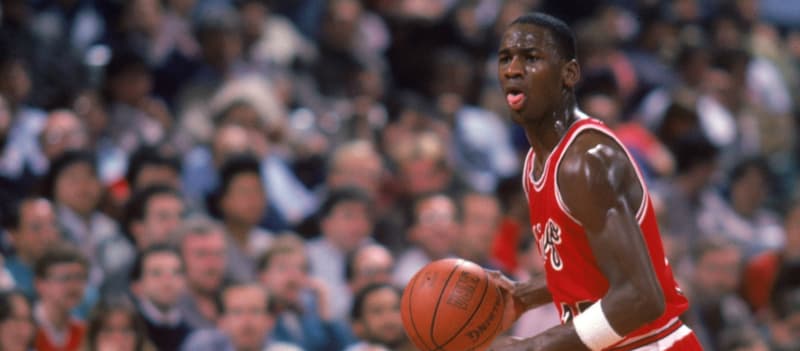 MJ is back to drop another 30 on us, this time with his namesake brand and the Air Jordan 30.

The front page of the Chicago Tribune on October 30, 1984 featured stories on Reagan's shift to the "Blue Collar Battleground" in his campaign for a second term as the POTUS, the UN's announcement of "Millions in Africa Starving," and "OPEC will cut oil output to bolster prices," hoping to "reverse the recent slide in oil prices."
In the top left, a young Michael Jordan is seen soaring above two Milwaukee players as the rookie guard led the Chicago Bulls to a W in their third game of the year. Scoring 37 points that night, his first professional 30 point effort, Jordan solidified himself as a bona-fide superstar in the NBA.
In his first two games, Jordan shared the floor with third-year guard Quintin Dailey, scoring 16 and 21 respectively. For those of you who don't know who Dailey is, he was a previous All-American from the University of San Francisco, the seventh pick in the 1982 NBA Draft, and later a member of the All-Rookie Team in 1983. After averaging 15 and 18 points per game in his first two years, Dailey was considered a rising star in the league. Then he was introduced to his new teammate, one who would battle him everyday in practice — fellow shooting guard Michael Jordan.
Just an hour before October 29's game, Bulls' General Manager Rod Thorn received a call from Dailey's brother stating the Baltimore native was sick and unable to attend the game. The next day, Dailey saw the front page of the sports section reading "Show-stopper: Dailey misses Jordan's act."
With Commissioner David Stern in attendance, Jordan started strong, dazzling with a reverse lay-up as we would see so often throughout his career, then sending a monster block a few rows back in the stands. However it was his fourth quarter performance that would foreshadow his legendary time on the NBA hardwood. Starting the quarter down ten points, MJ would score 22 in the last 12 minutes, and 20 of the Bulls' last 26, leading his team to a 116-110 victory, showing his strength around the basket and hitting clutch threes along the way.
Legendary coach Don Nelson of the Bucks said that night, "he was sensational. Down the stretch we couldn't do anything with him. We tried double-teaming him and he just jumped right over it."  Jordan however praised his teammates after the game, saying, "I'm not the superstar of this team and I don't want to overshadow anyone…I need the 11 other guys."
We all know what soon followed for Jordan; Dailey however bounced around the league, finishing a ten-year career averaging 14 points per game, later dying in 2010 due to hypertensive cardiovascular disease. In 1994, Daily would admit "My thrill of all time was to be on the same floor with him (Jordan)."
As a hoop fan all my life, to me, 30 points in a game was the difference between a "good night" and a "great night." The difference between "a solid contribution to the win" and "dude, beasted." And just to put things in perspective, because the world loves comparing Kobe and LeBron to MJ, James didn't reach 30 points until game 17, while Bryant hit 30 on game 19 of his second season. MJ continues to win the debate.
Be on the lookout for tomorrow's official debut of the Air Jordan 30, as HYPEBEAST is currently in Chicago waiting to deliver you exclusive coverage. Also, be sure to follow us on Instagram and Snapchat (@HYPEBEASTDaily) as we'll be delivering live looks during the unveiling event.