Nike Opens Its Largest Distribution Center Worldwide in Tennessee
Nike opens a state-of-the-art, 2.8 million square-foot facility in Memphis.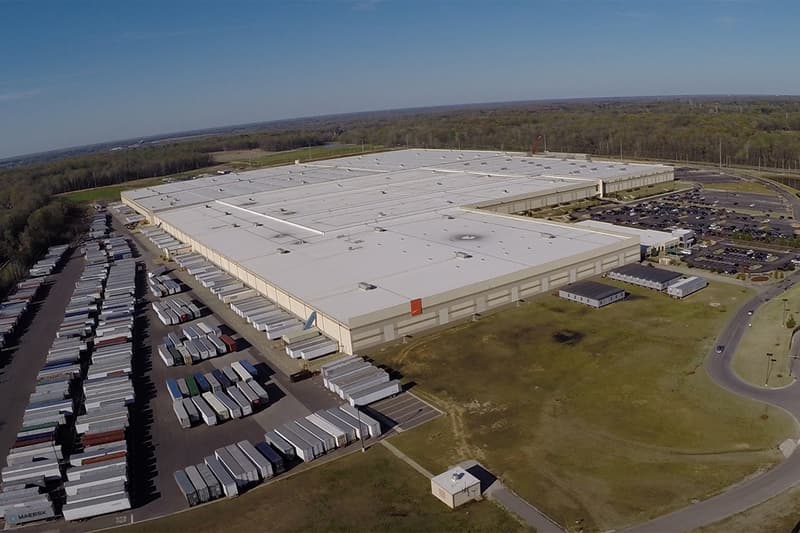 The state of Tennessee is now home to Nike's largest distribution center with the opening of the Swoosh's North America Logistics Campus in Memphis. Spanning more than 2.8 million square-feet, the state-of-the-art facility — with its 33 miles of conveyor belt, 73 outbound doors, and 96 receiving spurs — houses footwear, apparel, and equipment all under one roof and distributes Nike and Jordan Brand products to individual consumers, wholesale customers and the brand's own retail channels. Said Nike's Chief Operating Officer, Eric Sprunk, of the acility:
Nike's focus on the consumer is relentless. We built NALC-Memphis to enhance our ability to provide our consumers what they want: premium Nike products delivered quickly and efficiently. When we deliver like this for our consumers, we grow and expand our business. Through successful partnerships with state and local government, we've built a premier logistics center that meets the increasing demands of our consumers and our wholesale customers, while also ensuring that the facility meets our high standards for sustainability. By establishing NALC-Memphis, we're setting a new standard for Nike.
Trish Young, VP of North America Supply Chain Operations, went on to say:
This facility was built to offer greater cost efficiencies, reduce shipping times and increase service capabilities for our consumers and retail partners. We also followed LEED certification guidelines, and the operations have elevated the Nike Supply Chain in ways that impact our entire portfolio and strengthen our brand.
All in all, the opening represents a unique touch point in Nike's history: the brand's very first distribution center opened in Memphis back in 1982 when revenues stood around $700 million USD. Since then, the company has gone on to surpass the $30 billion USD mark.