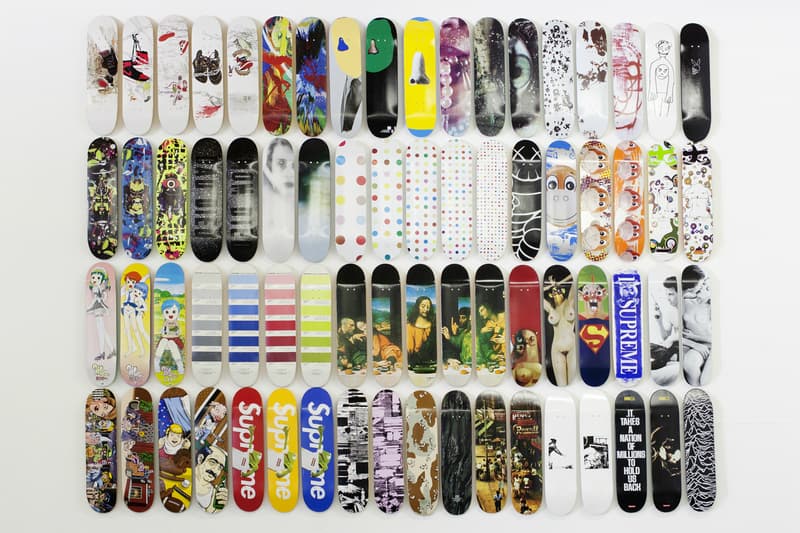 1 of 4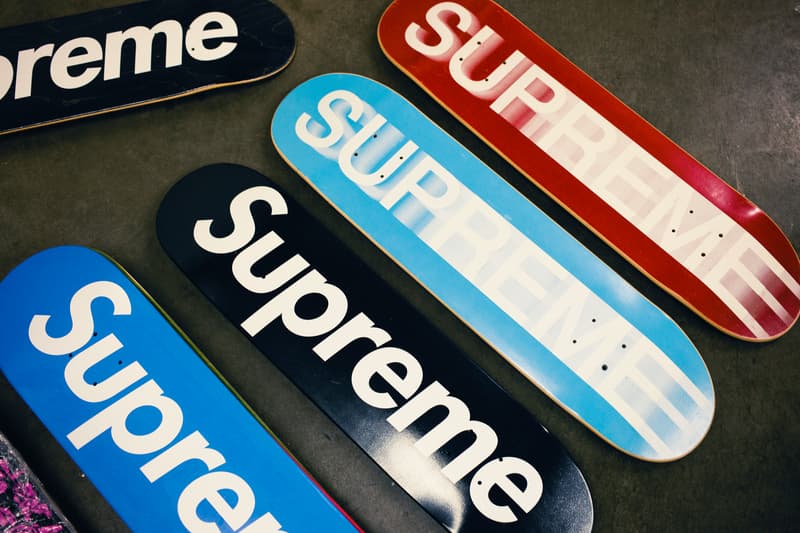 2 of 4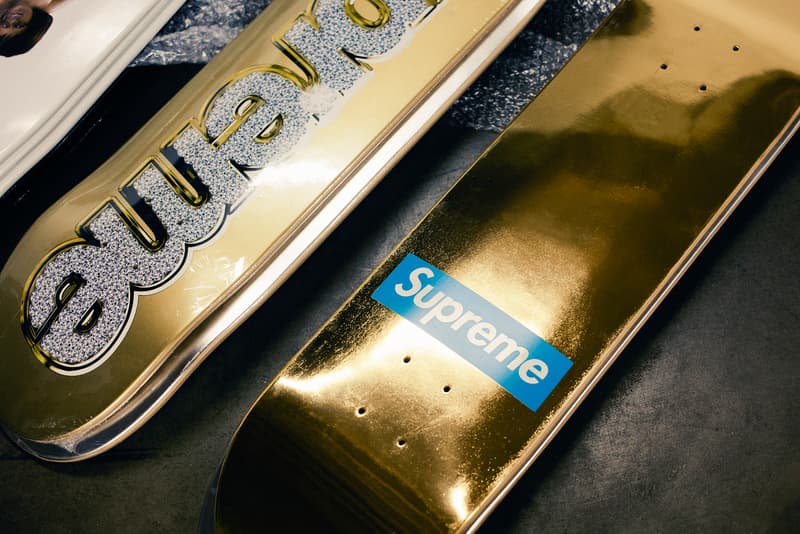 3 of 4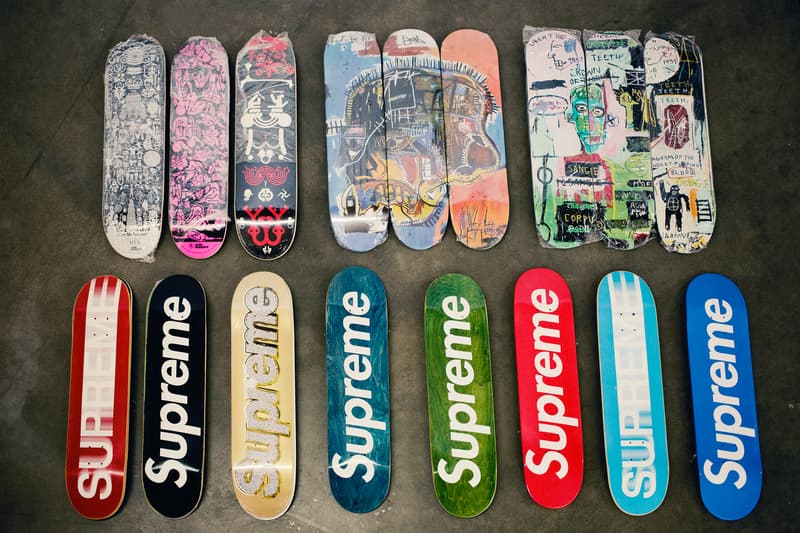 4 of 4
Always Timeless to Showcase a $100,000 USD Traveling Skate Deck Exhibition
The co-founders discuss their private collection of Supreme skate decks dating back to 1998.
---
Since its inception, skateboarding has seamlessly blended artistry and sport through deck graphics, creative videos, music and virtually all other media conceivable. When Cadillac Wheels developed the first-ever polyurethane wheel and hired artist Jim Evans to illustrate its ad campaign with a series of paintings in the early 1970s, the blend of artistry and skateboarding was forever solidified. Since then, skateboarding has launched the successful careers of not only pro skateboarders, but artists such as West Humpston, Sean Cliver, and even musicians like J Mascis and Dinosaur Jr. This blend evolved even further when core skateboard brands such as Supreme, Girl, and Alien Workshop had the idea to feature contemporary artists, not necessarily involved with the world of skateboarding, such even Hello Kitty of Sanrio on the new medium of the skateboard deck.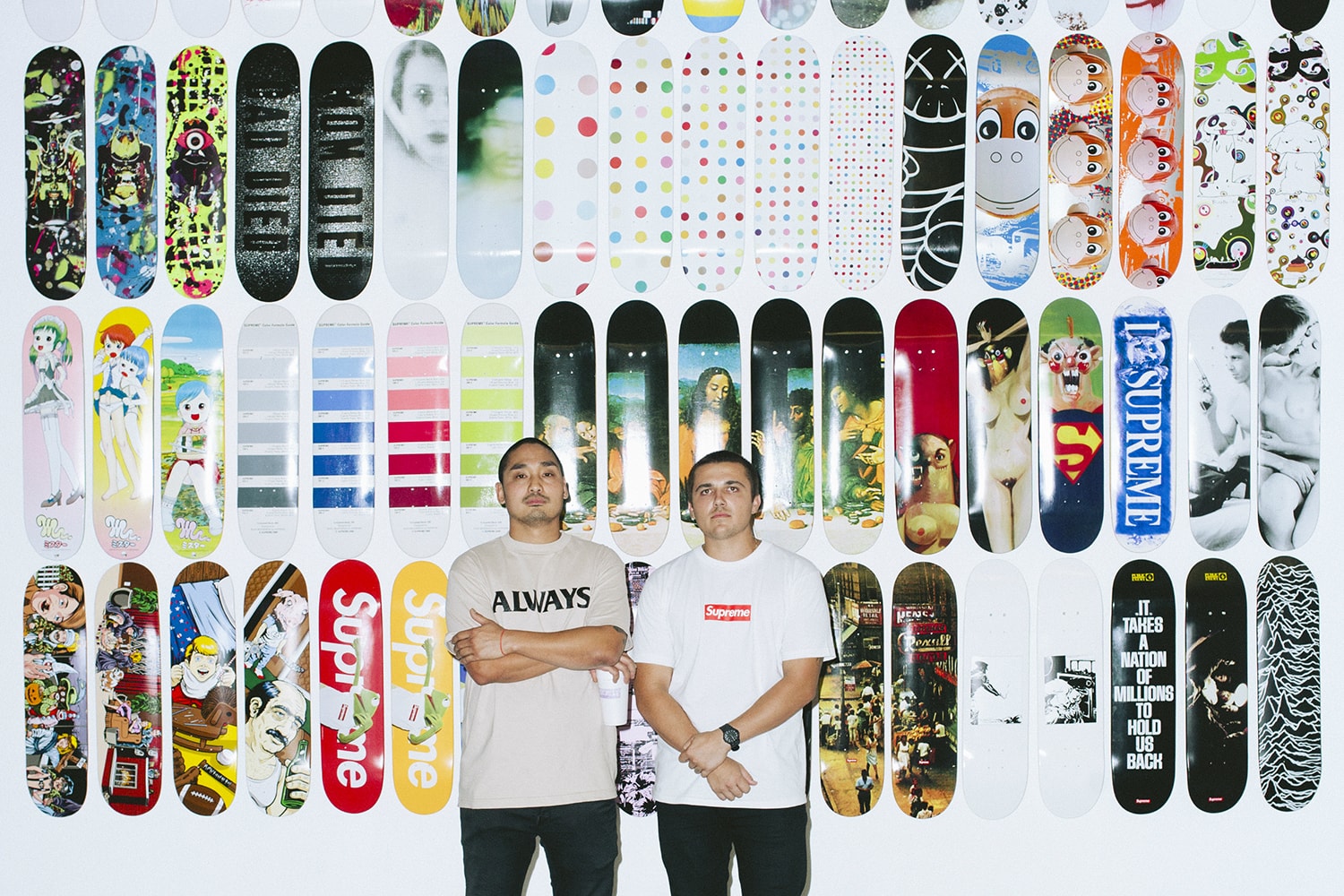 In 2011, Arizona premier boutique Always Timeless opened its first storefront in the city of Tempe. The retail space offered highly sought-after streetwear apparel, memorabilia, skateboards and skateboard accessories. Helmed by co-founders Rocky Huang and Mario Gallego, Always Timeless—a solution to the absence of a local retail experience that could genuinely meld both the street and skate subcultures—has since risen to become one of the state's leading purveyors of cool. Providing a selection of powerhouse goods meticulously curated over the years since the opening of the duo's first store in 2011 and its second—the "Gallery" — two years after, the brand has not only managed to lay a promising foundation for its very own in-house line: ALWAYS, but also accrue one of the largest private modern art-focused skate deck collections in the world. In its possession, both original and collaborative Supreme skate decks that date back as far as 1998; in addition to several other artist decks from Alien Workshop, Krooked, The Skateroom and more, featuring the works of iconic artists Jean-Michel Basquiat, Ryan McGinness, Keith Haring and Paul McCarthy.
Always Timeless' passion for collecting these rare skateboards stems much deeper than a superficial yearning for the irrefutable clout that accompanies the absurd re-sale price tags on some of the aforementioned decks. We caught up with the co-founders of the boutique-turned-skate imprint to talk the brand's humble beginnings, Supreme's influence in street and skate culture, and their 2016 "Timeless Gallery Deck Show" — a traveling exhibition displaying the co-founders' private skate deck collection, a collection worth over $100,000 USD, to launch next year.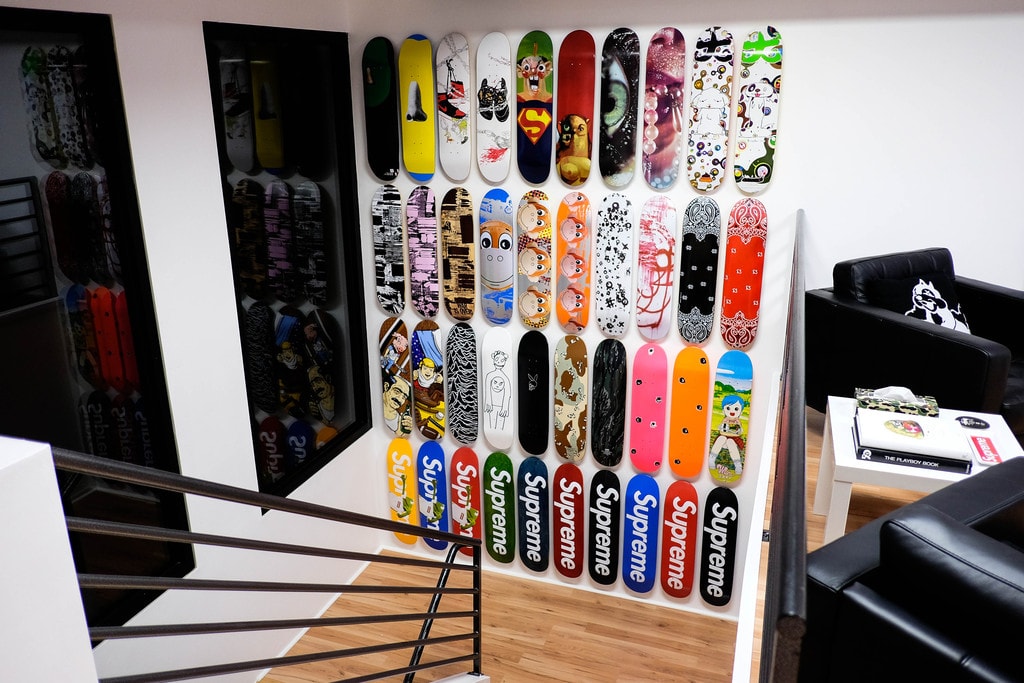 Where are you from, originally?
RH: Born in San Francisco, raised in Arizona.
MG: Born in Phoenix, raised in San Diego and Arizona.
How did you meet Rocky?
MG: We met five years ago. I used to work at a local streetwear store that Rocky would shop at.
What led to the emergence of Timeless as a boutique?
MG: Unfortunately, the store I worked at ended up closing, so I needed a job and I knew Rocky was doing screen printing at the time. I reached out to him and thankfully I got the job. We both had interests in the same brands and things. We would always bounce ideas around and talk about opening a store. At the time, no one [locally] was doing this "re-selling" shit on a retail platform like us that wasn't sneaker based. We took pride in what we picked. I would hate putting product out that was released within two years. We were more focused on the historical aspect versus the shameless flipping route. We stacked up as much product as we could for a year and then we opened Timeless in November of 2011.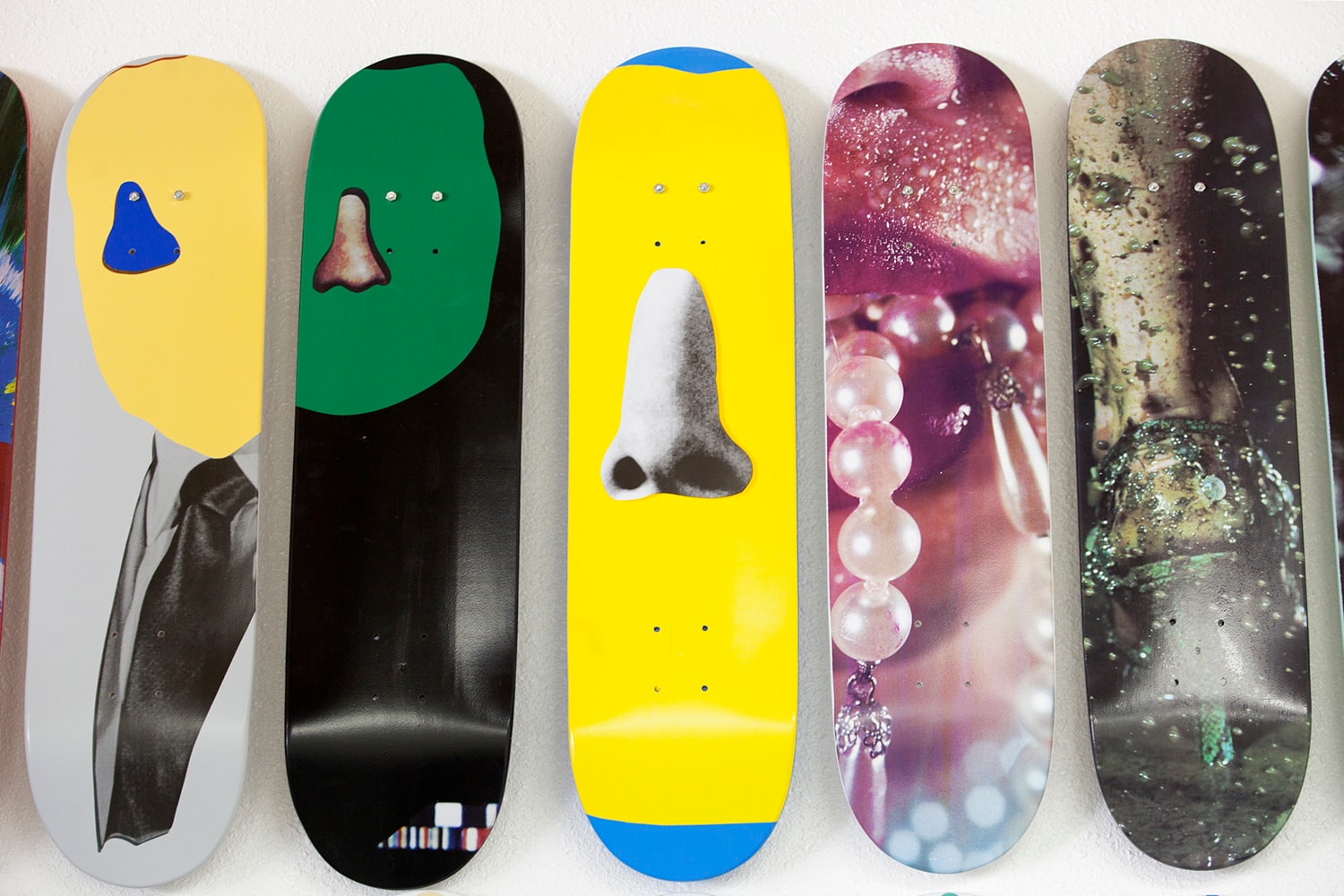 Describe your philosophy as a brand?
MG: Our philosophy is to continue the communication of street culture through art and clothing. The actual Timeless brand will be concentrating more on our own art-based collectibles. ALWAYS is a brand heavily influenced by Arizona. It's saddening how so many people from Arizona are ashamed of it. We wanted to create something for locals to be proud of.
I used to frequent your retail space at your prior location, it carried an assortment of limited-edition apparel, home essentials and other miscellaneous items with a focus on streetwear. What led to your decision to become a streetwear-centric boutique and not a traditional skate shop?
MG: Our first store opened in 2011 and was a concentration of brands that have had the largest influence on skate, street and art culture. With nearly two decades of product from prominent streetwear brands, it was easy to compile a "best of" selection to showcase in our shop.
What about Supreme's cultural presence and its prowess as a stalwart in streetwear inspires Always Timeless?
MG: Supreme's cultural influence has been evident for the past 20 years. They have pushed the envelope in fashion and skate consistently during this time, all while continuing to bridge the gap between contemporary art and skateboarding.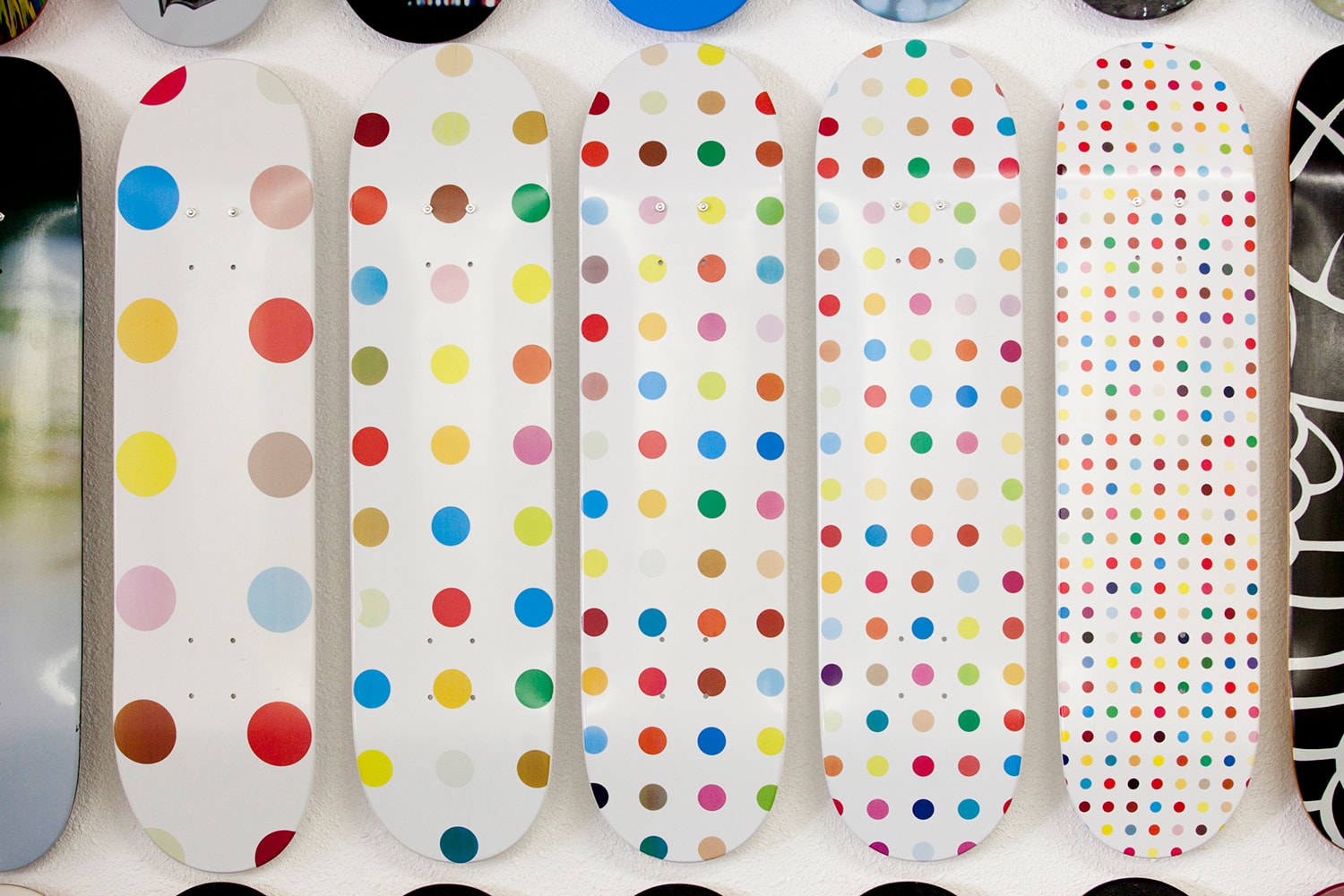 Tell us about your new deck installation?
MG: Over the past few years, we have grown as people and so have our interests in expanding the Timeless brand. During this period we have amassed the largest private Supreme artist deck collection in the world. However, our collection does not only feature Supreme, we concentrate on skate deck art as a whole. We have numerous collectible artist collaborations from other well-known brands as well.
What are some of your favorite boards that you own of Supreme?
MG: Our personal favorites have to be the Last Suppers, Ryan McGinness decks, Nate Lowman decks, and Rammellzee decks (RIP).
Roughly how much do you think the collection is worth?
MG: The value of our collection exceeds $100,000 USD.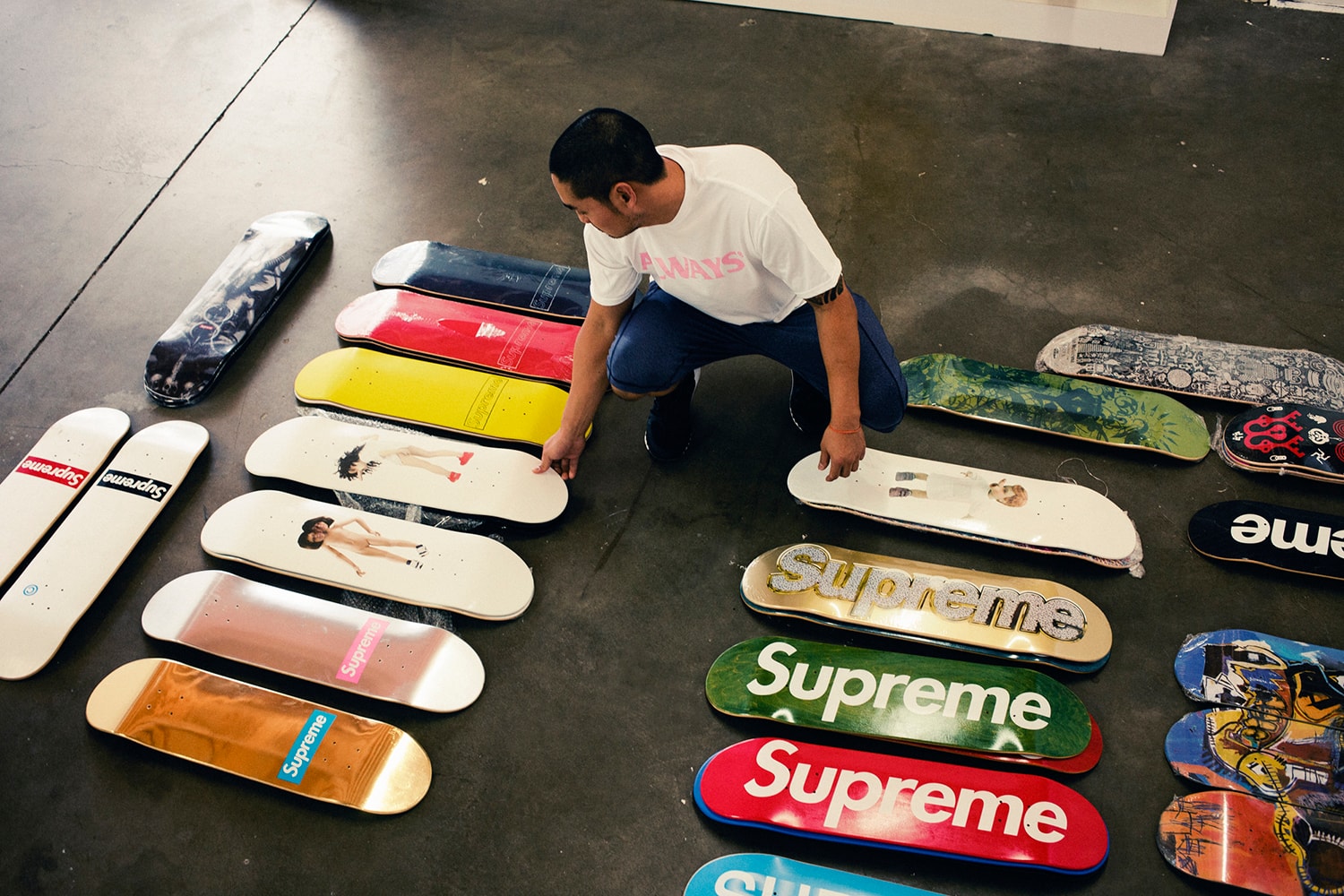 What is the most memorable story you have from acquiring one of the boards from your collection?
MG: We actually acquired the Leonardo da Vinci "Last Supper" set—arguably one of the hardest sets to get—through a forum. While negotiating, we realized the owner has had direct ties with Supreme since day one.
Are skate decks something Always Timeless will be focusing on moving forward now with your in-house line ALWAYS having just launched?
MG: "Timeless Gallery" will focus solely on art based projects and items—everyday essentials outside of the clothing industry.
What can we expect for 2016's "Timeless Gallery Deck Show" tour?
RH: We will be showcasing every Supreme artist deck they've made, in addition to rare in-season skateboards. Collaborative artist decks from Alien Workshop, Krooked, Girl Skateboards, The Skateroom and more will also be displayed.