How Tobe Nwigwe Made Pharrell's Latest Moncler Genius Launch a 'MoMINTous' Occasion
Hypebeast caught up with the Grammy-nominated musician, who was the focal point for Moncler and Pharrell's entertainment last night.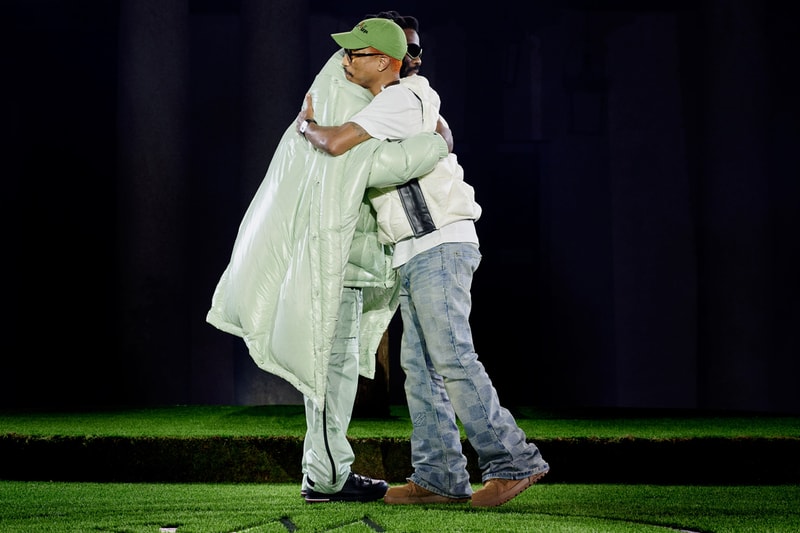 Pharrell Williams has earned his right to be labeled a creative genius.
Aside from making hit after hit in the music industry – since his inception into the game in the early 1990s as part of the R&B production duo, The Neptunes – Pharrell has become a solidified mainstay in the fashion world; first collaborating with the likes of Chanel in the earliest days of his career, before launching his streetwear-centric label, Billionaire Boys Club, creating his adidas sub-line, Humanrace, and signing the dotted line to become Louis Vuitton's new creative director earlier this year.
Those are just a handful of major highlights for Pharrell over his career so far – but another one has just come to light: a brand-new collaboration with Moncler – powered by the Moncler Genius platform – in a fresh move that continues to solidify Pharrell's relationship with the Italian luxury house since their first link-up in 2009 for a special line of men's jackets.
In celebration of the new collection, Moncler x Pharrell Williams brought their creations to an official launch party at Portrait Milano, Milan, for an exclusive event that welcomed five thousand people and featured an electrifying ensemble and expert curation from the creative mind of Tobe Nwigwe.
Pharrell's latest collaboration with Moncler is built on a shared foundation of community and lust for life, and fueled by an avant-gardist energy. Manifesting into a city-ready collection made for adventure and primed for the great outdoors, this concept was encapsulated perfectly by Nwigwe, who took the unpredictability of the great outdoors and transformed it into an encapsulating performance, jam-packed with dancers, accompanying musicians, lighting, and a one-of-a-kind stage design that showcased Moncler and Pharrell's glamping-inspired collection to full effect.
Family camping, but with an emphasis on refinement, craftsmanship, and expertise sits at the core of Moncler x Pharrell Williams. The clothes are meant for outdoor experiences and metropolitan adventures alike, with the fluidity of natural forms and the geometry of architecture inspiring a line of heavy-duty puffer jackets, utilitarian fisherman's vests, transformable trousers, and much more.
Nwigwe, who since August 2016 has posted an original song and video every Sunday across social media, has garnered a stellar following, gaining co-signs from Michelle Obama – who added Nwigwe's hit record "I'm Dope" to her workout playlist – while also grabbing a "Best New Artist" nomination at the 2023 Grammy Awards. This high level of consistency in his craft, along with his keen eye for fashion and detail, made Nwigwe the perfect fit for the Moncler x Pharrell Williams launch party.
However, Tobe Nwigwe's relationship with Moncler doesn't start here. In April 2023, Nwigwe wore a custom Moncler look – co-created by himself and his wife, Fat – during his 2023 Coachella performance, creating one of the cleanest outfits seen throughout the event, that he and his wife aptly dubbed "Summer Winter Wear."
Speaking with Hypebeast before his performance at the Moncler x Pharrell Williams launch, Tobe Nwigwe said: "I'm always excited about working with Moncler and doing any type of collaboration involving Pharrell. He's the highest level of what I think exquisite taste is in the culture – he's a phenomenal human being. Moncler is also always very easy to work with, and packed with great people from all over the world that execute what they do at a very high level."
Pharrell and Nwigwe were side by side at the performance last night, alongside Moncler chairman and CEO, Remo Ruffini. Pharrell was spotted in a custom Moncler x Pharrell Williams look and was joined by family and friends, including Helen Williams, Fat Nwigwe, SAINt JHN, and Willow Smith – and all were wearing the glamping-inspired Moncler Genius collection.
Tobe Nwigwe who donned a custom Moncler x Pharrell Williams look in his signature mint-colored look, continued: "I've always been a fan of Pharrell from the standpoint of being someone that makes massive hits and being very cool with his style. But since I got to know him, I turned into a super-fan of Pharrell – without anything to do with music. It's about how he maneuvers through life and how he handles people. It makes you realize that this is the kind of person people should aspire to be."
Other guests seen at last night's event were the likes of Achille Lauro, Dixie D'Amelio, Emma Marrone, Fedez, Ghali, Greta Ferro, JR, Lazza, Mr. Rain, Salehe Bembury, Sfera Ebbasta, Tananai, and Tony Effe, with each attendee treated to DJ sets by Big Reeks, Fabio Mionesi, and Kilimangiaro who provided additional entertainment during the night.
Last night's venue will remain open to the public as The Art of Terrain exhibition space until September 24, while an exclusive pre-launch drop of Moncler x Pharrell Williams is now available at Antonia Milano's flagship and official website, ahead of the official collection launch on Moncler's website from September 22.
Read on for an edited transcript from Tobe Nwigwe before his captivating performance at the Moncler x Pharrell Williams launch event last night.
---
Hypebeast: How has the overall experience been working with Moncler?
They let me get active in my space. They never hold me back or restrict me from doing anything that I think can add value. Outside of that, they're very protective of animals, which I appreciate and understand. But aside from that, they're just very easy to work with and are always looking out for the best interest of everyone that's involved.
Talk to us about the fit you decided to go with for your Moncler x Pharrell Williams performance.
All of the fits in the show are from Pharrell. Mine might be a bit more customized than others because Pharrell's my friend, but it's all his designs: a part of the Moncler Genius series, with the glamping theme to it – it's all outdoorsy and it's just very Pharrell.
How do your day-to-day fashion choices affect your overall creativity?
I'm like Pharrell – I'll find something in the season that I really like and I'll combine it with different variations and stay locked in until I find something different that I gravitate towards. I'm a very consistent person, I'll find something that I like and switch it up a few different ways over a long period.
Anyone who follows you on social media will see that you're often socializing with stars who are the best of the best in their line of work. How does being close to so many global superstars inspire you?
I really didn't think about it in that way. I'm working with the best of the best; Steph Curry, Dave Chappelle, Beyonce, and of course Pharrell – it's a lot of the best of the best. It's crazy, but it means more than people being famous for being good at what they do. These guys are masters of their crafts and they're also really good people.