How to Shop, Eat and Experience Culture in Oslo
The Norwegian capital has so much to offer for newcomers and regular visitors alike.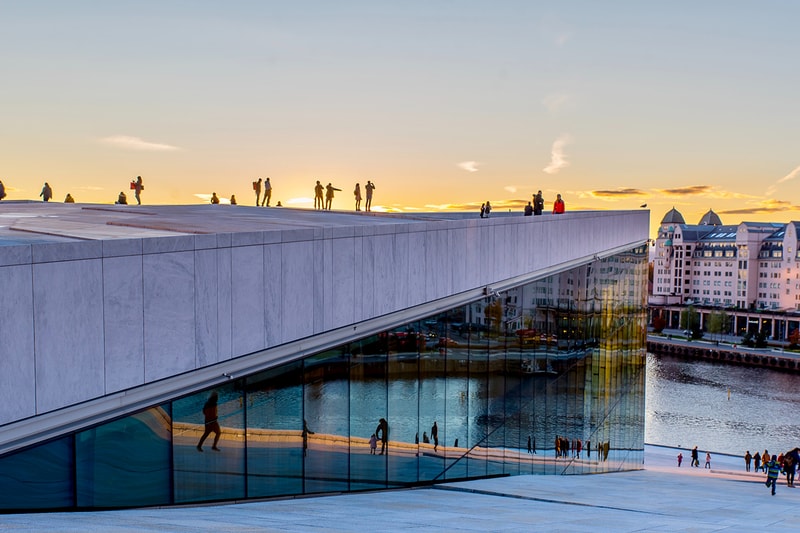 Oslo is often overlooked in favor of Stockholm and Copenhagen, but the Norwegian capital is another Scandinavian cultural center. Similarly to the Swedish and Danish capitals, Oslo celebrates the region's design heritage and is home to brands ranging from Holzweiler to homegrown jewelry label Tom Wood.
Alongside its fashion heritage, Oslo also features some stunning architecture spanning from the Royal Palace to the modernist Villa Stenersen and the Snøhetta-designed Opera House. Elsewhere, Oslo is a key destination for food, drinks and art. We've pulled together the best places to shop, eat and visit during your visit to the Norwegian capital.
Shop
YME Universe
Located in a historic building that has been updated with a striking Snøhetta-designed interior, YME Universe is Olso's number one streetwear spot. The store opened in 2014, and boasts a lengthy brand list covering big names including Off-White™, Stone Island and 1017 ALYX 9SM amongst others. Additionally, YME Universe features a bookstore and a cafe on the third floor, and sells its own YME-designed art posters.
Address: Karl Johans Gate 39
Website: ymeuniverse.com
Tom Wood
Best known as a jewelry brand — which is stocked in Dover Street Market, Goodhood and more — Tom Wood's Oslo flagship also features clothing and eyewear. Despite this, the jewelry is the star of the show. The meticulously crafted jewelry encompasses a wide range of rings, necklaces and more. The brand's clothing focuses on classic pieces, including updated overshirts and knitwear for the cold Norwegian winters.
Address: Øvre Slottsgate 8
Website: tomwoodproject.com
Stress
Founded in 1995, Stress is the original Norwegian sneaker store. Alongside the sneakers currently on offer, the store is heavily influenced by graffiti — a lifelong passion for founders Erik and Øystein — and music, with vinyls and graffiti equipment previously stocked in the store. A stand-out feature of its improved Kirkegata location is the "Blackroom," a separate room that acts as an exhibition space for up and coming hyped releases.
Address: Kirkegata 34
Website: stress95.com
Hunting Lodge
Originally opened way back in 2006 in Oslo's meatpacking district, Hunting Lodge has since moved to a bigger and better location in the Grünerløkka area. The store stocks a diverse range of brands, with labels including Our Legacy, Brain Dead and Adsum sitting alongside a number of outdoors and workwear-inspired brands such as Snow Peak, The North Face and Patagonia. Additionally, Hunting Lodge stocks a number of own brand pieces focusing on basics and homeware.
Address: Markveien 58
Website: huntinglodge.no
Acne Archive
Oslo is home to one of three Archive stores from Swedish label Acne Studios, alongside Copenhagen and Stockholm. The concept is simple: the stores each sell a combination of classic Acne Studios items, show pieces, exclusive products and previous season pieces. Discounts can be up to 75%, while the store also stocks Acne's much-loved denim, accessories and footwear.
Address: Markveien 60
Website: acnestudios.com
Arts & Culture
Ekebergparken
Open 24 hours a day and offering panoramic views across Oslo, Ekebergparken sculpture park also hosts a wide range of pieces from some of the world's best known artists. Stand-out pieces include Salvador Dalí's Venus de Milo Aux Troirs, Cliff Sappho by Jenny Holzer and Damien Hirst's 2008 work Anatomy of an Angel. Additionally, the free-to-enter park features work from Elmgreen & Dragset, Jake & Dinos Chapman and more.
Address: Kongsveien 23
Website: ekebergparken.com
Fotogalleriet
Fotogalleriet has come a long way since it was founded by artists Dag Alveng and Tom Sandberg in a basement in 1977. Ever since then, the gallery has had a mission to exhibit local and international photography and to analyze how the medium is changing. As well as playing host to group and solo exhibitions, Fotogalleriet also stages photography book fairs and exhibitions of work from its extensive archive compiled over the past four decades.
Address: Møllergata 34
Website: fotogalleriet.no
Astrup Fearnley Museet
A private museum focusing on contemporary art, Astrup Fearnley Museet has become one of the city's most important art locations over the past 25 years. Over the past year, Astrup Fearnley has hosted exhibitions from Jeff Koons and London-based duo Gilbert & George, while Takashi Murakami staged his first solo Scandinavian show there in 2017. Additionally, the museum's permanent collection is always open, and features works from Francis Bacon, Damien Hirst and Anselm Kfiefer.
Address: Strandpromenaden 2
Website: afmuseet.no
Opera House
Olso's Opera House — which opened in 2007 — has become one of the city's most iconic modern landmarks. Sitting on the city's harbor, the building was designed by Norwegian architecture studio Snøhetta and went on to win awards at the World Architecture Festival and the European Union Prize for Contemporary Architecture. If you want to explore the architecture, and the wider city, the Opera House's roof is open to the public and offers a range of views across Oslo.
Address: Kirsten Flagstads Plass 1
Website: operaen.no
Henie Onstad Kunstsenter
Located a little while outside of Oslo, the Henie Onstad Kunstsenter is worth the trip for its design and its art collection. The latest addition to the Henie Onstad collection is a Yayoi Kusama infinity room titled Hymn of Life that will be on display for an indefinite period. As well as the main art space, the Henie Onstad Kunstsenter also features a restaurant and a store selling curated Norwegian and Nordic designs.
Address: Sonja Henies vei 31
Website: hok.no
Eat & Drink
Maaemo
Maaemo has steadily been earning itself a reputation as not just the best restaurant in Norway but one of the best in the world. Since February 2016, the restaurant has held three Michelin Stars and came 55th in the World's Best Restaurant award earlier this year (it peaked at 35 in 2018). The restaurant was founded by Danish chef Esben Holmboe Bang in 2010 and takes its name from the ancient Norse word for "Mother Earth." Focusing on food from the surrounding region, Holmboe Bang has described the restaurant as highlighting "the relationship between the raw nature, produce and our cultural history."
Address: Dronning Eufemias Gate 23
Website: maaemo.no
Fuglen
Fuglen is much more than just one of Oslo's best spots for coffees. As well as its Universitetsgata location, Fuglen has also expanded to include two locations in Tokyo. All three of its cafes follow the same formula, mixing coffee in the day and cocktails in the evening with the option to experience and purchase midcentury Norwegian furniture. Alongside its Oslo flagship and Japanese locations, Fuglen also roasts its own coffee with a roastery in central Oslo and another in Tokyo.
Address: Universitetsgata 2
Website: fuglen.no
Izakaya
Izakaya is one of Oslo's hidden gems. Tucked away on St. Olav's Gate, the bar and restaurant focuses on a mix of Japanese food and drinks. Izakaya features a small menu of 13 dishes including classics such as soba and gyoza, but it's drinks options are the stand-out. As well as a range of cocktails, the menu also includes a substantial list of Japanese beers, spirits and sake.
Address: St. Olavs Gate 7
Website: izakayaoslo.com
Brutus
Focusing on a mix of small plates and natural wine, Brutus has gained a cult following since it was founded in the Tøyen district back in 2017. One of its stand-out offerings is its six course tasting menu, showcasing the best of Norwegian and Scandinavian cooking. As well as reflecting its Oslo location, the menu takes influence from chef Arnar Jakob Gudmundsson's Icelandic roots.
Address: Eiriks Gate 2
Website: barbrutus.no