What To Expect at New York Fashion Week
Peter Do's Helmut Lang debut, Ralph Lauren's return and more.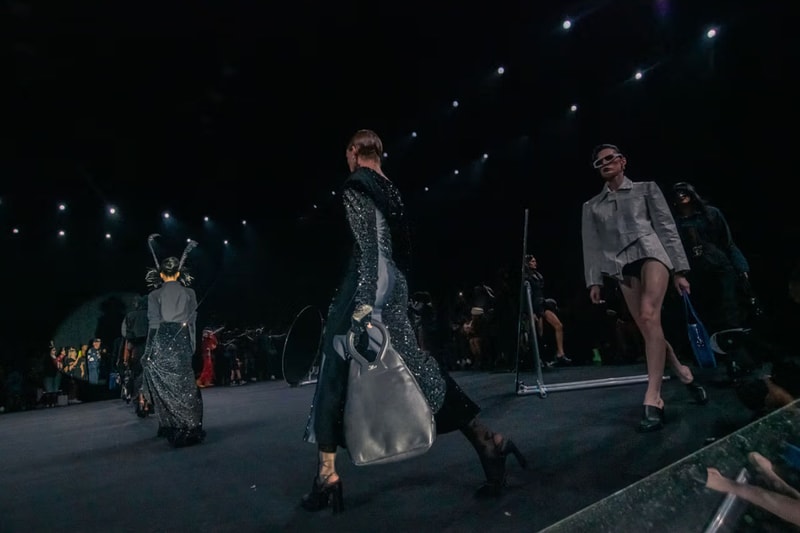 In fashion, September is the dawn of a new year. While modish publications' most sought-after print issues hit newsstands, designers across the globe prepare to show their latest collections to the industry's glitterati in New York, London, Milan and Paris. Now, priming runway reviews, street-style flicks and viral moments, fashion month is slated to kick off imminently — and it all starts with New York Fashion Week.
This season, the bi-annual showcase will see myriad designers present their Spring/Summer 2024 collections via runway shows and presentations. Approximately 70 designers appear on the official New York calendar, presented by the Council of Fashion Designers of America in July. While the figure is down from last September's 100+ (and missing fixtures including CFDA chairman Thom Browne and Peter Do's namesake label), there's still much to excite. NYFW staples Michael Kors, Collina Strada, Coach, Gabriela Hearst and Jason Wu all appear on the roster, alongside a slew of new names and a number of returning ones.
Between all of the debuts, comebacks and celebrations, Hypebeast has rounded up all of what is to expect from the upcoming New York Fashion Week, scheduled to take place from Friday, September 8, to Wednesday, September 13. Revel in the highlights below.
Peter Do's Helmut Lang Debut
A new era is about to begin at Helmut Lang. New York designer Peter Do rose to the brand's creative director rank in May, promising to "usher in the next chapter" of the eponymous Austrian designer's unequivocal legacy — one that shaped fashion, particularly in the '90s, with "deconstructionist" and "minimalist" codes. Do is tasked with returning the brand to its former glory, and his first attempt at doing so will grace the New York Fashion Week stage on Friday, September 8, at 2 p.m. ET.
"No one embodied radical thinking more definitively than Helmut Lang," Do previously said. "I am excited to learn from the foundations this house stands on and to continue creating new, energetic clothes that inspire people to challenge their understanding of what is possible when it comes to expressing their individuality."
The Comebacks
While the calendar might have shed a few pounds, several designers are making their grand return to New York Fashion Week this season. Among them, Ralph Lauren will gather the city's glitterati on Friday, September 8, at 7 p.m. ET, for his first NYFW show since September 2019. Notably, Lauren's most recent U.S. fashion show took place at the Huntington Library, Art Museum and Botanical Gardens in San Marino, California on October 13, 2022, though it did not occur on-calendar.
Elsewhere, sustainable womenswear designer Jonathan Cohen will return to the calendar, with a show scheduled for 9 a.m. ET on September 9. Rio Uribe's Gypsy Sport, which opted out of NYFW in 2020 and the years following, will also return to the calendar to celebrate its 10th anniversary, with a Gitano Island runway at 6 p.m. ET on September 11. Lastly, following a three-year hiatus, Phillip Lim appears on the calendar once again, with a show chalked in on September 10 at 5 p.m. ET.
The Newcomers
While many designers prepare their returns to the calendar, there is just as much excitement surrounding the new names on the schedule. The standouts include Advisry, Sho Konishi, Chan Chit Lo and Grace Ling, each of whom will host a runway to showcase their Spring/Summer 2024 wares. Additionally, Teddy Vonranson and Nicholas Raefski, both of whom previously showed during New York Men's Day, will now debut their latest collections during independent presentations on the calendar.
Further, many of the CFDA/Vogue Fashion Fund's 2023 finalists will showcase their collections via shows and presentations throughout the week. Notably, Sami Miró's Sami Miró Vintage and Kozaburu's Kozaburu Akasaka will make their debut on the calendar this season, while Who Decides War, Kim Shui, Zankov, Colin Locascio, Diotima, Melitta Baumeister and Tanner Fletcher will reemerge under their new titles.
The Milestones
2023 happens to be the 10th anniversary for several New York Fashion Week designers, and many of them have big plans to celebrate. At the top of the list, Stuart Vevers will ring in his first decade at the helm of Coach, with a runway show and dinner hosted at the New York City Public Library. Rio Uribe's Gypsy Sport will also celebrate 10 years, with a show and after-party located one boat ride away on Governor's Island.
Meanwhile, Phaidon will celebrate its 100th anniversary with a fête co-hosted by Linda Evangelista and Thom Browne, who has his own fashion book coming out with the publisher next month. J. Crew, too, is taking to New York Fashion Week to honor its 40th anniversary, with a concert from The Strokes, and Christian Siriano's namesake label will celebrate 15 years with a show at the Pierre Hotel.
The Victoria's Secret Revival
Hoping to reinstate its former prowess, Victoria's Secret is prepping to relaunch its infamous annual fashion show under a new name: The World Tour. The updated showcase is scheduled to premiere via Amazon Prime on September 26, and per a teaser on the brand's social media, it's slated to feature an all-star cast including Doja Cat, Adriana Lima, Gigi Hadid, Hailey Bieber, Paloma Elsesser and more.
The show intends to "unite fashion, film, art and culture" with an emphasis on "emerging global trailblazers," in an effort to reinstate the once-praised show. Ahead of The World Tour's premiere, Victoria's Secret will tease the show on the brink of New York Fashion Week, with a preview event and a surprise musical performance.
See the full New York Fashion Week calendar on the CFDA's website, and stay tuned to Hypebeast for coverage throughout the week.