Hee-Jin Min on Why NewJeans' "ETA" MV Was Filmed on an iPhone
The producer sheds light on the interesting stories behind the music video's production.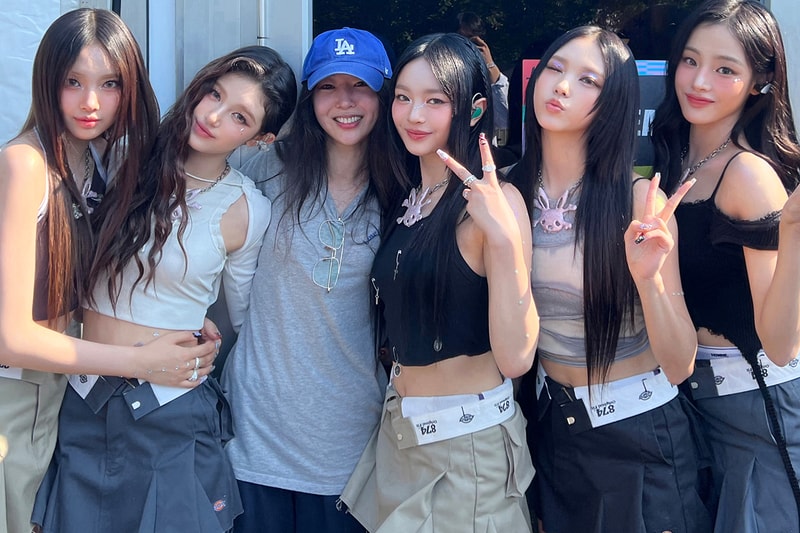 Released on July 21, New Jeans' "ETA" music video opens with a note that reads "Shot on iPhone 14 Pro," followed by a screen of an incoming FaceTime video call. Undoubtedly, many of the Apple iPhone's features and unique UI permeate the music video, while following a narrative of NewJeans filming their friend's cheating boyfriend with the smartphone. On top of the song becoming a hugely successful hit, the behind-the-scenes promo video featuring the music video's director, Wooseok Shin, shooting scenes on an iPhone also became a hot topic.
In the "ETA" music video's description on YouTube, Hee-jin Min is credited as the producer. Min founded ADOR in 2021, and NewJeans debuted in 2022 as the label's first K-pop girl group. The group quickly saw a meteoric rise in popularity, earning the leader of 4th Generation K-pop girl groups title within a year after their debut. One of the key factors to NewJeans' success is due to Hee-jin Min's flawless productions and direction.
When the collaboration with Apple was revealed, Hanni had a line in the "OMG" music video where she said, "I was actually an iPhone." Was the collaboration already in the works then?
It's not something I've been preparing since "OMG". In fact, it wasn't made clear to me until after my first meeting with Apple that they wanted to do a collaboration. They told us that right after the music video of "OMG" went live, the response from their headquarters was incredibly enthusiastic. It turns out that Apple already had intentions to collaborate with NewJeans right from the start of their debut. So in a way, the "OMG" music video served as more of a catalyst.
Apple's first proposal for use was to produce a choreography video that emphasized the iPhone's action mode function. But I thought it'd be more fun to film the actual music video using the iPhone, so I re-proposed it to Apple on the spot. Rather than focusing on the choreography, I expressed my intention to utilize the iPhone as the main filming device. I was confident with this suggestion, as it would benefit Apple even more than their original proposal. It was indeed an unprecedented idea for both parties, but Apple took the suggestion at the end and everything went smoothly after.
Of all the songs, why did you decide to shoot "ETA" on an iPhone?
As a producer, "ETA" just struck me as an obvious choice. When you think about it, "Super Shy" consisted of numerous flash mob dances, which would be difficult to film. While for "Cool With You," the atmosphere was the main focus, so naturally, we went with "ETA," which has both a fast tempo and a strong beat. When I started preparing the choreography for "ETA," the iPhone filming angle was definitely already taken into consideration.
The thought of filming a music video on an iPhone seems quite challenging. But I guess, challenges of this sort are bound to be fun and difficult at the same time.
I think collaborators who trust each other are a great help when it comes to taking on new challenges. Director Wooseok Shin struck me as the perfect collaborator who could accurately understand my intentions and goals – he'd dive head first into any project that's challenging and bold, and he would enjoy the process. I'm grateful that the irony in our message was delivered so effectively. We took full advantage of the iPhone's functions, and everything was completed within the given conditions and budget as well.
Apple's Executive Creative Director, Thor Myron, and Se-jin Kim, who's the Vice President of their marketing team both actively supported and respected our creativity. As far as I know, all of these are unprecedented at Apple, including the permission to use their logo at the end of the music video. Apple's CEO, Tim Cook was actually the one who initiated the idea to include the logo.
"Super Shy" conveyed a cheery and bright vibe, while "Cool With You" had a more cinematic approach to bring out the song's mood. How does "ETA" communicate the emotions and messages from the track?
The impact of cell phones is by no means simple in modern society, as we're using them all the time and it's a huge part of our everyday life now. I wanted to showcase the iPhone's capabilities beyond the camera's action mode, which is why we went with a more episodic narrative for the music video instead.
I really like things that can broaden the viewers' experience through multiple perspectives. The melody and beat to "ETA" have an exciting mood, but at the same time, there's a sad undertone. The same applies to the video's storyline, which in a sense mirrors our everyday life as well. Everything appears to be fun and upbeat on the surface, but the story that lies underneath that façade can be completely different.
In the music video, NewJeans play the role of messengers. Even in "Cool With You," I got the impression that they were gradually stepping away from being the center of the narrative.
We have different moods and feelings for each and every NewJeans song. Visuals can broaden the listening experience, and we wanted to amplify each track's unique characteristics that make people want to listen to it again. In a way, we are also boosting the song's appeal even when there are no accompanying visuals. It's not uncommon for music videos to not feature singers and musicians, because what's more important is the message you want to convey with the music. "ETA" is a song with a contemplative tone, and it offers a more level-headed perspective that comes with taking a step back. In both "ETA" and "Cool With You," the observers play a vital role that corresponds to the main character – I reckon this kind of approach will provide a more meaningful viewing experience for the audience.
I feel that NewJeans' music often aims for a comforting listening experience, while their performance opts for clean movements and a sporty vibe; "Super Shy" is actually a good example of both. Are these the kinds of elements that bring out the dualistic concept you promote?
A vision came to mind when I first heard "Super Shy." There were lots of people gathering in one space to dance, and they were all repeating the same set of movements again and again. It's hard to explain since it's a feeling that comes to me by instinct, but the thought of combining repetitive beats, an escalating development, and a central theme of "shyness" just gives me the impression that people will want to dance along with it again and again. I asked our director of choreography to gather everyone in one space and had them all repeat simple dance moves that anybody could follow along easily. And then I thought it'd be fun to turn this idea into a flash mob-style performance.
The first and second EPs were like two conflicting elements that somehow fit together perfectly, like a lock and a key. In NewJeans' debut track, "Attention," the girls' singing serves as an invitation to their world. Whereas in "Super Shy," NewJeans are the ones who are jumping into our world. I wanted all the unfamiliar things to come together harmoniously and create something new.
Seeing NewJeans' rabbit logo morph into Apple's logo at the end of the music video was really fun. Apple doesn't usually allow such creative liberties, so I'm curious to hear how this came to fruition.
I think collaborations are meant for uniting different ideas and thoughts, and good collaborations not only require mutual satisfaction but also synergy as well. Since it's Apple who reached out to us first, there was already a certain level of respect and trust at the start. It's this element of trust that allowed us to push through with the project and produce the amazing end results today.
From our collaboration with Apple, I experienced how efficient and rational they are as a company. In that context, the idea to transform our rabbit logo came naturally, and we didn't need to explain or persuade Apple in the process. On the contrary, we felt like that was a given, and I'm glad the result was mutually satisfactory.