The Best 'Tiny Desk' Concerts
From Miguel to Mac Miller and Tyler, the Creator to T-Pain.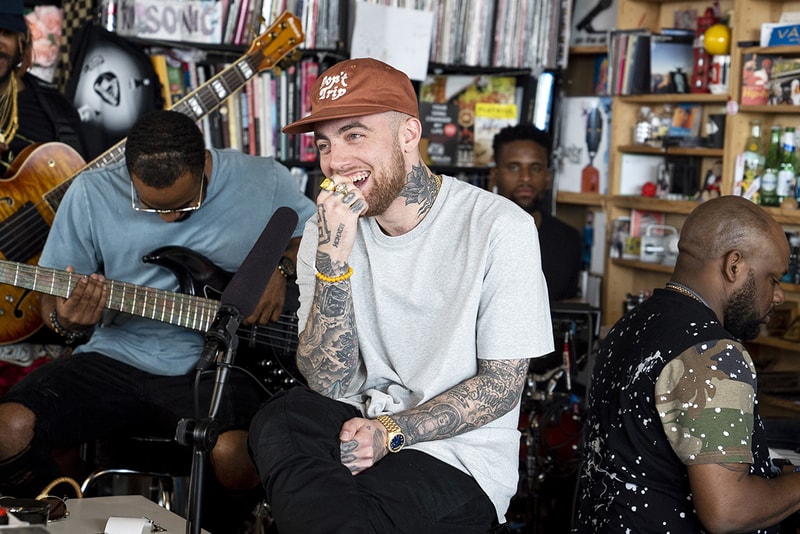 NPR Music's Tiny Desk Concert series has been delivering intimate performances since 2008, and 15 years in it's showing no signs of slowing down. Bob Boilen and Steven Thompson started the Tiny Desk Concert series following a 2008 visit to SXSW, in which the NPR Music staffers were baffled by the poor audio quality and overwhelming background noise that dominated Laura Gibson's set.  Thompson, half-serious, suggested that Gibson run the performance back in a more intimate, conducive setting – at his desk – to which Gibson gave a resounding 'yes'.  And that's how the Tiny Desk Concert was born.
Gibson's stripped-back, up-close-and-personal performance catalyzed a series that would soon add a new dimension to live performances. While early seasons merely focused on the artist, their raw vocals and maybe one instrument, the series has strengthened its production quality and cinematography, while expanding its artist coverage to account for the ever-evolving industry. Stemming from every realm and intersection of the music industry – from John Legend and Juvenile to Wu-Tang Clan and Paramore – Tiny Desk has upped its game in the last few years, seeing artists customize the space's set-up and lighting, but the most notable change involves the support that artists bring along.
Musicians arrive at Boilen's desk equipped with full musical support – whether it be a string ensemble, complementary background vocalists, or a fully-stocked band. It's only here that fans are privy to Usher's "Confessions Part II" complete with horns, Black Coffee performing a DJ set live with a slew of percussionists, and everything in between. In celebration of the series' 15th year, we've rounded up some of the best concerts – 11, because we couldn't pick just 10 – listed below in chronological order.
Miguel (2012)
Setlist:
"Do You…"
"The Thrill"
"Adorn"
Miguel sounds exactly the same in the studio as he does when performing behind Bob Boilen's desk – if not better. Bringing his buttery vocals and alluring finesse, he was accompanied by just his guitarist, Dru DeCaro, to the intimate concert. The R&B legend delivered three songs off his ethereal album Kaledeiscope Dream, which were just as dreamy sans synths.  Miguel's vocals do all the legwork in this performance, and he makes it look effortless.
T-Pain (2014)
Setlist:
"Buy U A Drank (Shawty Snappin')"
"Up Down (Do This All Day)"
"Drankin' Patna"
With his Tiny Desk concert boasting over 26 million views on Youtube at the time of writing, T-Pain proves he can do it all day, even without autotune. "I know everybody is wondering where the autotune is going to come from," he jokes before opening. "It's okay, I got it in my pocket. It's totally fine. It's surgically inserted." In the Tiny Desk that took T-Pain fans by storm (and turned T-Pain haters into believers), the autotune aficionado, just 30 years old at the time, showed off his vocal versatility, serving up strikingly stripped-back renditions of his for-the-club hits.
Anderson .Paak and The Free Nationals (2016)
Setlist:
"Come Down"
"Heart Don't Stand A Chance"
"Put Me Thru"
"Suede"
The first time Anderson .Paak and his band The Free Nationals graced the Tiny Desk stage was back in 2016, when .Paak was just beginning to become a superstar. Not only did he bring his revered genre-bending capabilities and groovy dance moves, but he also shows off his musical talents, coupling his signature raspy vocals with his percussive prowess, posted up on the drums for the entirety of the performance. .Paak has an unparalleled way of getting the crowd hyped (that still works in the tight-knit setting) which is absolutely contagious to watch, along with his natural chemistry with The Free Nationals and the way they make real-time melodic choices.
Aminé (2017)
Setlist:
"Spice Girl/Caroline"
"Slide"
"Wedding Crashers"
It was one year after Aminé's "Caroline" peaked at No. 11 on Billboard's Hot 100 that the Portland-born artist brought his quippy bars and Pacific Northwest braggadocio to the desk. He fuses the cut with Good For You track "Spice Girl" for the first song, followed by a run of other Good For You standouts that showcase the rapper's smooth flow – which sounds even more crisp when paired with a full band. It isn't even until the end of the performance that the rapper gets around to introducing himself and his bandmates.
Tyler, The Creator (2017)
Setlist:
"Boredom"
"See You Again"
"Glitter"
Tyler, The Creator supplied the first nighttime Tiny Desk Concert, for which he appropriately sets the vibe with neon lighting – which his crew set up a day prior to the performance – specifically in shades of fuchsia, orange and blue, pairing a different color with each song. Hot off the release of Flower Boy, Tyler comes equipped with a full band, who set the scene as Tyler watches from the audience before he steps onto the stage (at the piano, that is) to serve up the first verse to "Boredom." "Make something up," he tells Kaye Fox and Kiandra Richardson on supporting vocals, as the two each deliver an improvisational hook on the track.  Tyler then encourages the audience to join in on as well and with his animated way of engaging the crowd, it seems that everyone, the band and background vocalists included, are having a genuinely good time.
Mac Miller (2018)
Setlist:
"Small Worlds"
"What's the Use? (Feat. Thundercat)
"2009"
In a brilliant and beautiful performance, Mac Miller offered up an intimate rendition of his new and deeply intimate album, Swimming.  The first time Miller performed the project was behind the desk, prompting understandable pre-show nerves. Complete with a pianist and a full-string quartet, the rapper's heartfelt lyricism feels even more raw and reflective in the communal setting. Miller also tapped collaborator Thundercat to join him on "What's The Use?." The video currently boasts over 100 million views, garnered a bunch of tribute performances from Vince Staples on his tour, and saw a commemorative re-release on vinyl for Swimming's five-year anniversary this year.
Jorja Smith (2018)
Setlist:
"On My Mind"
"Teenage Fantasy"
"Blue Lights"
UK songstress Jorja Smith served up a jazzy Tiny Desk show following the release of her debut album, Lost & Found.  Opening with "On My Mind," Smith has a swagger and talent that makes her admirable vocal range look easy. For the stripped-back version of "Blue Lights," Smith transcends into her own world to deliver the rap verse – again, making it look effortless. After the performance, Smith and her band left NPR with a (physical) gift: a blue lava lamp signed by every band member.
Tobe Nwigwe (2019)
Setlist:
"Houston Tribute"
"Caged Birds"
"Against the Grain"
"Shine"
"I'm Dope"
Tobe Nwigwe tapped his seven-month daughter, as well as his wife Fat Nwigwe who appears in a handful of the musician's aesthetically alluring music videos, for his Tiny Desk appearance. Nwigwe's entire entourage dons shirts that read "My First Tiny Desk" concert, all looking humbled and happy to be there. The rapper articulates each and every word so clearly, yet each of the five songs blend together as if they are one sixteen-minute-long track.
Dua Lipa (2020)
Setlist:
"Levitating"
"Pretty Please"
"Love Again"
"Don't Start Now"
Dua Lipa delivers her stripped-down pop hits from the comfort of her lively living room in her Tiny Desk Home concert. During the COVID-19 pandemic, NPR adjusted the format of the series to adapt to the socially distanced state of the world; the Tiny Desk (Home) saw the same format – artists providing intimate, stripped-back performances – but from a just-as-intimate setting: their own homes. Notorious for her rhythmic dancefloor hits, the pop star is still able to get her whole band (and if there was an audience, them too) dancing the whole time. As Lipa offers up more bare-bones takes of four tracks off Future Nostalgia, she dons a smile nearly the entire time, likely evoking a genuine joy to be performing the album after the corresponding tour was canceled due to the pandemic.
WESTSIDE BOOGIE (2022)
Setlist:
"N**** Needs"
"Lolsmh"
"STUCK"
"NONCHALANT"
"Silent Ride"
WESTSIDE BOOGIE elicited the help of a whole group of elementary schoolers to assist him with his Tiny Desk performance – the first performance to see kids in costumes tag along, something the rapper himself prides himself on, along with his extensive knowledge on the Tiny Desk series. While his cobalt blue sweater catches the viewer's eye immediately, it's his masterful rhymes and silky smooth flow that captivate the audience both in the studio and at home. It's the finale, "Silent Ride," that takes the cake. Boogie brings in his choir of superhero-dressed kids, a nod to his MORE BLACK SUPERHEROS LP, in to close out the show was charisma and charm.
Fred again.. (2023)
Setlist:
"Kyle (i found you)"
"Roze (forgive)"
"Adam (interlude)"
"Me (heavy)"
"Berwyn (interlude)"
"Delilah (pull me out of this)"
"Faisal (envelops me)"
It isn't often we get to see Fred Again.. up close and personal, literally building and looping beats with his own hands. The musician delivered a dreamy live-action performance, dabbling across a slew of instruments –  piano, marimba, vibraphone and the desk itself – to curate a seven-song Tiny Desk concert of a slew of his songs, fit with the original, sampled artists amplified on a screen beside him. The electronic producer seamlessly melded together an array of his songs, delivering the most subtle of transitions in between each one.