Givenchy Rolls Out the Voyou for Men, Following FW23 Debut
A slouchy, adjustable shoulder bag in matte black.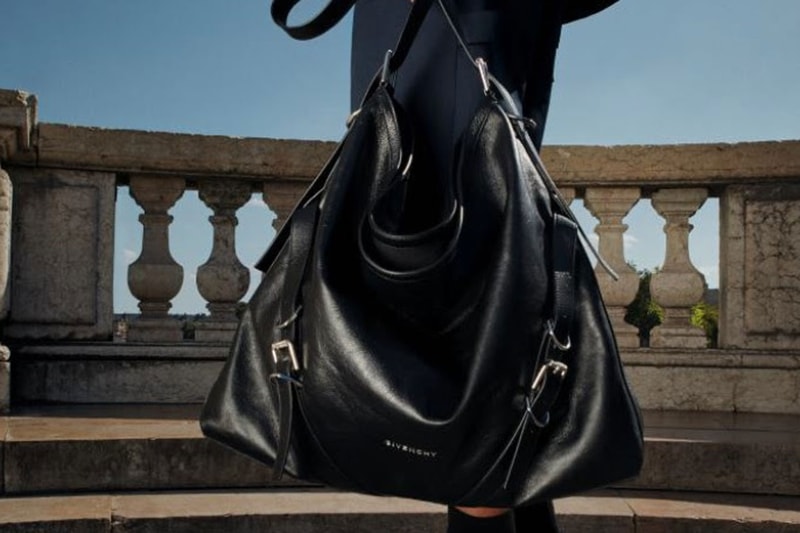 Givenchy is adding to its lineup of statement bags with the Voyou for men. The bag made its debut on the runway for the brand's Fall/Winter 2023 show in Paris, following the version for women, which had rolled out on the catwalk the season prior.
For the men's version of the Voyou, Givenchy sought to emulate a certain kind of "Parisian cool" with a slouchy shape and even larger proportions than the women's one. To complement the matte black finish, Creative Director Matthew M. Williams designed sporty silver hardware for the bag himself.
One feature carried over from the women's bag is the subtle V-line corner straps, adjustable depending on whether its owner wants to sling it over their shoulder or carry it as a handbag. It also discreetly changes the shape of the amorphous silhouette.
Three options are available for the Voyou for men: a soft-grained black, a cracked vintage black leather and a nylon edition with faux fur. In addition to the main pocket, the interior contains a smaller zip pocket.
Priced at $2,418 USD for nylon, $2,528 USD for soft-grained leather, and $2,638 dollars USD for cracked leather, Givenchy's Voyou for men will be available online and in stores beginning August 4.
In other fashion news, can VETEMENTS steal the spotlight again?