Disney Unveils Virgil Abloh-Inspired Mickey Mouse for Its Create 100 Campaign
An initiative to raise funds for Make-A-Wish.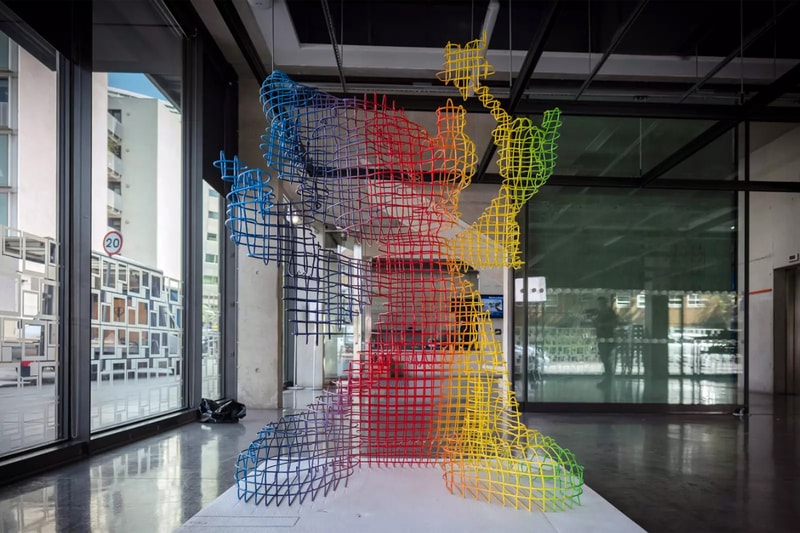 For Disney's Create 100 global campaign, the entertainment brand has invited some of the world's most renowned visionaries across the creative industries to interpret their personal connection Disney's stories, characters and the brand in itself. The creative collaborators, who are from fashion, film, music and art, are then asked to donate the item for the Create 100 campaign.
Initially beginning on July 28, the campaign was set to raise funds for Make-A-Wish. Over the course of the campaign, fans will see 100 unique items designed by 100 creators, with each piece to be auctioned off for the fund. The first item revealed for the Create 100 projects is a nostalgic take on the iconic Mickey Mouse character, contributed by Virgil Abloh Securities. Designed by ALASKA ALASKA, the multi-colored Mickey Mouse sculpture is inspired by the late Virgil Abloh's original artwork that he produced for CHAOS Magazine. The piece was featured as a part of the publication's limited-edition issue to celebrate the iconic Disney character's 90th anniversary in 2018.
COO of Virgil Abloh Securities, Athiththan "Athi" Selvendran, Abloh's long-time right hand man, said in a statement, "We wanted to bring a piece of artwork that was originally created by Virgil himself into the world through innovative metalwork and craftsmanship and allow Disney fans and future creatives to engage with the sculpture and be inspired by all that it represents." He added, "Seeing it come to life this way is such a unique experience, and seeing how far it has come since its inception further proves that Disney is magic." In conversation with Vogue, Selvendran also added, Virgil's core philosophies were creativity, community and empowerment. Virgil was the ultimate creative, always learning and finding new ways to view something and he was the ultimate collaborator. He inspired everyone he met to dream bigger and go after those dreams, so we're trying to keep those ideas at the center of all the work we do."
Following the death of Abloh, his wife Shannon established Virgil Abloh Securities as a corporation in 2022, which subsequently led to their partnership with Disney that same year. In the past year or so, there have been several collaborations with the studio, including a Disney x "Virgil Abloh: Figures of Speech" merchandise collection. This particular piece is titled The Structural Sorcerer, which Selvendran said, "represents the magic of Disney's Fantasia where Mickey Mouse opens up a world of opportunities." Additional works to be added to the Create 100 portfolio include those from contributors like Beyoncé, Christian Louboutin and Tommy Hilfiger.
In case you missed it, Apapacho World's sustainable pottery is made with traditional hand-building techniques.