Haeckels' Latest Release Offers an Alternative to Palm Oil Products
The "REWILD Body Block" has been crafted in collaboration with PANGAIA and C16 Biosciences.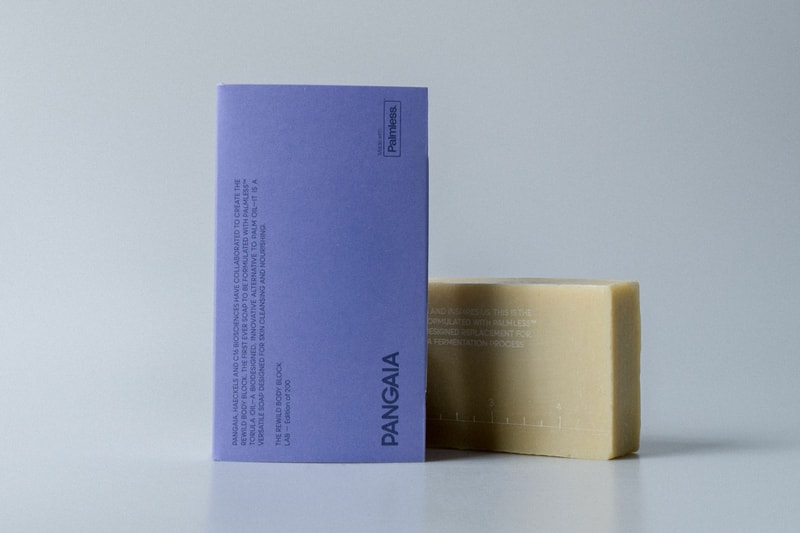 By now, we're all well-aware of the issues surrounding palm oil production. Its links to deforestation, habitat destruction for wildlife, human rights violations, and greenhouse gas emissions have been brought to light – and yet, many products are still full of the stuff.
Now, together in collaboration, PANGAIA, Haeckels, and C16 Biosciences have come together to create a product made from a palm oil alternative. Named the REWILD Body Block, the soap is reminiscent of Haeckels' bestselling exfoliating bars, and makes use of Palmless Torula oil – a natural, bio-designed replacement for palm oil developed by NYC-based C16.
To draw attention to the issues surrounding palm oil production, a combination of natural oils have been used in order to create a scent that smells of burning rainforests. Produced in Haeckels' Margate facility, it also includes seaweed extract taken from the local shores, along with organic aloe vera, mandarin peel and vetiver root.
For Haeckels in particular, the decision to collaborate has to be for the purpose of true innovation. "We are always trying to do things differently, with purpose," said the company's managing director, Charlie Vickery. "Collaboration certainly doesn't mean just sticking logos on things. We believe that collaboration can help bring product innovation to market that otherwise might not have happened; it allows each brand the ability to leverage the others skill set, meaning that the sum of the parts is always greater than the individual."
The Rewild Body Block is available only on PANGAIA.com, Haeckels.co.uk and Selfridges, and is priced at £30 ($40 USD).
In other news, Raf Simons and Miuccia are almost ready to debut the next era of Prada Beauty.