Best New Tracks: Killer Mike, Gunna, Earl Sweatshirt and More
10 music projects to dive into this weekend.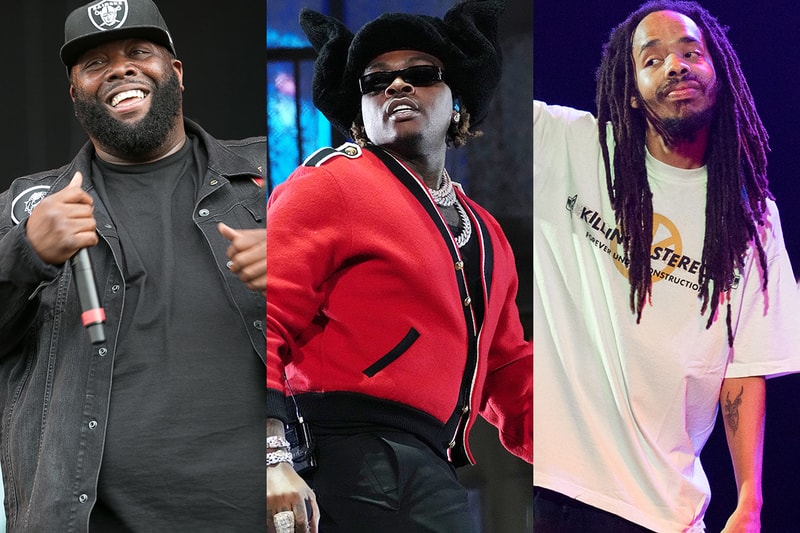 As the week in music comes to a close, Hypebeast has rounded up the best projects for the latest installment of Best New Tracks.
This week's lineup is led by Killer Mike, Gunna and Earl Sweatshirt, who dropped MICHAEL, A Gift & A Curse and a visual for "Making The Band (Danity Kane)," respectively. Also joining this selection are fresh offerings from Mount Kimbie, Queens of the Stone Age, Saucy Santana with Flo Milli, KennyHoopla, Kiana Ledé, Black Sherif and ((( O ))).
Killer Mike - MICHAEL
Killer Mike delivers his first solo full-length effort in 11 years, MICHAEL. The 14-track record features CeeLo Green, Mozzy, Young Thug, 6LACK, Eryn Allen Kane, Jagged Edge, André 3000, Future, Ty Dolla $ign, Curren$y, 2 Chainz, Kaash Paige, Blxst, Fabo, fellow Run The Jewels partner El-P and thankugoodsir, and is described by the rapper as his "come home moment musically," with MICHAEL highlighting the music that has influenced him, including gospel, soul, funk and hip-hop. He added, "And from a moral standpoint, I was taught morality through the Black Southern Christian Church, which gave us the civil rights movement, the abolitionist movement, which gave us some of the most beautiful music ever. And I feel like I'm honoring that and I finally figured out my place. It is my submission to God, like, 'Okay, you got me.'"
Listen: Spotify | Apple Music
Gunna - A Gift & A Curse
Gunna returns with A Gift & A Curse, which features 14 tracks and is his first project since his release from jail in December 2022.
Listen: Spotify | Apple Music
Earl Sweatshirt – "Making The Band (Danity Kane)"
Earl Sweatshirt shares an accompanying music video to "Making The Band (Danity Kane)," which is produced by Clams Casino and Evilgiane and was initially available on Evilgiane's SoundCloud as early as December 2022. The visual itself is helmed and edited by Hidji World and YGA, the visual features a lot of cash (appropriate for the pun in the song title) and is mostly set inside and outside of a bar.
Watch: YouTube
Saucy Santana x Flo Milli – "Whole Family"
Flo Milli and Saucy Santana reunite for the collab "Whole Family," which hears a sample of the iconic "Apache" by the Incredible Bongo Band and features production work Sean da Firzt, Kayo The Wizard, Rob "WhooDat" Jua and Ty Reynolds.
Listen: Spotify | Apple Music
Queens of the Stone Age - In Times New Roman…
Queens of the Stone Age drop off their first full-length effort in six years, In Times New Roman.... The record follows up 2017's Villains, and arrives just a few months after frontman Josh Homme revealed that he was diagnosed with cancer in 2022 and had undergone an operation to get the cancer removed. Fans can catch the band on the road from August to October in support of the album.
Listen: Spotify | Apple Music
Mount Kimbie - City Planning (Remixes)
Mount Kimbie's Kai Campos releases the deluxe version of City Planning, which features new tracks and remixes taken from his side of the 2022 double album MK 3.5: Die Cuts | City Planning. "A true honour to have collected these remixes of my recent album 'City Planning.' I'm truly a massive fan of everyone who has contributed and couldn't be happier with how it's worked out. I think it's a great representation of what inspired the original work and appreciate the care everyone took with it. Thanks to everyone for their work and to those that made it happen," he said in a statement.
Listen: Spotify | Apple Music
Kiana Ledé - Grudges
Kiana Lede shares her sophomore studio effort Grudges, which follows up April 2020's Kiki. The songstress enlists Bryson Tiller, Ella Mai, Khalid and several "friends" for the 18-track record.
Listen: Spotify | Apple Music
Black Sherif – "Oil in my Head"
Ghanaian superstar Black Sherif delivers a visual for his summertime anthem "Oil in my Head," which sees his journey to stardom. The music video follows his October 2022 debut album The Villain I Never Was, which made him the most streamed Ghanaian artist of the year on Spotify and the most streamed artist of the year on popular African streaming platform Boomplay.
Watch: YouTube
KennyHoopla – "SABOTAGE//"
KennyHoopla announces his forthcoming EP BLINK AND YOU'LL MISS IT//, which drops July 7, with the new single "SABOTAGE//," both of which are produced by Travis Parker. ""Sabotage is about becoming so self-aware as a person you end up being restricted by invisible boundaries and blurred lines. Becoming a toxic mixture of everyone's one viewpoint swirled inside of your head until everything is right and wrong at the same time and you end up paralyzed, not being an actual progression for anyone at all, burning everything you touch. Stretching a smile for other people's happiness is never worth the sadness in the end," he said in a statement. "There is a great pain that comes with trying to be a good or fair person in this current world, an even greater ego death that you most likely never even got a chance to build but we stay silent and pure as we can for the possibility of 'peace' one day, the pictures never do justice."
Listen: Spotify | Apple Music
((( O ))) – "sanctuary"
Filipino-American multidisciplinary artist and activist ((( O ))) announces her album ((( 4 ))) with the single "sanctuary," which she describes as "the cyclical nature of menstruation," adding, "This song explains the discovery of our ability to harness the power of our menstrual cycles as superpowers through our 'inner seasons.' It's about tuning into my own inner rhythms as our guide for unraveling the layers of album ((( 4 ))) for the rest of this year – finding solace and harmony, utilizing the power of ritual and inner cycles as a portal to deeper connection and understanding." ((( 4 ))) drops August 27.
Listen: Spotify | Apple Music