This Is the New Era of Luxury Fashion and Golf
Realized via today's celebrities and pop culture.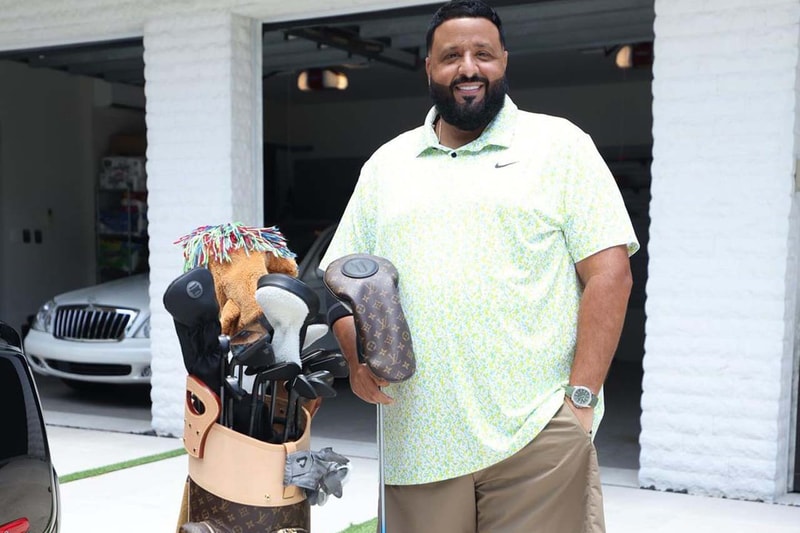 Khaled Mohammed Khaled, known professionally as DJ Khaled, has overcome a lot of adversity in his life. He was born in Louisiana to immigrant parents, and ascended to become one of the most recognizable names in entertainment. But no one could have predicted that at 47 years old, Khaled would be sitting front row at a Miami Heat playoff game, his face flashing up on the Jumbotron, and below it reading DJ Khaled: DJ/Producer/Golfer.
If you happen to follow him on Instagram, your feed has likely been flooded with golf content of late. The producer has turned the phrase "Let's go golfing" into an ad-lib akin to "We the best!" and "Another one," and at other times can be seen showing off his latest gifts from PXG, Nike and Jordan. But it's a Louis Vuitton golf bag that is creating a lot of buzz.
That bag is currently found on Louis Vuitton's website for $22,200 USD, and is described as having "natural cowhide leather trimming", "padded removable shoulder straps," "gold-color hardware" and "washable textile and microfiber lining."
Golf is having a moment right now, as more celebrities take part in the game, and luxury fashion brands identify it as the next frontier. Roger Steele, an entrepreneur and ambassador for Callaway Golf, Five Iron Golf and others, has no doubt those two things are connected.
"100 percent there's a correlation with the elites of entertainment jumping in and the apex of luxury fashion brands jumping in simultaneously. Without celebrities in entertainment, music and sports being so vocal about their love for the game, I don't think those same brands would be here."
For its part, Gucci released its own ultra-luxe golf bag in collaboration with adidas last July. Arriving either in classic brown/beige or bright red, that bag retailed for a cool $28,000 USD. 
"Golf is finally getting its flowers from everywhere. The game in and of itself is so open."
Meanwhile, Justin Bieber was photographed recently at a tournament hosted by Ben Baller, and Travis Scott held a golf outing supporting his foundation. Elsewhere, Drake launched a full golf collection under his Nike sub-label Nocta, and it appears another drop is on the way.
The same brands these performers make reference to in some of their most popular songs are gaining traction in golf. And along with more celebrities posting about the game, it's giving the sport mainstream exposure like it never had before. Whereas some people used to keep the fact they played golf a secret, now there's less of a stigma attached. And yes, to a certain extent, going back in time celebrity culture has always been a part of golf. But let's not pretend that Bill Murray playing the AT&T Pebble Beach Pro-Am is any way comparable to Travis Scott sharing the game with his almost 50 million Instagram followers.
"Golf is becoming more culturally acceptable…When taste makers jump in, everybody that's associated with them are going to jump in," says Steele. "The more people that we get being loud about the fact that golf is dope, I think the more people from their culture – whatever that culture is –are going to see it as a viable sport."
View this post on Instagram
High fashion and golf take up a similar place in society. Both are seen as aspirational. There's an entire segment of the population that hasn't been interested in golf, but now they are starting to take notice thanks to Europe's elite fashion houses. On the surface, all of this sounds positive for a sport that many still think is stuck in the 1950s. If anything, one could argue it's providing a greater platform for rising brands like Malbon, Quiet Golf, Metalwood Studio and others, and even personalities in golf. Steele started off from humble beginnings, and now he is interviewing the likes of Steph Curry on Callaway's Range Talk YouTube series.
But as someone who has been pushing for inclusivity in golf from the start, the worry for Steele is whether these luxury brands are in it for the right reasons, or if they're looking to make a quick dollar and move on to the next thing.
Golf has seen a steady rise over the last few years, energized by brands that lean more on streetwear than luxury. While Louis Vuitton, Prada and Gucci originated from the European elite, streetwear takes those styles and trends and makes them more accessible to the wider public. And streetwear flourishes among subcultures and the people who fuel them, which aligns with how golf is currently being influenced by skateboarding, basketball, sneaker culture and more.
"Golf is becoming more culturally acceptable…When taste makers jump in, everybody that's associated with them are going to jump in."
"Golf is finally getting its flowers from everywhere. The game in and of itself is so open. But the thing that I don't like is that a lot of brands are just trying to ride the wave and they don't have real love for it," Steele says. "They dilute it or they come into it and they don't pay attention to the etiquette of it, the tradition of it."
Best believe that Steele isn't alone in this sentiment, because the modern golf consumer will be wary of half-hearted attempts to tap into the culture. The question becomes though, what is the alternative? It's natural that as streetwear continues to have its influence in golf, making it younger and more connected with current trends, that others will jump aboard the train. And if there's a super expensive, super luxury lane available, then brands like Louis Vuitton will look to occupy it. 
"Brands have to pay attention because it's like, our consumers are diverting their attention elsewhere. Where are they going? Because we need to be there as well." And as golf continues to shed the negative associations it carried for so many years, it's worth remembering that elitism is embedded into the foundations already. So while some may see Louis Vuitton and Gucci golf bags as more of the same, ultimately it's a sign that the sport is moving forward. Whether those brands will still being holding a golf club in five years is anyone's guess.