Will Peter Do Be Helmut Lang's Saving Grace?
The brand has seen highs and lows over the past two decades, but Do seems positioned to redirect its path.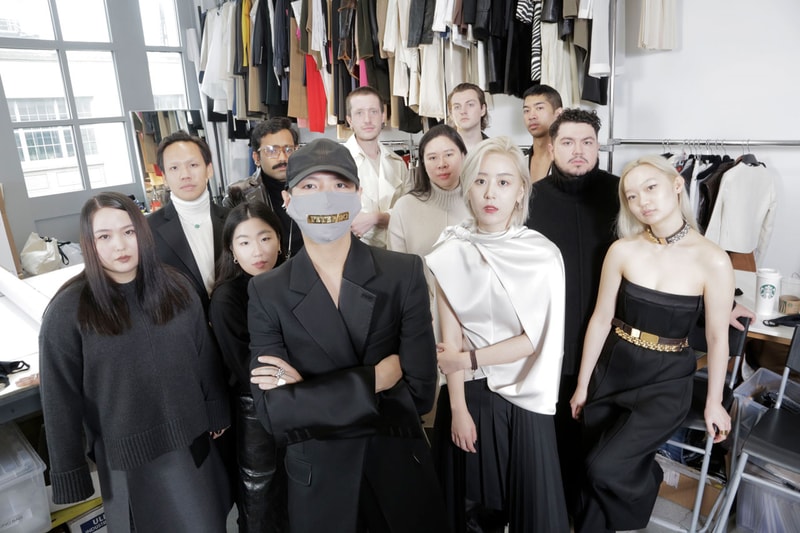 Since coming on the scene in 2018, Peter Do has served as a reminder that every so often a designer emerges who's able to captivate by just their work alone. No gimmicks, no hoopla, just a commitment to a vision and the unwavering determination to see it manifest season after season. Because of this, the Vietnamese designer has been one of the most revered emerging names in fashion over the past five years — and what adds to his mysticism is that we seldom see or hear from him. Yesterday, however, the fashion world arose to the announcement that Do would be taking over Helmut Lang as its new creative director. Amid the excitement, a question arises: can Do bring the minimalistic brand back to its former glory?
Helmut Lang's popularity has ebbed and flowed over the past two decades. Although the brand has managed to stay afloat and retain its minimalist core, its recent direction still has not matched the prestige of when Lang was at the helm of his eponymous label from 1986 through 2005. The Helmut Lang brand's decline officially started in 1999 after Prada acquired a 51% stake before purchasing it in full in 2004. To note, the brand's sales fell from $46.3 million USD in 2001 to $24.8 million USD in 2004 following the acquisition. Then, Helmut Lang's departure from his eponymous label in 2005 caused the brand to cycle through several creative directors and "editors in residence" including Michael and Nicole Colovos, Isabella Burley, Alix Browne, Mark Howard Thomas and Thomas Cawson. The label even utilized its design team as a leading creative entity at one point.
When the brand relaunched in 2007 under the direction of Michael and Nicole Colovos, it was clear that the quintessential Lang touch was missing. The designers' Spring 2008 ready-to-wear collection offered up a rather somber excuse of the brand's personality – marked by a lineup of asymmetrical detailing on basic garments. Minimal? Yes. But, it lacked Lang's precision and edge. Till their departure in 2014, the creative duo crafted an air of toned-down luxury at the house filled with a mix of forgettable moments like the Spring 2010 collection, which opted for weird prints and unflattering silhouettes alongside pleasant highlights like the Fall 2014 collection, which reveled in lightness, texture and rich edges.
As the label moved between hands, so did its style codes. From Burley to Browne, there were elements of Lang's vision, but each designer brought their own ideas to the table, which created a sense of unpredictability. For example, Burley brought in Hood By Air's Shayne Oliver who took the reins for Lang's Spring 2018 RTW collection. Known for his provocative street-style cadence, Oliver's vision of Lang came to life via pieces like remixed, yet streamlined body-exposing tailoring, cut-out tops and remixed dresses. Undeniably fun, it was tailoring with a kink. But if it fit into the Lang world was the question at hand. Regardless of who came on board, the brand's overall design direction was adrift. With the multiple transitions in power, Helmut Lang has yet to re-find its footing. Perhaps this is where Do comes in.
View this post on Instagram
Before the establishment of his own eponymous label, Do, a FIT graduate, trained under Phoebe Philo — one of fashion's patron saints — during her acclaimed tenure at Celine, worked at Derek Lam and received the inaugural LVMH Graduate Prize in 2014. It's easy to see how Do's prior experience not only led to his signature clean-cut aesthetic but what makes him a contemporary minimalist maverick. With 10 collections under his belt and three NYFW runway shows, Do's label has created armor for both women and men – defined by romantic styling, sharp cuts, intelligent layers, oversized silhouettes and luxurious fabrics. In his precision, Do is one of the very few modern designers who has managed to make his clothes both classic and sexy without the easy route of revealing too much skin.
View this post on Instagram

The label's flawless track record and ever-growing popularity have seen the likes of Zendaya, Kerry Washington, Jeno, Chloë and Halle Bailey, Johnny Suh, Celine Dion and more sporting his high-luxury looks. With his fusion of these accolades and irrefutably precise designs, it's easy to see why Helmut Lang sees Do as the right person for the job. But whether this will restore Lang's popularity or serve as just another creative stint is to be determined. If it's any further indication, Peter Do's debut SS24 collection for the brand this upcoming September will be Helmut Lang's first NYFW runway show since 2020. So the brand is pulling out all the stops to make Do's inclusion in its history a positive note.
The challenge here is to reinstall the minimalist precision Helmut Lang was once known for without making it too individualistic. Do is loved for the clean lines and the inherent power his clothes possess, so perhaps the designer will attempt to lend some of these principles to Lang without creating Peter Do Pt. 2. That would be the best scenario: a fusion of loved history and contemporary zeal. It's also possible that Do will forego the assumption of bringing his core silhouettes to the table and opt for something entirely new. There are several ways this direction can go, but whatever way is sure to elicit a mix of cheers and critiques.