'Dune: Part Two' Releases First Poster and Teaser
The first official trailer premieres on May 3.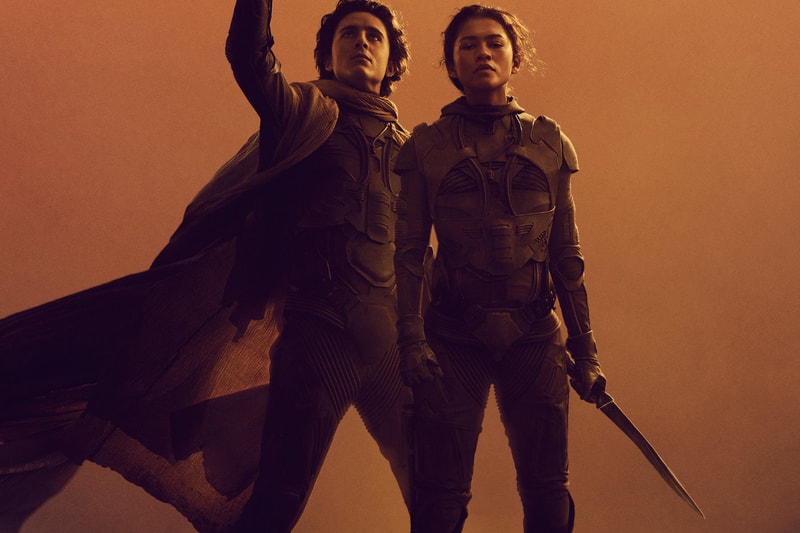 Following the release of the first film stills courtesy of Vanity Fair, we now get the first poster for Denis Villeneuve's Dune Part: Two along with a short snippet previewing the official trailer.
The poster shows Paul (Timothée Chalamet) and Chani (Zendaya) standing side by side with knives in hand and the Arrakis sunset in the background. Meanwhile, the short teaser shows Paul setting up a Fremen thumper, meant to lure the giant sandworms inhabiting the lands. In the upcoming film, we'll see Paul riding one of the worms as he sets off on a journey to fulfill his destiny of reclaiming Arrakis and changing the course of the universe. The clip later snaps to profile shots of the cast which includes returning actors such as Timothée Chalamet, Zendaya, Rebecca Ferguson, Josh Brolin, Stellan Skarsgård, Javier Bardem, and Dave Bautista as well as a number of new faces including Léa Seydoux, Austin Butler, and Florence Pugh.
The official synopsis from Warner Bros. and Legendary Pictures is as follows:
This follow-up film will explore the mythic journey of Paul Atreides as he unites with Chani and the Fremen while on a warpath of revenge against the conspirators who destroyed his family. Facing a choice between the love of his life and the fate of the known universe, he endeavors to prevent a terrible future only he can foresee.
Dune Part: Two officially premiers in theaters on November 3. The link for the official trailer, scheduled to be released on May 3, can be found here.
View this post on Instagram
View this post on Instagram
Elsewhere in entertainment, Donnie Yen's Sakra continues his martial arts journey.