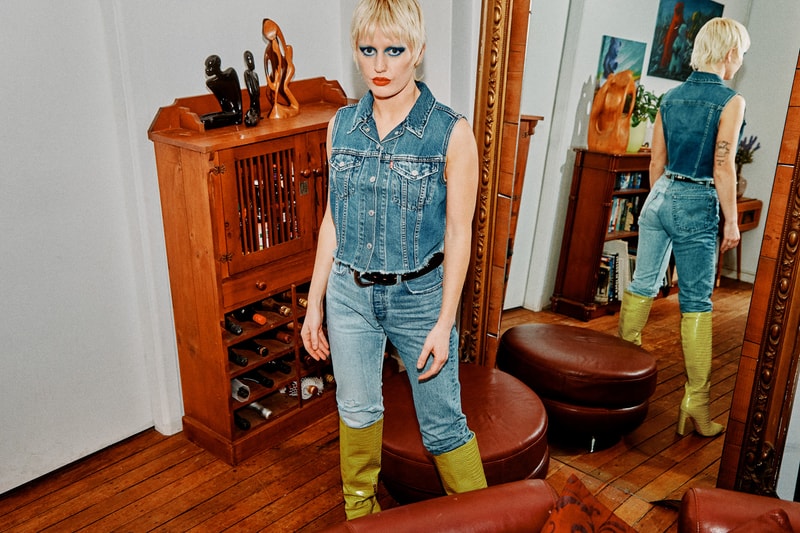 1 of 2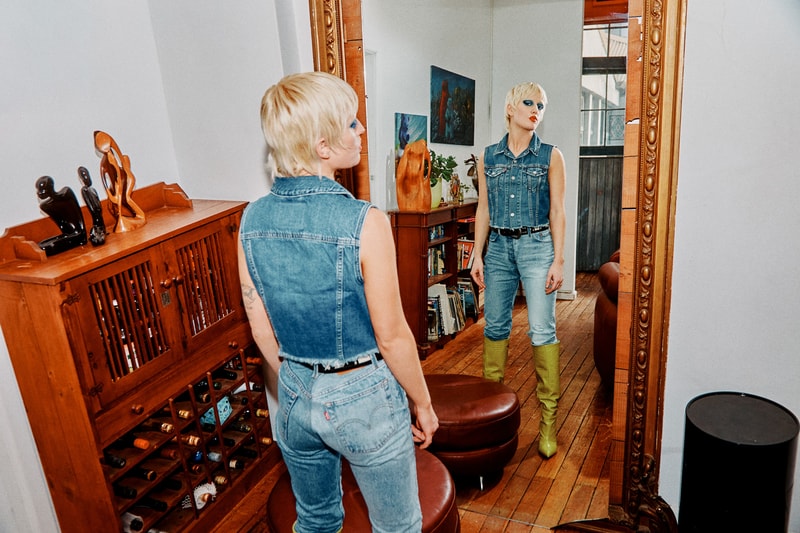 2 of 2
Music
Amy Taylor on How to Stay Grounded While You're Taking Off
We catch up with the Amyl and the Sniffers lead singer for the 150th anniversary of the Levi's 501 jeans.
Amy Taylor on How to Stay Grounded While You're Taking Off
We catch up with the Amyl and the Sniffers lead singer for the 150th anniversary of the Levi's 501 jeans.
Welcome to Live in Levi's, a new Hypebeast editorial series created in celebration of the iconic Levi's 501 jean. As the 501 celebrates 150 years this May, we ask top Australian artists across three diverse genres their 'Greatest Story Ever Worn,' where it has taken them — and where it's heading to next.
Every room has an energy that defines the mood of everybody within it. Few people have the intangible ability to completely change that energy simply by entering. Amy Taylor, a former Levi's Music Project Winner, has that in spades. When she walks in, the atmosphere goes through the roof.
This quality, friends and family will tell you, is not a PR-workshopped affectation. She's always had it. The difference between her and so many like her is that it didn't dissipate when her band struck it big.
Taylor may as well have "destined for fame" tattooed on her forehead from birth. "Even before I was 'famous' I was you know, famous at the Mullumbimby [her hometown] butcher, I was famous at the pub…" she trails off when she realises that she can't put into words how she got this quality. When she stumbled into music, low and behold, she got famous doing that too.
The story of Amyl and the Sniffers begins at 99 Smith St, Melbourne, where Taylor and a bunch of her mates would play the 2am slot at beloved dive bar Yah Yah's. The place looked just how you'd expect: sticky floors and carpets, tiny stage, an inexplicably extravagant chandelier that's clearly too big for the room.
"They were pretty raw," Taylor says of those first shows. "Our sets were always full of energy, right from the start." Anything and everything you could imagine happening in a packed venue of energetic punters at 2AM, did happen. At times the crowd would behave in a way that would make most front people frightened for their lives. Taylor, on the other hand, would "embrace the chaos," she says. "I just wanted to see something exciting happen!"
Just like the room Taylor lit up when she met with Hypebeast, her ambivalence in the face of chaos resonated with audiences on a primal level. As the crowds grew larger, the energy amplified. Taylor and her bandmates had become a product that could work at scale.
Their emergence from the underground and onto some of Australia's biggest stages necessitated some adjustments. "Now that the shows are getting bigger, I feel a bit more concerned," she says. "I personally like chaos, but I'm sure that most people don't." Impulse control became a necessary part of the band's evolution.
Amyl and the Sniffers kept rolling along, "We started as like, 19 or 20-year-olds. Now I'm 27. So, you know, inside, I'm actually 48," Taylor laughs. The band played a whopping 110 shows in the last calendar year, including live radio performances and festivals. They recently supported The Smashing Pumpkins on their Australian tour.
Taylor has gone from working in humble distilleries and supermarkets by day and Yah Yah's at night, to being able to live comfortably off of her music alone. Everything's changed, except her. "I've got a big spirit and a very open spirit and that's probably what's stayed the same," she reasons.
Venture backstage at a 'Sniffers gig these days and you're not always going to see chaos. Taylor will spend a little bit of time going through outfit options, often getting the advice of her supportive bandmates. Don't be surprised if that's why you see her performing in a pair of shorts in the middle of winter… Okay, so maybe you'll see some chaos.
Taylor wants a wardrobe that can keep up with both her social and professional calendar, which can often get her into messy situations: From chasing the Northern Lights in far-flung Iceland, to frollicking through a field in Mullimbimby. "If my Levi's could speak to me, they'd say, 'Fuck you!'" she laughs.
Without skipping a beat, she continues down her train of thought and the whole room follows, quietening to a pin drop in anticipation of words of wisdom from the book of Taylor. With her trademark grin, she offers, "Actually, if my life was a story and I had to give it a title I'd call it, 'Make hay while the sun shines, biiitch!"
Amy Taylor is styled in the Levi's 501. What's your unwritten chapter of the Greatest Story Ever Worn?
---
Share this article