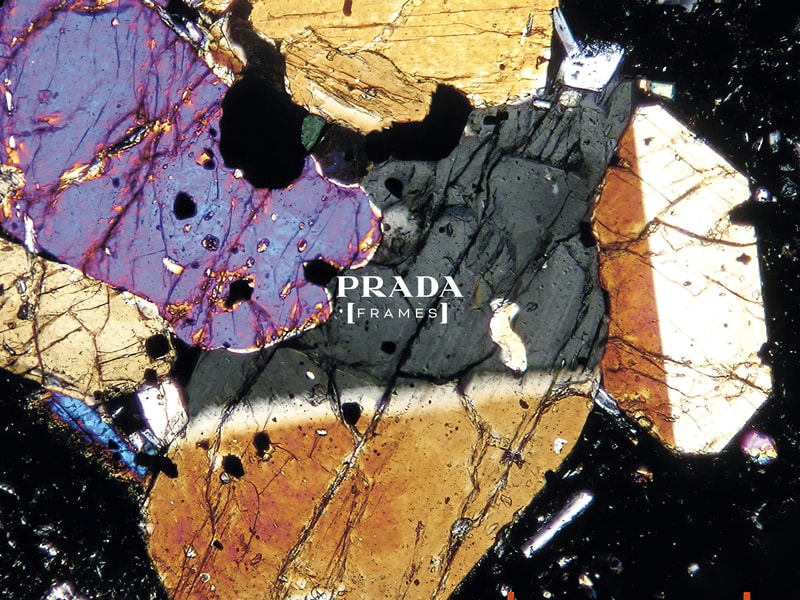 Formafantasma's Innovative Approach to Prada Frames 2023
The distinguished design studio shares insights into their design methodology.
---
Formafantasma, a design studio founded by Andrea Trimarchi and Simone Farresin, has gained widespread recognition for its innovative and thought-provoking approach to design. At the heart of their work is a belief in the essentiality of considering materiality early on in the design process, a philosophy that underpins their collaboration with Prada Frames, a symposium that explores the intersection of design and environmental sustainability.
Unlike traditional design and architecture events, Prada Frames employs a thematic structure, inviting experts from diverse fields, including anthropology, science, archaeology, and geography, to provide a comprehensive understanding of the impact of design on the environment and society. This transdisciplinary approach encourages inclusive and equitable conversations that consider the complexity of the issues being addressed, exploring both the theoretical and practical implications of design and prompting designers to consider the broader impact of their work.
In a recent conversation, we had the privilege of gaining insights from the prominent design studio, Formafantasma, about their involvement and contributions to the Prada Frames 2023 symposium.
In the world of design, it's crucial to think beyond aesthetics and embrace sustainability as an essential part of the creation process. By critically examining the extraction of raw materials, production, and product life cycles, Fromafantasma believes that designers can create more responsibly, all the while addressing pressing global challenges.
Citing renowned philosopher Tim Ingold's notion that everything on our planet is in a constant state of transformation, Fromafantasma has identified waste and its treatment through good design as a guiding principle for Prada Frames. By acknowledging that products are part of a larger ecosystem, designs can be made more adaptable, resilient and sustainable, considering the broader impact on the world around us.
"By rethinking our economic systems and designing products with circularity in mind, we can address waste differently as matter in transformation," said Tremarchi and Farresin.
Fromafantasma identifies design collectives like Rotor and architecture office B+ as exemplifying the ethos of Prada Frames. Rotor harvests building materials from demolished structures for reuse, while B+ focuses on repurposing existing buildings, both actively reducing waste and extending the life of materials.
One of the main challenges that emerged from last year's symposium was the perception that design is primarily a tool for styling, rather than a way to understand networks of infrastructure, extraction, and distribution. To address this challenge, Trimarchi and Farresin explain, "we as designers and architects are trying to shift our thinking towards a more holistic approach that considers the entire lifecycle of a product or building."
A lack of awareness among clients and commissioners about the potential of environmentally attentive design is another challenge. By thinking creatively and critically about materials and processes involved in creation, designers and architects can identify opportunities for more sustainable practices.
Prada Frames aims to open new avenues of thinking and foster collaboration across disciplines. While not providing direct solutions, the symposium encourages deeper thinking about ecology and sustainability, inspiring practical applications unique to specific contexts.
One such application that has arisen out of these discussions is Fairphone, founded by speaker Bas van Abel, which addresses environmental and social issues associated with smartphone production. Additionally, insights from the symposium are being used to develop an educational curriculum, exemplified by the experimentation in the GEO-Design department.
Prada Frames is more than just a design conference—it's an exploration of sustainable design and the environment, igniting conversations that challenge conventional thinking while inspiring the next generation of designers and architects to act responsibly and creatively.
The theme for the 2023 Prada Frames symposium is "Materials in Flux." The inaugural event took place at the M+ building in Hong Kong, designed by Herzog & de Meuron. Find out more about the event in our previous article.
The upcoming event in Milan, to be held on April 17-19, 2023, as part of the Salone del Mobile, will bring together experts from design, architecture, science, anthropology, and economics to explore the role of design and science in driving positive change. By engaging with professionals and scholars, Prada Frames aims to promote innovative lines of thought and a shared environmentally attentive approach to analyzing and defining a new reality.
Topics include waste transformation, global material flows, responsible material extraction, e-waste management, and more, with speakers like Tim Ingold, Hans Ulrich Obrist, Chiara Pini, and Bas van Abel taking to the podium to share their insights. Find out more on the Prada official official website.
View this post on Instagram