How Glenn Martens Saved Diesel From Its Midlife Crisis
"All the ingredients were there," Martens told Hypebeast. "It was just a bit sleepy."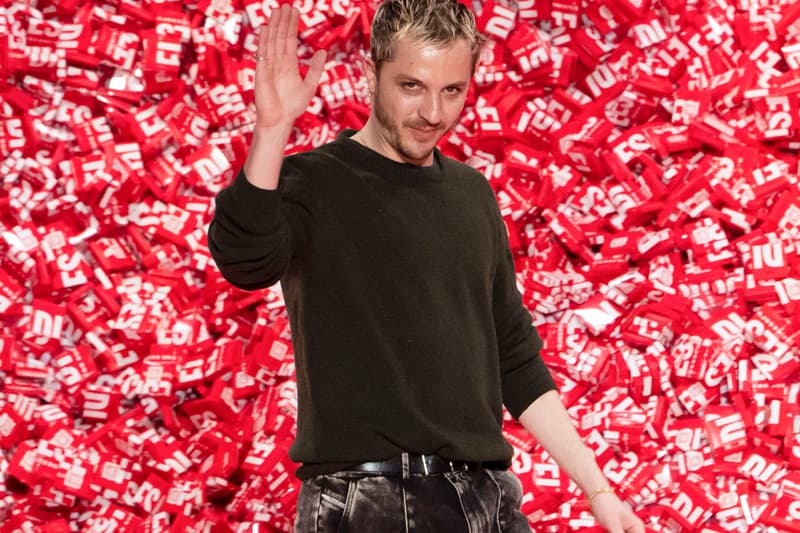 At 43 years old, Diesel lacked identity. It had been four years since the Italian denim brand bid farewell to its last creative director, Nicola Formichetti, and with him, his playful, poppy design codes. In his place, an in-house design team attempted to carry on the label's once-popular denim designs, but it faced an unfortunately inevitable fate: irrelevancy. Diesel's vision was dusty, its collections were overlooked, and its shows were not anticipated nor largely attended. "It was a classic midlife crisis," Martens told Hypebeast of the brand's condition when he joined as creative director in October 2020. "I had to remind everybody that they were sitting on a gold mine."
Just like a flashy Porsche 911 would save a middle-aged man from his existential despair, Martens emerged in a hero's cape to pull Diesel out of its rut — except, unlike the transient satisfaction brought on by the Porsche, his intervention actually made a lasting impact. Now, at 45, the Italian denim brand sits pretty on the throne of Milan Fashion Week, and outside of Italy, it's one of the most-talked-about brands of the season. Diesel is a product of fashion's most impressive glow-up in recent years. To understand Martens' formula, you've got to understand his history.
Born and raised in Bruges, Belgium, the inventive tour-de-force initially studied interior architecture before learning fashion design at Antwerp's celebrated Royal Academy of Fine Arts. Upon graduating, he earned a spot on Jean Paul Gaultier's team as a junior designer and worked at Yohan Serfaty's Y/Project before establishing his own fashion label in 2012, which would see three seasons of independent work. In 2013, following Serfaty's passing, Martens took the reigns at Y/Project, where he acquainted the industry with his quintessentially cerebral design language.
At the Paris-based brand's helm, Martens moved Y/Project out of the "emerging" category and into Paris Fashion Week's highlights through his initial collections. In 2016, he was named a semifinalist for the LVMH Prize; and in 2017, he won the ANDAM Grand Prix, earning a sizable €280,000 EUR investment in the brand. Now, after 10 years at the imprint's helm, his ardently bizarre designs are universally identifiable, much-talked-about and mostly loved.
But between the brand's sportswear-infused clubwear, convertible workwear jackets and its infamously controversial thigh-high Uggs, fans know Martens' Y/Project best for his revolutionary reworking of denim. "Denim is the most democratic fabric in the world," he said. "Everyone everywhere wears denim." The difference, for Martens, was his subversive approach to the textile's traditional forms. It was this sense of newness that Renzo Rosso, Diesel's founder, sought as resuscitation for his decades-old denim brand.
Rosso, now the president of Only The Brave Group, or the parent company to Maison Margiela, Marni, Amiri, Viktor & Rolf, Jil Sander and several other leading fashion labels, is an omnipresent force in fashion — and he had a vision of Martens at Diesel for quite some time. For years, he flirted the idea of Martens' handling the brand's ready-to-wear, initially offering him a Diesel Red Tag collaboration. Not long after, he was copying keys to the brand's universe for the then-37-year-old designer. On October 8, 2020, the deal was made official.
Martens equated his initial experience at the brand to "jumping on a train that's going at 200km an hour." The designer was tasked with refueling the denim brand's former glory — putting the diesel back in Diesel, if you will. Jostled in the fast lane, he was admittedly stressed: "I think I had a migraine for the first three months," he recalled. But after deep-diving into the brand's archives, he realized he was working with something of a sleeping beauty.
"All the ingredients were there," he said. "The fun factor was there, the sex factor was there, the no-bullsh*t mentality was there. It was just a bit sleepy. I had to wake it up."
The ingredients he's referencing date back to the '90s and the early '00s, when Diesel was "the coolest brand," according to Martens. As much as the brand was in-demand for its it-factor denim, it was also famous for fostering forward-minded dialogues with its controversial advertising campaigns. These included a Black man jumping into a "whites-only" pool, two male sailors kissing at the end of World War II and a young man pointing a gun at the camera — all wearing Diesel designs and occurring under the age-old tagline, "For Successful Living."
"Diesel has always been radical," said Martens. "A clever creative director will pinpoint the things that made a brand big in its heyday. Those controversial campaigns were so big for Diesel, and they were definitely a fundamental aspect of how I wanted to continue the brand. The louder, the better."
Since their marriage, Martens and his Diesel have advocated for provocation, with "happy, optimistic and sexy" design codes and larger-than-life stages for platforming the brand's newly-modern collections each season.
His debut Spring/Summer 2022 collection was hotly anticipated. Thanks to pandemic restrictions, it arrived packaged in a short film inspired by the experimental 1998 German movie, Run Lola Run, and its flame-headed protagonist. Model Ella Snyder played the collection's heroine, wearing classic jeans and a white tank top, with firetruck red hair. Her inclusion as a transgender model was crucial to Martens' wider vision for the brand; but his omission of that information was even more critical. That's what the future should look like, he explained.
Running in slow motion, Snyder passed through several scenes filled with models wearing the collection, which placed a clear emphasis on upcycling. Largely, it pulled from Martens' "Denim Library," a fully-sustainable segment of the brand that would eventually compose 40% of Diesel's clothing. Among trompe l'oeil graphics, patchworked camouflage and youthful frays, the collection pushed Diesel into an entirely new sphere. Still, it fell from the same tree. The signature '00s Diesel "D" logo, which had not appeared in the brand's collections since 2004, reemerged on metal hardware. Today, that logo is one of the most identifiable components of Martens-era Diesel.
"Glenn and Diesel are a match made in heaven. He's beyond innovative with denim and anyone with their eyes on fashion could see that in his work at Y-Project," Snyder told Hypebeast. "For me, the Diesel identity exudes confidence. It's sexual, and sexy, and confrontational. It's young, it's playful, and it doesn't shy away from breaking the rules."
Where his Lola ran, Martens sprinted, and 2022 proved to be Diesel's year of transformation. For Fall/Winter 2022, the brand returned to an in-person runway that was decorated with gigantic blow-up "models" wearing Diesel denim and white tank tops from the first collection. In 69 looks — no, that number was not coincidental — it was clear that Martens was tight on the reins.
The line was injected with Martens' signature early-2000s sex and glamorous pop prowess, but what made it monumental was its innovative denim distressing, which masterfully chipped away at the lapels of coats and the waists of jeans alike. It was filled with savoir-faire, moving the brand into a higher-end territory that it was previously unfamiliar with.
Then, with his tongue in his cheek, Martens invited Milan's fashion army to his Spring/Summer 2023 set with a sizeable glass butt plug. Upon arrival, Evan Mock acquainted himself with Julia Fox, who sat next to Vogue Japan's Editor-at-Large Anna Dello Russo in the front row. Behind them, 3,000 seats were given to the public, and before them, Diesel planted more blow-up dolls — this time, they were ten times larger and significantly more aroused. They were so massive, in fact, that they broke the Guinness World Record for the largest inflatable artwork ever made; and they were so lustful, that there was no doubt the collection would be hot.
Denim, of course, defined the range once more, with slabs of the signature fabric appearing in aged, faded tones across all sorts of revealing and concealing silhouettes. But the emboldened designer was now fearlessly experimenting with knits, lace and silk, injecting a softer, sexier feel into the brand's previously regimented shapes. Camouflage designs cited military inspirations and key accessories, including the 1DR bag, embraced their animalistic qualities with crocodile-skin finishes. Snyder, now one of the brand's most prominent faces, closed the show in the 69th look: a frayed, wrap-around logo skirt and denim jacket.
In Martens' Diesel universe, provocation seeps into every aspect of the brand's identity, which is heavily shaped by its larger-than-life shows each season — and that's what left the industry with no choice but to tune in to the brand's every move.
"I think it's the most complicated moment in the history of mankind to be a creative director," he said. "In the past, it was about making beautiful clothes and creating a universe, which is still part of the deal, but it's way bigger than that now. It's political. It's social. It's about engagement. It's about social media. You have to be very multifaceted."
It's a juggling act, no doubt, but Martens embraces the challenge. For his latest collection, the designer upped the ante, thanks to an internet-crazed Big-D x Durex collaboration. Condoms intrigued showgoers to this season's affair, where roughly 200,000 Diesel-branded rubbers formed a mountainous centerpiece on the runway. And alongside the mouth-dropping spectacle, Diesel announced that it would give away 300,000 additional condoms at its global stores. "We always want to give back to the community," he said.
Set to a soundtrack that was not safe for work, the collection put human sensuality on a pedestal. The brand's slogan, "For Successful Living," was playfully updated to "For Sucsexful Living," and skin was left in the spotlight. Denim was treated differently — for this collection, Martens made the central textile look like it had been eaten away with a treatment technique normally used on velvet. Meanwhile, metallic leather was beat-up and jersey was cut to expose beneath layers. Mini dresses fronted peeling paint, and vintage Diesel campaigns, picturing smiling lips and squinting eyes, decorated glossy tops and bottoms alike. It was of the times and for the future.
Here, Martens proved that behind all of Diesel's flashy, shock-inducing production components was true craftsmanship. In modern fashion, designers that lean into a social-media-first mentality oftentimes do so with a veil hiding a lack of artisanal expertise. Martens, just four seasons deep into his tenure, holds the fashion globe's attention while still making it about the clothes. That's what it takes to be the creative director of a fashion brand in 2023.
"My big job when I arrived was to reignite the brand's core flame," he reflected. "Now, the bigger job is actually to insist and repeat. I'm happy that we've installed a very identifiable language that's quite independent in this industry. We've stabilized the fundamentals, and we've connected with the world. Now, it's about celebrating it more and more."
With that, Martens was off to Paris. "The Y/Project show is on March 7th!" he exclaimed.