"Happy, Optimistic, Sexy": Glenn Martens Has a Plan to Make You Wear Diesel Again
At Y/Project, the designer redefined denim for a modern audience. Now, he's planning to do it once more.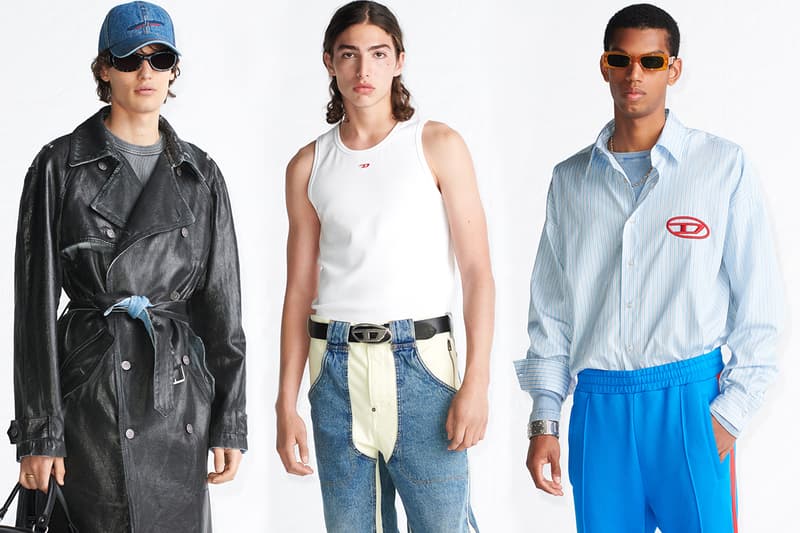 In 1998, in the Belgian city of Bruges, a 15-year-old Glenn Martens bought a pair of Diesel jeans with the money he'd saved up from bartending. "I know it's a cliché," he says now, "but it was the first thing I can consciously remember buying. Diesel was just the coolest brand people could have in those days."
23 years later, Martens is eight months into his appointment as creative director of the Diesel brand. So far, he has been busy: producing an archive-inspired capsule collection, overseeing campaigns, and preparing for the brand's first full collection presentation at Milan Fashion Week on June 21 — the first time the brand will be showing on-schedule. Beyond that, he is slowly getting to grips with the scale of his new role. "I think I had a migraine for the first three months," he jokes, in a Zoom call with HYPEBEAST from his home in Paris. "It's like jumping onto a train that's going at 200km an hour."
"We've always been an alternative to luxury. But that doesn't mean you can't go conceptual"
When the appointment was announced last October, it seemed at first a curious choice. Martens is best known for his work at the Parisian label Y/Project, where he has been creative director since 2013. Under his stewardship, Y/Project experienced a retail breakthrough, accruing blue-chip stockists from SSENSE to Browns — and winning an ANDAM award in the process.
But his aesthetic at the brand leans heavily towards the cerebral: the clothes he presents are twisted, distorted, and deconstructed, often to the point where it becomes difficult to tell what type of garment they once were. As Martens put it, "you basically need a manual to know how to wear them."
Diesel, by contrast, is largely associated with a straightforward Euro-sexiness: its low-rise, heavily-washed jeans were synonymous with the playful, knowingly-trashy glamour of the early 00's. Before Martens, the brand's most recent creative director was Nicola Formichetti, best known as the personal stylist to Lady Gaga. His tenure was marked by a poppy playfulness, which gave the brand a fresh perspective, but since his departure in 2017 the collections have been designed by an in-house team.
"A brand becomes successful for a reason. The mistake would be to forget about those values."
The market has shifted in that time. Upstart denim labels from Amiri to Aries have become international bestsellers, while other early 00's imprints — like True Religion, for instance — have struggled to regain their former relevance. In an increasingly crowded playing field, it has seemed, at times, as though Diesel has occupied a shrinking space.
It's a challenge that Martens is cognisant of. "I think they needed some time to reflect on what had, historically, made them so big," he says. "And that's the advantage that I have, as someone coming in from outside. I had some distance from it."
He has another advantage, too. At Y/Project, Martens proved himself adept with denim — his signature reworked jeans became an almost overnight success. Matches Fashion, which carries Y/Project, reports consistently strong sales. "We continue to see a reaction to the denim," says Damien Paul, the retailer's head of menswear. "The asymmetrical designs have become an iconic part of the brand."
Now, Martens' challenge is to bring his experimental sensibility to a global behemoth of a brand. He insists, though, that his more avant-garde leanings won't be diluted in his work for a more commercial label, and recalls Diesel's own history of boundary-pushing campaigns, which touched on sexuality and minority representation long before the rest of the industry caught up.
His first offering shown so far — the 'Library' collection, which was presented last month — showed the extent to which he is reworking the Diesel codes. "We've always been an alternative to luxury," Martens says. "But that doesn't mean you can't go conceptual, or that you can't push it. We're not gonna go on the runway with just a Canadian tuxedo."
Besides, working for a more accessible brand has its advantages. "I see so many luxury companies selling hoodies for €900, and they are a basic hoodie," says Martens. "We all know the production price of a hoodie is €50."
"At Diesel, we never have to do that. We are more honest. Everything gets to be the price it deserves to be."
Despite some initial concerns about how Martens' intellectualism would mesh with Diesel's more in-your-face leanings, the designer himself has been surprised by the company's willingness to adapt and evolve. "I would never have expected everything that we've managed to achieve so far," he says. "For a huge company like Diesel, it's quite radical. In other companies, it would take years of discussion and negotiations with management." Since Martens' appointment, the company has worked with him on shifting towards more sustainable suppliers, changed its washes, and changed many of its materials. Clearly, they take his vision seriously.
Martens' Diesel, then, will be based on three pillars: sustainability, inclusivity, and a design language he describes as "happy, optimistic, sexy". It's those qualities that he remembers first attracting him to the brand as a teenager in Bruges. "A brand becomes successful for a reason," he says. "The mistake would be to forget about those values. Diesel has always been a radical brand."
Collaboration, too, will have a role to play: after all, Martens himself was introduced to the brand through a collaborative capsule collection in 2018. And in his work for Y/Project, he showed an uncanny knack for reigniting brands through clever collabs — his reworking of the much-maligned Ugg boot, in particular, gave the brand an upsurge of so-wrong-it's-right cool. For now, though, Martens will focus his collaborations on the creatives whom he brings into the Diesel sphere. "Diesel can make anything it wants to make," he says. "So I'm not gonna focus on product [collabs]. I'm gonna focus on artists."
For the upcoming digital presentation, that will include the photographer Frank LeBon and the art director Christopher Simmonds (best known for his spectacular reimagining of Gucci's campaigns alongside Alessandro Michele), who has taken on revamping the entire visual image of the brand. As of yet, no runway shows are planned, but Martens isn't ruling that out once the pandemic alleviates. "There's nothing more exciting than doing a show," he says. "It's like giving birth to a baby."
Martens remains tight-lipped about what to expect from next week's collection, saying only that it'll be "a little more elevated, a bit more pushed." He's adamant, though, that it will feel authentic to the brand's own legacy — an evolution, rather than a rebirth. "It's important to reflect on ourselves," he says. "I want to focus on what we do, and who we are."