The Top 10 Running Shoes Right Now
Featuring cushioned daily runners from Nike's ZoomX Invincible 3 to the New Balance Fresh Foam X 1080v12.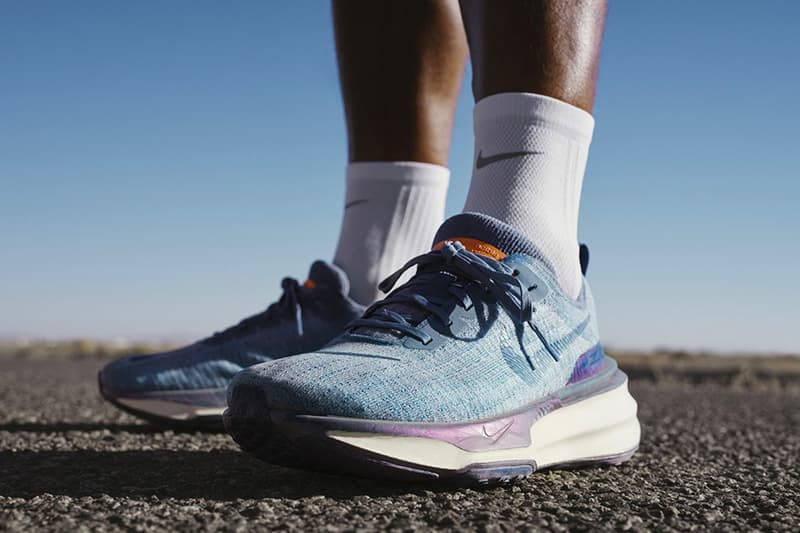 There are more running shoes than ever before on the market in 2023. From sturdy stability models designed to help overpronators to ultra-cushioned models for runners who want a pillowy ride and record-breaking carbon fiber marathon shoes fast enough for even the most avid speed demons, it can be challenging to know which ones to choose. While finding the best running shoes is both a personal quest, Hypebeast has shortlisted some of the most popular daily drivers in the field to help you select the prime pair. Lace up your shoes, hit the pavement, and let's get started!
Brooks Ghost 15
The 15th generation of Brooks' most-loved Ghost model is touted as "smooth, balanced, and better than ever" by the brand. Updated with a new DNA Loft v2 midsole, the cushioning is formulated with an optimal balance of rubber, air, and foam that feels plush yet firm on the feet. Outfitted with improved air mesh uppers, the Ghost 15 offers enhanced breathability, while the soft midsole and Segmented Crash Pad facilitate a smooth transition from landing to toe-off. Complete with high-arch support and shock absorption, the Ghost 15 is an excellent daily trainer running shoe for both beginners and seasoned marathoners.
Price: $140 USD
Where to buy: Brooks
Nike ZoomX Invincible 3
Integrated with ZoomX foam for the maximum level of underfoot comfort and impact absorption, the ZoomX Invincible 3 may be Nike's most cushioned road-running shoe to date. Bouncy and plush, it's capable of returning 80% of the energy from a runner's stride to alleviate muscle strain, while also gently pushing its wearer forward with a subtle rocker mechanisim. When comparing the latest Zoomx Invincible with previous versions, its stripped-back heel counter now comes with improved stability and motion control, as well as an overall sleeker-looking silhouette. For those looking for a pair of very-cushioned shoes for easy strides and steady-paced recovery runs, the Nike ZoomX Invincible 3 will meet all those requirements.
Price: $180 USD
Where to buy: Nike
ON Cloudmonster
One of the most cushioned runners on this list, On Running's Cloudmonster lives up to its name with a "monster" sole that provides maximum rebound and energy return. ON's CloudTec is engineered for soft landings, which when paired with its rocker shape, can reinforce runners with forward momentum and powerful take-offs. Weighing 9.7oz, the Cloudmonster leans more on the lightweight side for stacked cushioned shoes. With its easy step-in, soft sockliner, and comfortable upper, the Cloudmonster also possesses durability, as well as temperature resistance for long-distance runs and high-impact workouts.
Price: $170 USD
Where to buy: On Running
ASICS GEL-Kayano 29
ASICS describes the GEL-Kayano 29 as a shoe that provides "a stable and energized running experience" for overpronators. 29 models in, it's still innovating, so its previous the plastic plates have been replaced with a firm LITETRUSS™ foam for stability, updated FF BLAST™ PLUS cushioning, and overall improved breathability that comes a smoother midfoot to toe transition. With stability comes a little weight: the GEL-Kayano 29 weighs around 10.5 oz while its women's counterpart clocks in at 9.5 oz. Although not the most suited for speedwork, these runners will suffice plenty for daily jogs and long-distance runs.
Price: $160
Where to buy: ASICS
HOKA Clifton 9
The ninth version of HOKA's award-winning Clifton model now comes with added height and is 0.2 oz lighter than its preceding models. Because of the added height, the HOKA Clifton 9 is much more suited for roads and steady long-distance runs. It's attired in a highly-breathable knit upper, which wraps around the fee tight, along with the padded and partially gusseted tongue to help minimize chafing and friction. As the fit leans more on the narrow side, HOKA offers the Clifton 9 in a regular width, as well as a wide fit to accommodate different foot shapes.
Price: $145
Where to buy: HOKA
Saucony Triumph 20
Saucony's Triumph 20 is the brand's most popular neutral running shoe to date. Lightweight yet highly responsive, the PWRRUN+ cushioning is paired with an improved geometry that provides a "cloud-like" feel for feet during everyday jogs and long-distance runs. In addition, the Triumph 20 also implements a brand-new upper and lacing design that fits the feet like a glove with a non-slip and all-over plushness. Outfitted with a 10mm heel-to-toe drop, the stack height measures up to 27mm, offering a powerful boost to runs all the while reducing pressure and strain from the Achilles.
Price: $160
Where to buy: Saucony
adidas Ultraboost Light
Also known as the Ultraboost 23, these running shoes premiere a new BOOST cushioning system and are touted as the series' lightest model to date as they weigh 30% less than their predecessors. Flexible with a fair amount of responsive bounceback, the Ultraboost Light incorporates a LEP (Linear Energy Push) propulsion system, highlighted as midsole built-ins, while the orange sections of the outsoles reinforce a firm, stable stride. The shoes come in a regular fit featuring a one-piece Primeknit+ textile upper, which securely wraps around the feet without slipping during those daily runs.
Price: $190
Where to buy: adidas
New Balance Fresh Foam X 1080v12
Described by New Balance as their best and most versatile running shoe, the Fresh Foam X 1080v12 is recommended for those who prefer a slightly more cushioned sole. It features a rocker silhouette that encourages an easy-to-roll-forward momentum, while a 34mm stack height absorbs most of the impact from the road. Fine-tuned with a comfortable and breathable second-skin-like fit, the shoe boasts a streamlined silhouette with its Hypoknit upper, which is paired with a not-so-plush, but still slightly padded tongue design. A little on the heavier side, the Fresh Foam X 1080v12 weighs around 10.3 oz but is built to withstand long-distance jogs, recovery runs, and logging in easy daily miles. It's also great for wide feet with a sizing that runs large, along with regular and wide fit options available.
Price: $160
Where to buy: New Balance
ALTRA Escalante 3
The highly-anticipated update to ALTRA'a classic road-runner upholds the Escalante's usual zero-drop, and rounded shoe-box design. In terms of fit, the Escalante 3 may feel a little stiffer in comparison to its preceding silhouettes. However, with the incorporated Balanced Cushioning™ and Altra EGO™ foam, the shoes demonstrate an overall balance between responsiveness and comfort. A subtle but handy update from the Escalante 2.5 is a newly added top eye hole, which seems insignificant at first, but is proven to be rather useful for runners who opt for marathon loop ties for extra secure footing, which is especially helpful for narrow feet as well. The tongue also comes in a more cushioned design, while the updated outsole reinforces durability. As a whole, the Escalante 3 is undoubtedly a versatile pair of runners that functions just as well off-the-road, as it does at the gym or throughout everyday activities.
Price: $140 USD.
Where to buy: Altra
Salomon Aero Glide
Although Salomon is better known for their trail running shoes, for the brand's first official foray into crafting lightweight, daily road runners, the Aero Glide is actually a pretty worthy pair to make this list. It's built with maximum cushioning in the form of a high stack midsole, where its Energy Foam keeps the feet plush with ample impact absorption. Attired in the brand's signature rocker geometry with a soft padded tongue, and SensiFit™ upper, the Aero Glide ensures a smooth, firm ride and quick transition that keeps its wearers moving. Despite its chunky 37.4mm stack heel, the shoe isn't clunky at all — weighing just under 9 oz, it's a great pair of all-round running shoes for everyday runs.
Price: $160
Where to buy: Salomon
On the topic of shoes, check out the best footwear trends at Paris Fashion Week Fall/Winter 2023.