IDK and the Air Jordan 4 for Hypebeast's Sole Mates
The rapper shares his favorite elements about the AJ 4, why he feels storytelling is important and the DMV's unique style.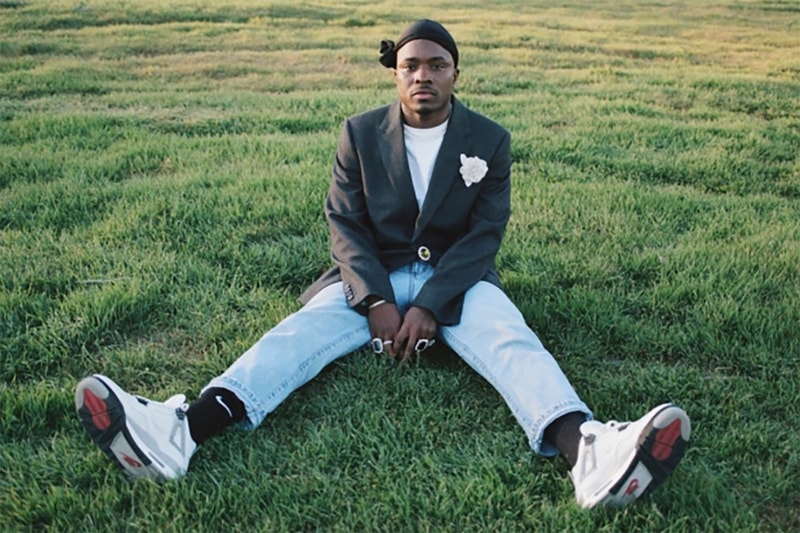 Rap music and sneaker launches share a common thread: storytelling. Artist IDK — short for Ignorantly Delivering Knowledge — resonates with this, given that he's made a name for himself by weaving deeply personal themes into his records, which include tunes made alongside artists like Pharrell, T-Pain, Offset and Young Thug. In the same way he appreciates the science behind meshing bass-knocking beats and emotional lyrics to string together the perfect song, he realizes that the messaging and marketing blended with the perfect color palette and design are what really gives a shoe its charm.
Growing up in Prince George's County, Maryland, he found himself recognizing the impact of regional staples like New Balance runners and retro Nike silhouettes like Foamposites and ACG Goadomes. However, when it comes to the myriad of sneakers in his collection, there's no other offering that he holds on as high of a pedestal as the Air Jordan 4.
Hot off the heels of his newly-released single "Radioactive," Hypebeast had the opportunity to catch up with IDK to discuss how he was introduced to the Air Jordan 4, his experience being part of the Nike family and the nuances of DMV style.
Who or what got you into sneakers?
One of my childhood best friends. I remember being into clothes and sneakers growing up, but it was him that actually guided me to go on websites like Flight Club and understand different silhouettes, the difference between Dunks and Nike SB Dunks, things like that. Additionally, I would always get made fun of in school for either beating up my sneakers or not having the latest ones, and that also pushed me to want to dress better.
What exactly were you getting clowned on for wearing?
I had good Jordans and Nikes, but I would only have one or two pairs at the time so I was just beating them up whereas my friends around me were always getting the latest drops.
"Eventually I got to wear [my Air Jordan 4s] to school and I just remember the reaction of everybody when I came to school with those shoes on, it was a feeling that I'd had never had before. I clearly had the best kicks at school that day."
What was sneaker culture like for you growing up in PG County?
Sneakers were huge in the [greater] D.C. area. Silhouettes like Foamposites and the ACG Goadome had a chokehold on the culture. It was mandatory that you had a pair of New Balances and ACG Boots, but if you really had money then you were flexing the newest Jordan and Foamposite drops.
You chose to highlight the Air Jordan 4 for this feature. Do you remember the first time you laid eyes on the AJ4 and what your reaction was?
My love for the Air Jordan 4 came organically. I remember being in seventh grade, coming home from school one day and seeing a silver Jordan box in my mother's room that had the "White Cement" colorway. It had an orange Nike Air tag, and back then I didn't even know that Nike made Jordans. Hee was going to give them to me, but I kept getting in trouble and my mom kept them from me for awhile. Eventually I got to wear them to school and I just remember the reaction of everybody when I came to school with those shoes on, it was a feeling that I'd had never had before. I clearly had the best kicks at school that day.
Would you say that you're more a fan of the design, the classic colorways, its association with Jordan or a mix of all?
I'd say the design. The cage and the netting are cool, but I'm more drawn to the "wings" on the side. I honestly think it's one of the most innovative silhouettes in Jordan's line. What they did with the shape is crazy because it's not too bulky and it's very easy to style, especially in comparison to other models like the Air Jordan 5 and Air Jordan 6.
What are your favorite colorways of the Air Jordan 4?
The "White Cement" will always be my favorite because of the nostalgia, and they pretty much go with everything. Other colorways that I love include the gray KAWS collaboration, the "Lightning" 4s and the Doernbecher collaboration.
A ton of collaborators have touched the Air Jordan 4 in recent years like Travis Scott, A Ma Maniere, Union and Off-White. Are you a fan of the model's new surge?
I am. I love all of the new Air Jordan 4 collaborations and colorways that have come out as of late. The colorways have been catching my eyes but it's the stories that are more important for me and what I really care about. It's just like dating a girl. She might be bad, but you're not going to settle down with her if the story ain't right.
What does IDK look for in a sneaker when it comes to performing? Are you a believer in the "look good, feel good, play good" mantra?
It's about looks, but it's also about functionality and comfort. When I'm on stage, I want to give the best show possible. I'm not an artist that just goes on a mic and raps. I want to create an experience, and in order for me to do that I have to feel free. So whatever I'm wearing performance-wise it also has to have a certain level of functionality. I prefer a lighter shoe, so last tour, I was always rocking the Stüssy x Nike Air Max 2013.
Last year you signed a deal with Nike. How did that partnership get brought to life, and how has the experience been so far?
When I was in prison I used to draw concepts of Dunks and other silhouettes that I liked all the time, so I feel like I manifested my deal with Nike.There's a lot of artists that get really popular and have platinum records, but they won't have a deal with Nike. So to see that come full circle is great, and we definitely have something even bigger with another partner that's slated to come out very soon. I remain loyal to Nike, but organically that's just what I do anyways, and that partnership was four to five years in the making during my ascension and just always supporting and showing them love.
You had the opportunity to work on a clean Nike Blazer and Nike AF1 in the past, can we expect to see more collaborations down the road?
Something's definitely in the works. I've got my eye on the Air Max line, so we'll see how that pans out.
"The aesthetic is one thing, but the story is what solidifies why I do anything, why I put something on my body."
Would you say that rappers are the new athletes when it comes to sneaker deals?
Artists are definitely the new athletes, because we perform and our performance is often physical. And if you just look at the influence that we've had on sneaker culture, the impact is just as high, if not higher.
Why are sneakers and their stories important to you personally?
I think that sneakers are art pieces, and any great piece of art has a story. The aesthetic is one thing, but the story is what solidifies why I do anything, why I put something on my body.