Drake's Apollo Theater Show Traced the Storied History of Harlem Hip-Hop
Performing back-to-back shows at the historic venue, Drizzy looked back to those who laid the foundation for rap culture today.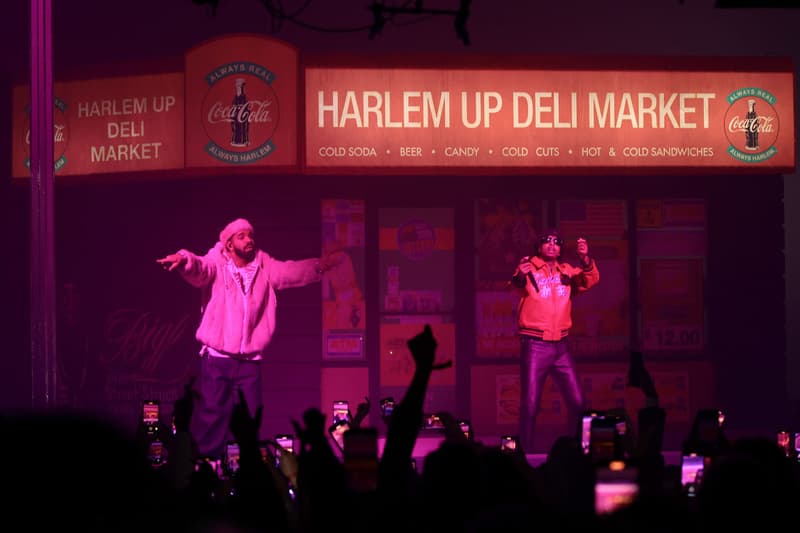 The legacy of the famed Apollo Theater sets a high standard for even the most accomplished artists of the streaming age. The Apollo was erected in 1913 as a "whites-only" venue before the theater was purchased by Sidney S Cohen in the 1930s. Cohen, a prominent landlord of theaters throughout New York City, decided it would be dedicated specifically to platforming Black artists and providing entertainment to Black patrons at a time when the majority of venues in the U.S. were racially segregated.
Then, at the peak of New York's Jazz Age, the Harlem theater soon established itself as a catalyst for then-emerging jazz musicians like Ella Fitzgerald, Luther Vandross and Thelma Carpenter. And in the decades since, the Apollo Theater's legacy has only continued to innovate and affirm its legendary status. Duke Ellington graced the stage alongside his jazz orchestra in 1945. Jimi Hendrix began his career after winning first place in the Apollo's amateur musician contest in 1964. Just three years later, the Jackson 5 would go on to win the same contest, and in 2002, the Apollo hosted Michael Jackson's last on-stage performance during his lifetime.
Unlike the aforementioned artists, Drake's back-to-back performances at the Apollo this past weekend in partnership with Sirius XM occurred at what could be considered the pinnacle of his career. It begs the question: why hold a concert at a theater with a capacity of no more than 1,500 people when you typically sell out stadiums? Over the course of the event, the answer became increasingly clear as Drake delivered an intimate and extensive show of 41 tracks spanning his discography and saluting Harlem's influence on hip-hop.
"Aubrey, try to keep it down tonight when you're working," a voiceover of the rapper's mother, Sandi, cuts through the crowd's silent anticipation. Under blue-hued lighting, Drake is situated on a replica of his childhood bed, donning a Degrassi basketball jersey, as delivers the opening lines of Take Care cut "Over My Dead Body." It quickly became clear that this particular concert wouldn't see the rapper work his way through the Her Loss tracklist, as some attendees may have expected. Rather, in a refreshing twist, Drake rapped his way through an eclectic mix of B-side cuts such as "Wu-Tang Forever" and "Trust Issues" and fan favorites like "Best I Ever Had," "Forever," "Nonstop" and "God's Plan." As he made his way through his discography, the setting changed from his childhood bedroom to the makeshift boardroom of a record label.
Lil Uzi Vert made a brief appearance to perform a high-energy rendition of his viral hit "I Just Wanna Rock," after which Drake gave the rapper his flowers and celebrated their close friendship. "Anytime I feel down, I always get a message from him checking in. Never asking for nothing, just checking," Drake said onstage with Vert. "So I wanna let you know, if you ever wanna do well and go far in life, you gotta check on your people." At roughly the halfway point in the evening, a Harlem bodega was set up between songs, from which 21 Savage emerged and the duo dived into a sampling of Her Loss tracks, starting off with "Rich Flex."
Some attendees may not have been aware of the significance of Drake's next move but for others, the show's most culturally significant moment occurred when the rapper brought out all four rappers of the Harlem collective The Diplomats – also known as Dipset – Cam'ron, Jim Jones, Juelz Santana and Freekey Zekey. Drake had spent the past hour and a half charting his own trajectory in the music industry and for the last stretch, he shared the stage with those who had set the tone for rap in the early aughts and influenced Drake from when he was just getting started with his own career in Toronto. Drizzy even paid homage to Cam'ron by donning a replica of the furry pink coat and matching headband that the Harlem rapper went viral in 2003. "These guys right here from Harlem made us dress different, talk different, walk different, rap different — all the way in Canada," Drake said.
By tapping Dipset to close out the evening with some of their own hits – "I Really Mean It," "Dipset Anthem" and "We Fly High" – Drake reminded fans that he wouldn't be performing at the Apollo, or at this stage of his career in general, had it not been for the rappers who paved the way decades prior. To commemorate the moment, Jones, in true rapper fashion, gifted Drake a custom OVO x Dipset chain.
"My dream for doing the Apollo would be to share the stage with these legendary, legendary guys," Drake said. "First of all, we wouldn't be here, but we wouldn't have talked the same, dressed the same, walked the same. You guys influenced me and my brothers so much."