This Woman Landed an Interview at Nike With a Resume Cake
Also thanks to an Instacart driver that went above and beyond.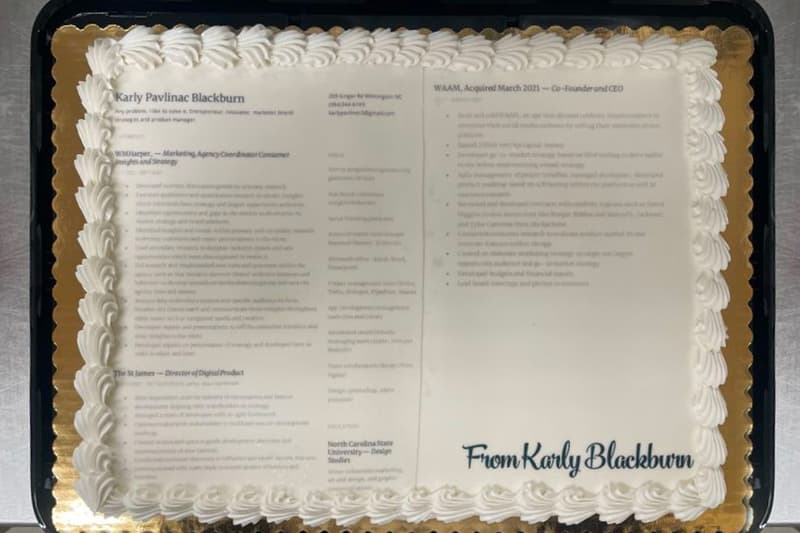 In a LinkedIn post, North Carolina's Karly Pavlinac Blackburn shared how a cake helped her secure an interview with Nike. Applying for a position at Valiant Labs, a new internal incubation arm of Nike, Blackburn was spurred on by a colleague to make her application stand out.
That's when Blackburn did some research and found out that Nike was having its annual Just Do It Day celebration, despite not being invited, the eager applicant figured out a way to be part of the party, sending a cake with her resume printed on it. Then came the problem of getting the cake to the right person, "How could I get an edible resume on top of a cake delivered to a party (I wasn't invited to), to THE team I wanted it to go to, from North Carolina all the way to Beaverton, Oregon," wrote Blackburn.
Blackburn ordered the resume printed cake from an Albertsons grocery store close to Nike's Beaverton headquarters through Instacart and luckily was matched with an Instacart driver that went above and beyond. Denise Baldwin, a single mother of three with another child due in March, spoke with Blackburn and was sold by her unwavering ambition. "I talked to Denise on the phone and she said to me, 'Karly I know this is important to you, and I will do whatever IT takes to get this cake to where it needs to be."
Carrying the cake in one hand and her eight-month-old son in the other, Baldwin searched for the person at the 300-acre campus with over 75 buildings. Despite being told to leave the cake at the reception, Baldwin, who takes pride in all her Instacart orders, called and waited for the appropriate person to come down to receive the cake.
Aside from Karly Pavlinac Blackburn landing the interview at Valiant Labs and she has also received interest from other employers. Blackburn has also formed a relationship with her Instacart driver and has offered to help with Denise Baldwin's career ambitions, setting up a LinkedIn, Baldwin has also received interest from several employers.
Head over to LinkedIn to read the post in full.
In case you missed it, Supreme could be opening a new store in South Korea.