Anya from 'Spy x Family' Appears on Massive 3D Billboard in Shinjuku
Promoting the October Season 2 premiere.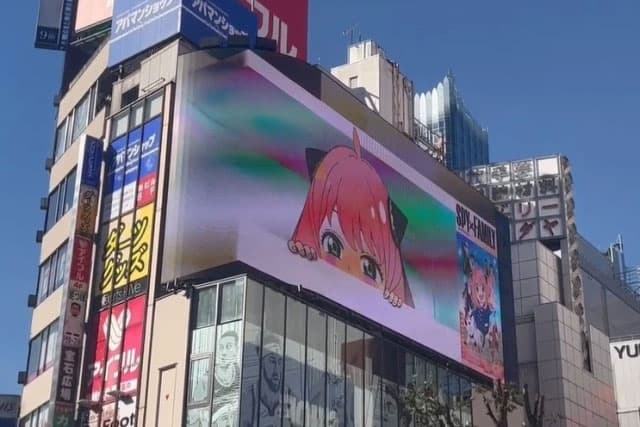 Anya, the adorable pink-haired telepath in this year's most popular anime, Spy x Family, has been spotted at Tokyo's massive Cross Shinjuku Vision billboard. Located outside of Shinjuku Station, the 150-sqm curved 4k display billboard has previously displayed visuals for projects such as Ye's YEEZY Gap collection, Pokémon GO, and a supersized ultra-realistic cat.
As a member of the peculiar Forger family made up of Loid, a world-class spy posing as a doctor, and Yor, an assassin appearing as an ordinary clerk, Anya's secret psychic abilities allow her to read her parent's thoughts as they go about adventures of everyday life while trying to maintain world peace in their own ways. With Spy x Family Season 2 on the horizon, a massive 3D Anya is seen peering over the central Shinjuku neighborhood, shouting "Hey, everybody down there, Anya has a request for you all, Don't miss what Anya gets up to!" The Spy x Family scenes can be seen appearing in two different versions two times an hour.
For those in Tokyo, Anya will remain on the Cross Shinjuku Vision billboard outside of Shinjuku station's east exit until October 9. Spy x Family fans can expect Season 2 to premiere October 1.
クロス新宿ビジョンにアーニャが登場!

ビジョンの中のアーニャが動き喋ります!!#スパイファミリー #SPY_FAMILY pic.twitter.com/C1U830cbI8

— SPY×FAMILY (スパイファミリー)グッズ情報 (@SPYxFAMILYinfo) September 26, 2022
新宿のアーニャ見てきた?
10分くらいと40分くらいに流れるやつ、初めの部分だけ違うのかな?
これは40分くらいに流れたやつ!#SPY_FAMILY #スパイファミリー pic.twitter.com/qZ1Wz4ll5y

— 鬱子 ?10/27変身? (@Fashionnessutsu) September 26, 2022
In other news, Netflix drops an unreleased clip from Squid Game season 1.