The HYPEBEAST Guide to Paris Design Week 2022
From a Jean Prouvé cafe to an installation by Crosby Studios.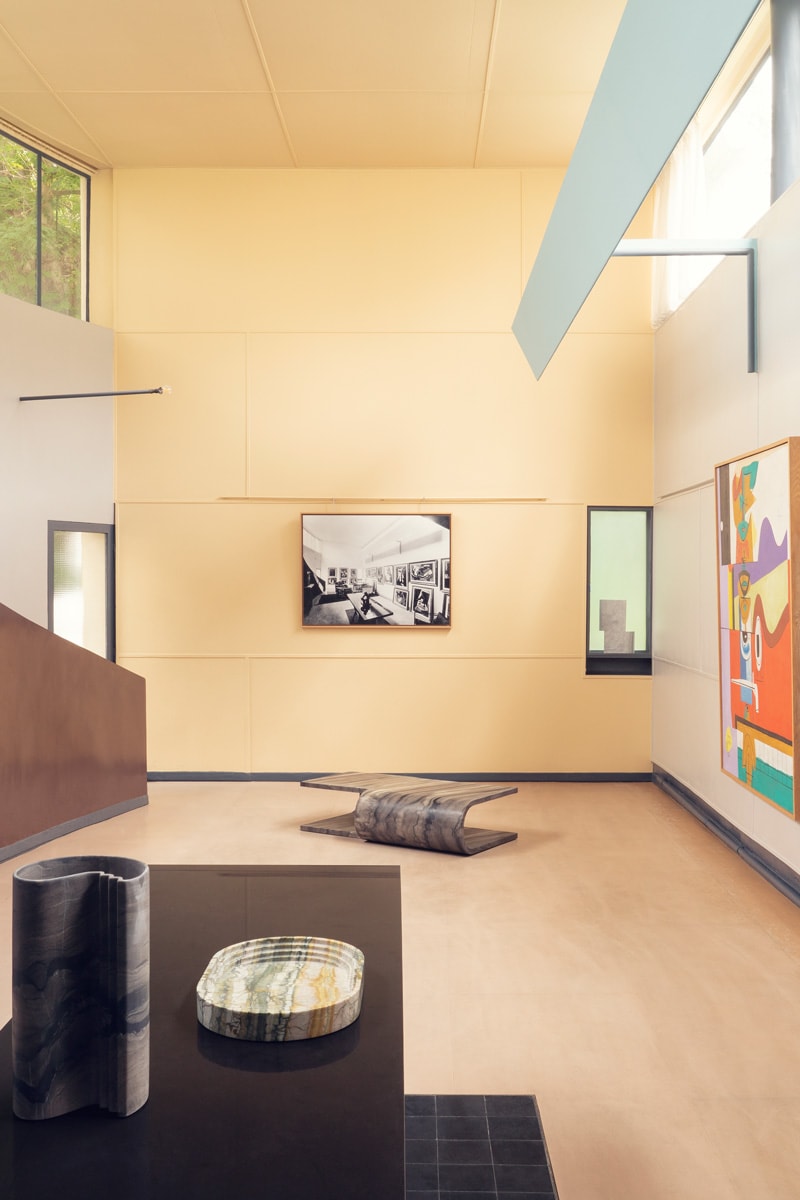 The HYPEBEAST Guide to Paris Design Week 2022
From a Jean Prouvé cafe to an installation by Crosby Studios.
Summer is over for many of us, and as well as signifying the end of holidays, long nights, and warmer weather, it also spells the start of a design marathon, beginning with Paris Design Week. The city-wide event kicks off this Thursday and runs until September 17, with events, exhibitions, and installations taking place across four zoned districts. It also coincides with the Maison&Objet furniture fair, which sees international brands gather at the Parc des Expositions de Villepinte to show their latest collections. From a show at the Le Corbusier Foundation to a gathering of Greek designers at Carwan Gallery, read on for the events you can't miss.
Fragments
At Fondation Le Corbusier – the hub dedicated to the famed architect – Anthony Guerrée and M éditions will present pieces made from marble, which each question the origins of art. He references thoughts penned by Corbusier back in 1910 when he stood in front of the Parthenon: "It's so beautiful and clear. These plates, these lines, are like sunlight under people's fingers".
Fondation Le Corbusier, Maison La Roche, 10 Square du Docteur Blanche
Greetings from Greece
Together with Carwan Gallery, India Mahdavi has pulled together a selection of Greek designers, who will each be exhibiting works alongside her Achomia collection inside her Paris showroom. Expect to see the likes of Polina Miliou, Theodore Psychoyos, Objects of Common Interest (work pictured), and Savvas Laz.
29 Rue de Bellechasse
Palais Exotique
Designed by Cristina Celestino, the Maison&Objet Designer of the Year, Palais Exotique will be located at the furniture fair inside the Parc des Expositions de Villepinte. Typical of Celestino's style, the space is described as being a bridge between the past and present and will house the works of four young French Designers: Pierre Gonalons, Bina Baitel, Charlotte Julliard, and Samuel Accocceberry.
Parc des Expositions de Villepinte, ZAC Paris Nord 2
Horizon
At the Signé design gallery, an installation by artist duo Marie & Alexandre will bring together ceramics, design, and architecture. The pieces are described as being "gymnastic" in their form and have been crafted from red earth – with the intention of showcasing the "lightness and extraordinary resistance" of the material.
Galerie Signé, 33 Rue Bonaparte
Step by Step
Although it doesn't open until the back end of the festival, this exhibition is not one to be missed. A bumper lineup has been brought together, with all designers focusing on the theme of ladders. Yes, ladders. The show will include new works created exclusively for Galerie Kreo, by the likes of Virgil Abloh, Edward Barber and Jay Osgerby, Ronan and Erwan Bouroullec, Pierre Charpin, Konstantin Grcic, Jaime Hayon, Hella Jongerius, Jasper Morrison, Marc Newson, Muller Van Severen, and many more.
Galerie Kreo, 31 Rue Dauphine
Cafe Prouve at Conran Shop
Obviously, Paris isn't short of cafes. But if you're looking to combine your refueling stop with some good design – look no further than the French outpost of the Conran Shop. Throughout the duration of the festival, the space will host a pop-up named "Prouvé Café", which has been imagined by Vitra and will be filled with pieces of iconic Jean Prouvé furniture.
Conran Shop, 117 Rue du Bac
Bienvenue Design
Design galleries and studios will come together under the umbrella of Bienvenue Design, at the Hotel La Louisiane. Over 20 exhibitors will reinvent different rooms inside the hotel, which has been home to famous guests including Quentin Tarantino, Cy Twombly, and the Rolling Stones. Highlights include Harry Nuriev of Crosby Studios, who will combine bright pink with aluminum, and PAF Atelier, which will take over the ground floor.
Hôtel La Louisiane, 60 Rue de Seine
Franz West Furniture
David Zwirner gallery will present a selection of furniture by Franz West.The Austrian artist began making furniture pieces in the early 1980s, and would describe them as "adaptives for the human body at rest". Expect to see his "Künstlerstühle" pieces (chairs painted in bright hues) as well as divans, club chairs, and poufs.
David Zwirner, 108 Rue Vieille-du-Temple
D3SIGN CAPSULE
The French outpost of ELLE Décoration brings together 16 collaborative pairs, each exploring the future of interior decoration. The pairings are made up of one person from the world of design and the second from digital art – each has invented scenes of the future, be they real or in the metaverse. Inside the exhibition at The Musée des Archives Nationales, designer Sam Baron has created a set that presents NFT collections alongside the actual, physical works.
Musée des Archives Nationales, 60 Rue des Francs Bourgeois
Paris Design Week Factory
Head here to experience a "hive of creativity", with up-and-coming names, such as studios 13Desserts, Mademoiselle Jo and Noka Design, and designers Roula Salamoun (work pictured) and Alice Renaud. Prototypes will sit alongside finished pieces, and all come from designers who are early in their careers. Make sure to stop by Galerie Revel, which was founded in 2021 with the aim of providing a platform to emerging artists, designers, and architects from, or living in the Global South.