Lil Yachty Launches "Yachty's Pizzeria" Frozen Pizza Line
Coming in "Buffalo Style Chicken," "Hot Honey Cheese," "Pepperoni & Bacon," and "Veggie Supreme" options.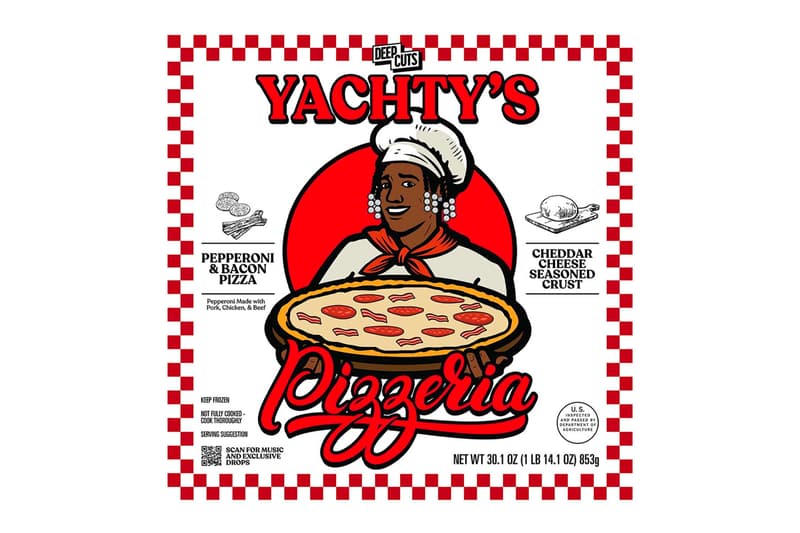 Sharing his love for pizza, Lil Yachty recently launched his latest venture, "Yachty's Pizzeria." His first-ever line of frozen pizza serves as the first offering from Deep Cuts, a Universal Music Group for Brands name for premium frozen pizzas. The partnership division of Universal Music Group worked with Richelieu Foods to create a brand around products that extend musicians' artistry and business portfolio.
Yachty's Pizzaria features four flavor options created with the rapper's favorite cheeses, toppings and bold seasonings. "Buffalo Style Chicken" features Yachty's own buffalo ranch sauce and mozzarella cheese topped with spicy chopped buffalo chicken breast and crispy French-fried onions. Sweetened with real honey, "Hot Honey Cheese" offers a mix of mozzarella, provolone, Monterey jack, asiago, romano and parmesan on top of tomato sauce. While "Pepperoni & Bacon" and "Veggie Supreme" serve as Yachty's take on classic pizza variations with premium ingredients.
"I've loved making and eating pizza my whole life, so this is a project I'm really excited about and have been for a long time. We made some wild flavors but there's still something for everybody. I take my pizza seriously so I'm looking forward to seeing what people think," said Lil Yachty.
"Yachty's Pizzeria is an exciting example of a strategic brand extension that both represents the artist's interest, passion and personality as well as a way to help him expand his business portfolio," said Richard Yaffa, EVP, Global Brands, UMG. "It's a thrill to be able to continue to find new ways for our artists to connect with their fans around the world and support these campaigns with best-in-class marketing and creative support."
Priced at $6.98 USD, the complete line from Yachty's Pizzeria is available now exclusively at Walmart nationwide.
View this post on Instagram
For more food and beverage news, watch Benny Blanco deep fry his Rolex Datejust.