The Kids are Alright: How Arsenal Are Building for the Future
Three of the club's youthful team discuss looking forward to a fruitful new period.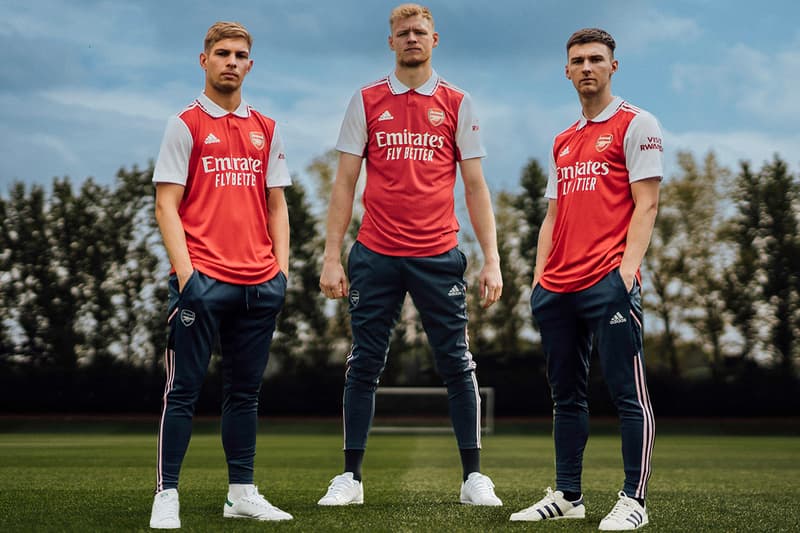 Arsenal's 2021/22 season has been a story of highs and lows. On one hand, the team has picked up impressive results – back to back wins against Chelsea and Manchester United in April were a highlight – and is guaranteed to improve on the previous season's 8th place finish. In the other column, however, are some less successful results, and the possibility of missing out on Champions League football.
One consistent positive of the season has been the development of a core of young and exciting players. The squad's star players this season include 20 year olds Bukayo Saka and Gabriel Martinelli and 21 year old Emile Smith Rowe, while the club's goalkeeper and vice captain – Aaron Ramsdale and Kieran Tierney – are both only 24.
"This is what you want as a young player," explains Smith Rowe, speaking at the launch of Arsenal's 2022/23 home kit. "You want to be playing every week. The manager and all the other staff have given so much confidence to me and all the young players. We all help each other, which makes it so much easier when we get onto the pitch."
"As a young player, you don't really have much fear, you think you can take on anyone."
Arsenal's focus on youth and the commitment to blooding young players is also making the club an exciting prospect for other players. "Any young player either signing for the club or coming through the academy can see the manager starting with six under 23 players," Ramsdale adds. "That's a huge boost to anyone looking to get into the squad, but for us it shows freedom, it shows passion and it shows determination. Sometimes the young lads have driven us on and sometimes it's been the more experienced players. We've got a good balance."
This balance has helped spur the team on through difficult patches over the last year, including a rocky beginning to the season. "I think you've seen more of the identity which the manager wanted us to have actually come out," Ramsdale continues. "We haven't changed our style of play and how we want to play. We've grown together, with more time on the training pitch and more confidence. The start of the season was tough but nothing's changed other than just time on the training pitch, gelling together and being able to express ourselves."
The young players at the heart of the Arsenal team have all brought different experiences to the club. Ramsdale made a name for himself at Bournemouth and Sheffield United – suffering two relegations – while Tierney had played 100 times for Celtic before he left aged 22. Smith Rowe is one of a number of homegrown players, although he made his debut during a brief loan in Germany. "Supporting Arsenal from a young age, watching the club growing up, it's a dream come true to be part of the team," says Smith Rowe. "I'm loving every minute of it at the moment, long may it continue." He also highlights his time at RB Leipzig for helping his development. "It was a learning experience and I learnt a lot from it," he adds. "I had to live by myself, meet new people and learn a new language and culture. I don't regret it at all, it was definitely a step out of my comfort zone and I've come on from there. It's been a good journey."
This exciting and progressive young squad ties Arsenal back to one of its most recent golden eras, when manager Arsene Wenger often put his faith in emerging talent such as a 22-year-old Thierry Henry, or future stalwarts like Cesc Fabregas and Jack Wilshere. The club's upcoming home kit also ties the team to its illustrious past, with a stand-out collar inspired by the 1990s. A further link to its past comes from its commitment to playing football on the front foot, something driven by the youthful team. "As a young player, you don't really have much fear, you think you can take on anyone," Tierney says. "When we've come up against big teams we've shown that we don't have fear of them. We don't play for a draw, we don't change anything."
"That's what the fans want to see," Tierney continues. "It's what the manager wants and, as players, you want to play attacking football, you want to play good football, you want to win, you want to score goals. The way that the manager sets us up gives us the best possible chance of that."
All of this new Arsenal generation are excited about the future, and believe that the club will only continue to grow. "You never know what could happen next year," Ramsdale says, "who the management add to the squad, more experience in the summer with internationals and the World Cup after that. Confidence is a huge thing, and if you see someone like Bukayo [Saka] going to the World Cup and starring for England, when he comes back he's going to be an even better player."
As the season draws to a close, Arsenal are now able to look forward to how the team can evolve. Players are ambitious for the future, but understandably reluctant to make bold predictions about 2022/23 with so much still undecided. "It's hard to say where we can go," Tierney adds. "But after two years of working together and doing well, then you never know…"
Arsenal's new home jersey is available now from the adidas web store.