Eileen Gu Wins Olympic Gold in Freeski Big Air at 18 Years Old
The Louis Vuitton Ambassador and incoming Stanford student wins with a double cork 1620.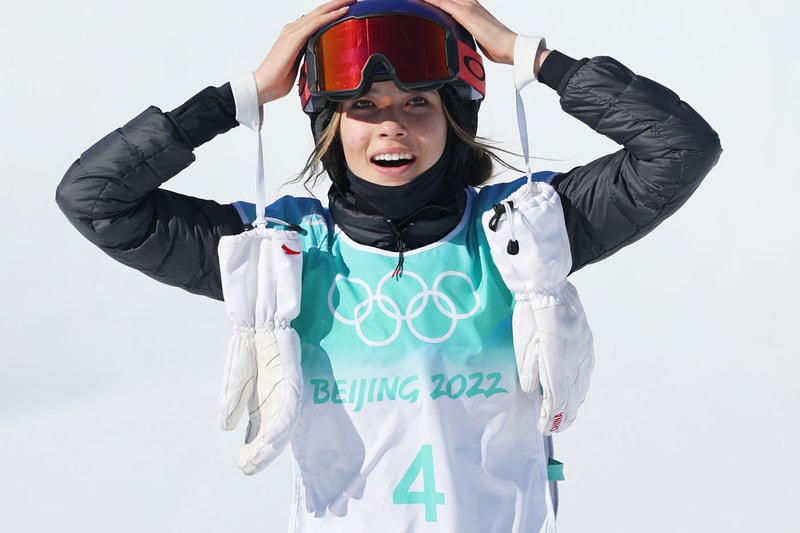 18-year-old California native Eileen Gu has won gold in the 2022 Beijing Olympics big air event becoming the youngest freestyle skiing gold medalist in Olympics history.
Representing China in this year's games, Gu was in third place with just one jump to go as the hometown crowd anxiously waited for her next move. "I was guaranteed a podium spot when I dropped in, I was only 0.25 points behind Mathilde (Gremaud) and I was thinking, should I improve on my previous one and go for the sliver or should I whip out this random trick I'd never done before and go for gold," she shared.
Gu successfully landed a Left Double 1620 with a safety grab on her final run, securing her the winning score she needed. "I've never done it before, but I actually felt pretty confident going into it. I've played piano for nine years, so I am very attuned to a sense of rhythm," Gu shared in her post-event press conference. "I think of all my tricks as a rhythm and music. The wind in my ears, the speed in my turn as I spin, it speeds up. There's a change in tempo."
"I was visualizing that. More than anything I felt it was an opportunity to represent myself, and this message that I've always had to break my own boundaries. It's something that I wanted to show the world," said Gu. After the results were announced Gu gave credit to her fellow competitors saying, "I landed because of them. We all have the same goal to push the sport and do our personal best on that day."
Eileen Gu can't believe it!

A double cork 1620 on her final run! #WinterOlympics

? : @nbc and @peacockTV
? : https://t.co/HXlJozHVHI pic.twitter.com/kH7DqYBc6f

— NBC Olympics (@NBCOlympics) February 8, 2022
Raised in California where she began to learn to ski at the age of three, Gu has been criticized online for seemingly switching sides and representing China, where she's affectionately known as "Snow Princess." She explains her reasoning in an Instagram post saying, "Having been introduced to the sport growing up in the U.S., I wanted to encourage Chinese skiers the same way my American role models inspired me. Nine years ago, I pitched the idea of a freeski competition. The result was the first slopestyle competition in China. Ever."
"No matter what I say, if people don't have a good heart, they won't believe me because they can't empathize with people who do have a good heart," she said in her post-competition interviews. "So in that sense, I feel as though it's a lot easier to block out the hate now. And also, they're never going to know what it feels like to win an Olympic gold medal."
Beyond snowboarding, Gu is also an incoming Stanford student, IMG model, and global brand ambassador for Louis Vuitton, Tiffany & Co., and more. After winning her first Olympic Gold in Big Air, she hopes to secure two more at the women's Slopestyle and Halfpipe events.
View this post on Instagram
Elsewhere in winter sports, Shaun White announces retirement after Beijing Olympics.