Home, Heritage and Heat: How Walter's Built Its Legacy
The Atlanta institution has kept its doors open for 70 years and shows no signs of slowing down.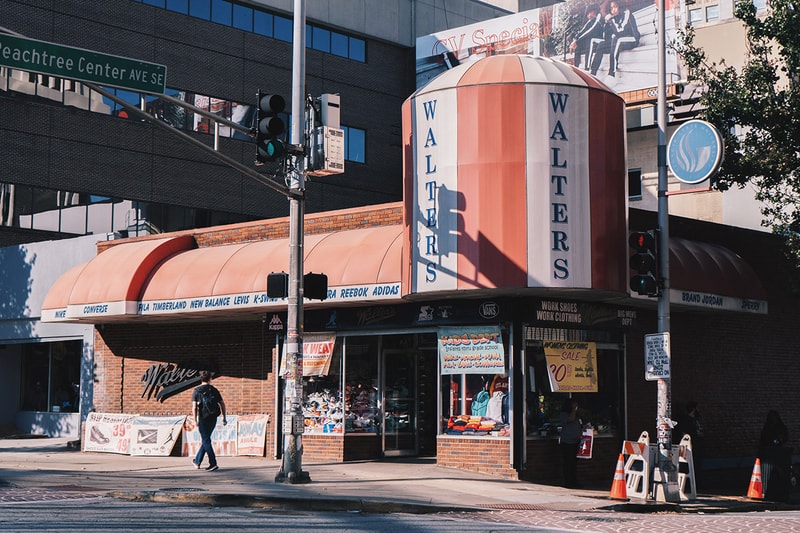 On the corner of Decateur and Peachtree, steps away from Georgia State University's campus, stands a brick building with a welcoming white-and-red striped awning. It's Walter's, an Atlanta sneaker institution that's been in business for seven decades.
The story of Walter's begins with Walter Strauss, who fled to America to escape the brutality of Nazi Germany. During World War II, he enlisted in the military as a German map interpreter, and after the war, made a living by working in shoe warehouses in Atlanta. Eventually, he actualized his dream to open his own establishment — and Walter's Clothing was born.
While Strauss' operation opened its doors during the apex of the civil rights movement in 1952, he didn't allow the pressures of segregation and discrimination to hinder his overall vision. His compassionate nature was a product of witnessing the cruelties of oppression first-hand in Nazi Germany. With a burning desire to create change in America, he refused to abide by the Jim Crow regulations that Southern states imposed and made his storefront a place of refuge by embracing the Black community both as clients and employees. Strauss and his wife Estelle even implemented a work-based learning program where they aligned with local high schools of the Atlanta, Fulton, and DeKalb counties to create job opportunities for African American students — a program that's still running today. "Back then, Black people couldn't just walk into any store to try on clothes, let alone find a retail job", Leshaun Burke, who's worked at Walter's for 27 years, told Hypebeast. "Atlanta was at the center of that intense period in history, but Walter's was always there for the people."
As the '90s and early '00s rolled around, Walter's influence amplified thanks to co-signs from high-profile customers. Outkast ("Slum Beautiful"), Young Jeezy ("I Got Money") and Gucci Mane ("Both Eyes Closed") name-dropped the store in songs, and footage of the store in Jermaine Dupri's "Welcome to Atlanta" music video catapulted it into mainstream media. "Future grew up not too far from here and would always pay us a visit", Burke said. "Big Boi and Andre 3000 have dropped in to pick up adidas sweatsuits. Rick Ross, 21 Savage, Dave Chappelle, DJ Khaled and Migos have shopped here. Everybody has rolled through."
"You had to find places that had that flavor, and we made sure to be that for the community."
Walter's was also one of the first retailers to pioneer a strategy that entailed supplying a versatile range of products that evolved to meet its clientele's changing demands and tastes.. Initially, the offerings were workwear-centric. Brands like Dickies and Levi's were consistently in stock, ensuring that construction workers who were redeveloping the city during the '50s and '60s had a go-to shopping hub. During the '80s, adidas sneakers and tracksuits spiked in popularity thanks to hip-hop collective Run–D.M.C. Walter's was on top of that trend too, quickly becoming the only place in Atlanta to offer unique colorways. It also became one of the original retailers to have a Jordan Brand account in '85, and that relationship remains intact today. "Back then, you couldn't just go to the mall and pick up an adidas tracksuit or a pair of Forums", Burke said. "You had to find places that had that flavor, and we made sure to be that for the community."
Notable sportswear brands have also honored Walter's cultural influence through collaborations on special roll outs. In 2008, Jordan Brand hand-picked 23 shops in the US to receive the Air Jordan 23 and Walter's was one of them. It was also one of two retailers to receive the limited-to-700-pair Air Jordan 1 High "Satin Royal Blue" — the other being Active Athlete in Houston, Texas, another original Jordan Brand retailer. Additionally, New Balance linked up with the downtown ATL store and DJ Mars in 2012 to produce a Christmas-themed New Balance 574 "Holiday Pack." Today, Walter's stocks a plethora of offerings that cater to customers both old and new. Those that have been giving business to the store for decades can still come in to pick up a Kangol Bermuda Hat, FILA kicks or a full Three Stripes sweatsuit. Air Jordans, Nike Dunks, New Balance lifestyle models and Reebok Classics are available for the Gen-Z sneaker die-hards as well. There's something for everybody, and all are welcome.
"People come to us all the time saying how they want to build a store like Walter's, but it's impossible because we've put in years of forging strong relationships and trust with our customers to come here."
In a world where resell platforms, consignment shops and modern boutiques dominate the marketplace, you might not expect an older enterprise like Walter's to stay afloat, let alone flourish. However, Walter's prestige is earned: it comes from generations of relationship building that newer boutiques can't match up with. Tier zero retailers can flex their state-of-the-art locations across the globe, receive every Jordan collab and have celebrities in their lookbooks, but at the end of the day, they can't earn the kind of legacy Walter's has as it can only be accrued with time. Its customers aren't just the older heads that have been shopping there for years: it's also their children and grandchildren, to whom they've passed down their stories, experiences and connections. "Times change," said Burke. "We've understood the industry transitions, but we don't worry about what everybody else does because we know what works for us. People come to us all the time saying how they want to build a store like Walter's, but it's impossible because we've put in years of forging strong relationships and trust with our customers to come here."
Strauss' passionate, "family first" mentality has allowed Walter's to blossom in an ever-evolving market and will continue to be a calling card for its workers as it strives to remain a dominant industry staple for the next 70-years. It's proof that mom-and-pop shops can still hold their charm and even outlast big box retailers when it places community and products at the fore.
Walter's walked so that modern streetwear and footwear boutiques can run, and it's not stopping any time soon.