The Downfall of Ye and Each Company That's Been Impacted by It (So Far)
A timeline of brands and corporations that have cut ties with the controversial artist.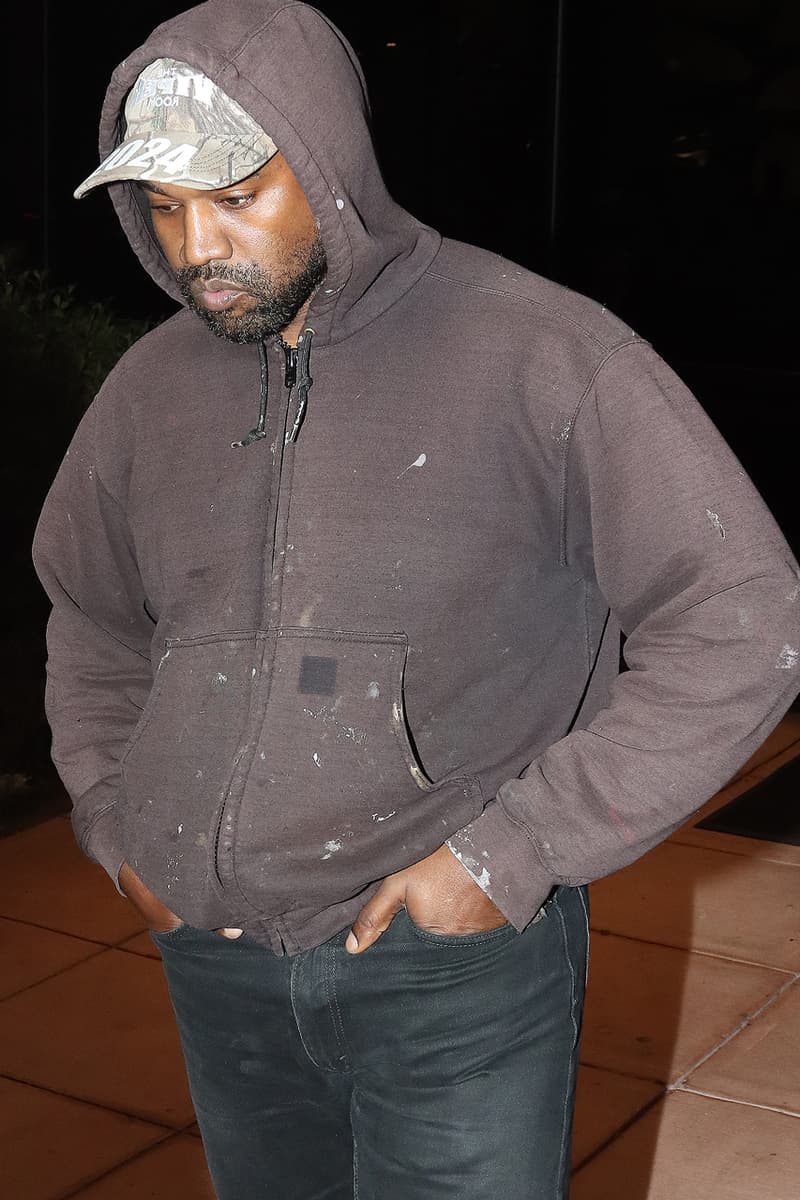 The Downfall of Ye and Each Company That's Been Impacted by It (So Far)
A timeline of brands and corporations that have cut ties with the controversial artist.
It's been a terrible three-week stretch for Ye.
The artist formerly known as Kanye West stirred up a maelstrom of controversy after debuting a "White Lives Matter" T-shirt during his Paris Fashion Week YZY Season 9 show. Since the public fallout following the tee's display of hate speech, Ye has gone on a public tirade to defend himself and has spewed hateful comments towards the Black Lives Matter movement (even questioning the verdict of George Floyd's murder), bullying a Vogue fashion editor, berating his partnership with adidas and attacking the Jewish community.
As a result of his erratic behavior, Ye is being canceled by several of his business partners and industry leaders, including severed ties with adidas, Balenciaga, Vogue and its Editor in Chief Anna Wintour, film company MRC, Chase Bank and others.
In response to the industry and consumer backlash, Ye purchased the controversial media platform, Parler, as a means of "expressing" himself, and recently appeared on Jewish podcaster Lex Friedman's show defending his actions and words, stating: "Balenciaga was taking my imagery off of their site, and the Drink Champs [episode] was being taken down, and I said, 'This is the happiest day of my life!' I love cutting the grass low. I'd rather have people who are really with me and not people who are just trying to use me." Further marking his defensive line in the sand, Ye added: "I brought Demna to Gap. Demna will still work for Ye, someday, and this is just speeding the process up."
Ye also ended his partnership with Gap this year, due to failed deliverables and slow movement on YEEZY Gap store openings – a deal that was forecasted to bring in upwards of $1 billion USD over 10 years (in addition to his already $1.5 billion USD profit from adidas). The discontent behind his decision to part ways with the retail giant could have been the snowball that spurred Ye on his downward spiral.
Here's a timeline of events chronicling Ye's downfall and the global impact it's had on brands and corporations that have cut ties with the controversial artist.
October 3, 2022
YEEZY Season 9 Show
On a manic Monday in Paris, Ye surprisingly debuted his ready-to-wear line of men's and women's Spring/Summer 2023 clothing with a pop-up fashion show that purported a tight guest list of no more than "50 attendees."
Models made their way down the winding catwalk wearing oversized ponchos, fitted pants and leggings and an innovative first-run of 3D-printed boots (pioneered by Zellerfeld), but the appearance of a controversial "White Lives Matter" graphic T-shirt was what sent Ye on his current spiral.
Modeled by Selah Marley – daughter of Lauryn Hill and granddaughter of Bob Marley – and Ye himself (alongside the show's special guest, Candace Owens), the shocking tee began appearing on the social media timelines of editors and guests in attendance at the show.
Jaden Smith spoke out against Ye moments after abruptly leaving the show, stating: "I had to dip. I don't care who's [design] it is, if I don't feel the message, I'm out."
Shortly after, a global uproar ensued, placing Ye in the hot seat with the fashion industry and his corporate partners.
October 6, 2022
Ye's adidas Partnership Goes "Under Review"
Becoming increasingly frustrated with Gap and adidas allegedly stealing his ideas and not giving him proper creative control, Ye began to publicly speak out against his partnerships and each company's leadership. In regards to adidas, Ye went on a rant earlier this year condemning CEO Kasper Rorsted and even posted a fake image of a deceased Rorsted on a doctored New York Times cover.
In response to Ye's recent hate speech, adidas publicly announced that it was reviewing its partnership deal with the artist. The brand stated: "After repeated efforts to privately resolve the situation, we have taken the decision to place the partnership under review. We will continue to co-manage the current product during this period."
In response to the brand's statement, Ye took to his Instagram account to retaliate, stating: "F*** ADIDAS I AM ADIDAS."
October 7-9, 2022
Instagram and Twitter Lockouts
On October 7 – after being locked out of his Instagram account for violating the social media platform's policies – Ye took his act to Twitter, where he received a warm "Welcome back" from Elon Musk. Alluding to a second potential run for president, Ye tweeted a photo of him holding a black baseball cap with white numbers that read: "2024." Shortly after, he tweeted a photo of him and Mark Zuckerberg, asking the Meta founder why he was kicked off Instagram.
On October 8, Ye posted a series of anti-Semitic tweets to his account. In the tweets, he alleged that he would go "death con 3 [sic] on JEWISH PEOPLE" and stated that the Jewish community has tried to "blackball" him. The now-removed tweets caused the Anti-Defamation League to speak out against him and the platform, labeling his behavior "dangerous and antisemitic."
Prior to his recent Twitter blasts, Ye's last tweet was dated November 4, 2020. And since October 9, he's been blocked from posting or tweeting anything new.
According to Reuters, celebrities not only hold a place with engaging fans on these popular social media platforms, but they also generate revenue for the brands. In particular with Twitter valued at $44 billion USD, the financial outlet reports that celeb tweeters generate "10% of monthly overall users but generate 90% of all tweets and half of global revenue."
October 14, 2022
Chase Bank Closes Ye's Accounts
After Ye's disturbing string of posts and tweets, JP Morgan Chase decided to close his accounts with the firm, including his YEEZY branded merchandise accounts.
In a letter delivered to Ye (shared on Twitter by his conspirator, Owens), the bank statement reads: "We are sending this letter to confirm our recent discussion that JPMorgan Chase Bank, N. A has decided to end its banking relation with Yeezy LLC and its affiliated entities."
Additionally, the bank is allowing Ye up until November 21, 2022 to transfer all funds out of his Chase accounts, to which Ye responded: "Hey, if you call somebody out for bad business, that means you're being antisemitic. I feel happy to have crossed the line of that idea so we can speak openly about things, like getting canceled by a bank." Further claiming that he's "put $140 Million in JP Morgan."
With Chase reporting earnings of $48.3 billion USD in 2022, losing Ye's estimated $1.5 billion USD doesn't break the bank.
October 15-18, 2022
Ye's Drink Champs Episode Removed
On a recent appearance on the popular Drink Champs podcast, Ye addressed the backlash concerning his WLM tee, gave an alleged conspiracy response to the death of George Floyd, and spoke against the entertainment industry's outcry to rally against him. He also responded to adidas placing his lucrative partnership under review, by stating: "I can say antisemitic sh** and adidas cannot drop me."
As a result of Ye's string of lurid comments on the podcast, Drink Champs removed his episode and made a statement. "Drink Champs prides itself on its ability to allow a free flow of ideas within the hip-hop community," the podcast said. Adding, "Unfortunately, the recent interview with Kanye West contained false and hurtful information regarding the circumstances surrounding the murder of George Floyd. Integrity is very important and we don't want to promote false narratives on our platform. Our goal is to celebrate the culture."
October 21, 2022
Balenciaga and Vogue End Relationships With Ye
Possibly the most harrowing blow to Ye's high-fashion mantle was the call from Balenciaga's parent company Kering to terminate its affiliation with the troublesome artist, along with Vogue's additional dissociation on the same day.
Ye opened Balenciaga's Spring/Summer 2023 runway show (images of him walking the runway have since been scrubbed from the Internet) and is famously known to be a close friend to the brand's designer, Demna. In a recent interview with Women's Wear Daily, Kering stated: "Balenciaga has no longer any relationship nor any plans for future projects related to this artist."
In regards to the Balenciaga snub, Ye commented on Friedman's abovementioned podcast that he and Demna are "kindred spirits," and that "nothing can keep us away from each other."
Condé Nast publication Vogue and its Editor in Chief, Anna Wintour – globally revered as the fashion industry's bible and grand dame – also issued a statement condemning Ye's behavior. This comes weeks after Vogue posted to its Instagram defending its Global Fashion Editor at Large, Gabriella Karefa-Johnson, who became a victim of Ye's slander, with him questioning her personal style and authority within the fashion industry (which led to online body shaming) not long after Karefa-Johnson criticized Ye's presentation of the WLM tee during his PFW show.
The influential magazine told Page Six that: "neither the magazine nor its editor-in-chief Anna Wintour intend to work with Kanye West again."
These two barriers might certainly hurt Ye's future fashion aspirations as he once held Wintour and Vogue in high regard. Wintour recently modeled a pair of YEEZY SHDZ on a now-deleted Instagram post with Ye; he was also a frequently invited Met Gala attendee since 2009 and has appeared on a 2014 Vogue cover with ex-wife Kim Kardashian.
October 23, 2022
CAA Drops Ye as a Client
CAA (Creative Artists Agency), one of the world's largest talent agencies, quietly dropped Ye from its roster over the weekend.
Leading Hollywood news publication Variety shared the news that after another talent agency, UTA and its CEO Jeremy Zimmer, issued a statement condemning Ye's hate speech, CAA quietly followed suit and released Ye from its roster.
In UTA's company-wide letter, Zimmer stated: "Regrettably, antisemitism, racism and many forms of hate and intolerance are part of the fabric of society. Generally, they live as a plague eroding the health of communities and are combatted by understanding, tolerance and the general goodness of most people."
Forbes once reported that CAA was the top-ranking talent agency, bringing in more than $8 billion USD in contract value and more than $400 million USD in commissions. Therefore, it appears that Ye's departure could be of value to another agency willing to take a controversial risk of representing him – that is if he doesn't resort to representing himself.
October 24, 2022
MRC Shelves Ye Documentary + Def Jam Contract in Limbo
Known as a leading independent studio for award-winning film and television projects, MRC (formerly called Media Rights Capital) announced it has shelved plans to distribute an already-finished documentary about Ye.
The company's CEO's and Co-Founders, Asif Satchu and Modi Wiczyk, along with its CBO, Scott Tenley, issued a joint statement expressing their disdain for Ye's recent behavior: "After discussion with our filmmakers and distribution partners, we made the decision not to proceed with any distribution for our recently completed documentary about Kanye West," the company said. "We cannot support any content that amplifies his platform." Adding that Ye's rhetoric comes across as "Antisemitism 2.0," the company has rallied other industry leaders and corporations to speak out against the troubled artist.
Additionally, although Ye's record contract with Def Jam reportedly came to an end last year with the release of his "Donda" album, the label still carries his G.O.O.D. Music imprint. According to a recent New York Times article, Ye's label deal may be in limbo, and the future release of any new music with the company is uncertain.
Moreover, although not highly publicized, Ye's Stem Player music streaming device retails for $200 USD and has earned the rapper upwards of $3 million USD since its release. In support of the numbers, Ye has gone on record stating: "To earn the US $2.2 Million USD we made on the first day on the stem player the album would have had to stream 500 million times."
October 25, 2022
adidas Cuts Ties with Ye + Loss of Billionaire Status
Since 2013, adidas and Ye had been partners in an extremely lucrative production deal with the sportswear giant manufacturing the rapper's popular YEEZY sneakers and merchandise. But with the company's German origins and that country's troubled past with Naziism (along with its federal Penal Code that criminalizes anti-Semitic hate speech), mounds of pressure from social media and the business sector was placed on adidas to cut ties with Ye, due to his recent display of anti-Semitism.
In a press statement, the brand shared: "adidas does not tolerate antisemitism and any other sort of hate speech. Ye's recent comments and actions have been unacceptable, hateful and dangerous, and they violate the company's values of diversity and inclusion, mutual respect and fairness."
The brand's partnership with Ye expanded in 2016, and financially, 8% of adidas' annual revenue came from sales of YEEZY products, making billions of dollars for the brand and Ye – with over $ 1 billion USD of sales going towards Ye's net worth. Cowen Inc. – the investment banking firm that reported on adidas' revenue from the Ye partnership – will release its Q3 financial report on October 28, which may help to give insight into the financial decline of the severed deal. The brand also stated that the loss might "have a short-term negative impact of up to $250 million USD."
Forbes additionally redacted their previous listing of Ye as a billionaire, and published an article stating that the troubled artist is a "Billionaire No More." Forbes' news came as a result of adidas' aforementioned cutting off ties with Ye, and estimates that his net worth has dropped from $2 billion USD to $400 million USD.
Adding more salt to the wound, Gap and Foot Locker have removed all Yeezy merchandise from their online stores and retail shelves.
Outside of Ye's devastating fallout, it's keen to note that a number of his followers and supporters have yet to comment on the matter, including G.O.O.D. Music President Pusha-T and frequent creative collaborator Pharrell Williams. Hill has not made any official statement about her daughter being cast in the YZY show and modeling the controversial shirt that caused the maelstrom of Ye's downfall.
---
Individuals that have spoken out against Ye's questionable behavior include his ex-wife Kardashian (albeit indirectly), who tweeted: "Hate speech is never OK or excusable. I stand together with the Jewish community and call on the terrible violence and hateful rhetoric towards them to come to an immediate end." Kodak Black recently responded to Ye's potential 2024 run for US Presidency, calling him "bat**** crazy." Endeavor CEO, Ari Emanuel, is actively calling on industry leaders to cut ties with Ye as well.
Contrastingly, many loyal Ye followers and supporters are still in his corner. Yeezy Mafia questioned "The End" of Ye, and posted a throwback pair of black-and-white YEEZY Boost 350 V2 'Zebra' sneakers on its Instagram. Moreover, YZY model Marley responded on her Instagram stating: "Throughout all of the chaos, I have yet to speak on my experience. If you know me, you know that nothing I do is without deep thought & intention. Wait til you hear what I have to say."
Only time will tell if other brands and corporations will hop off of the Ye train, or if new partnerships will be afforded to the controversial rapper.