Here Are the New PCs Microsoft Announced at Its Surface Event Today
Featuring an all new and updated Surface Laptop, Pro and Studio 2+.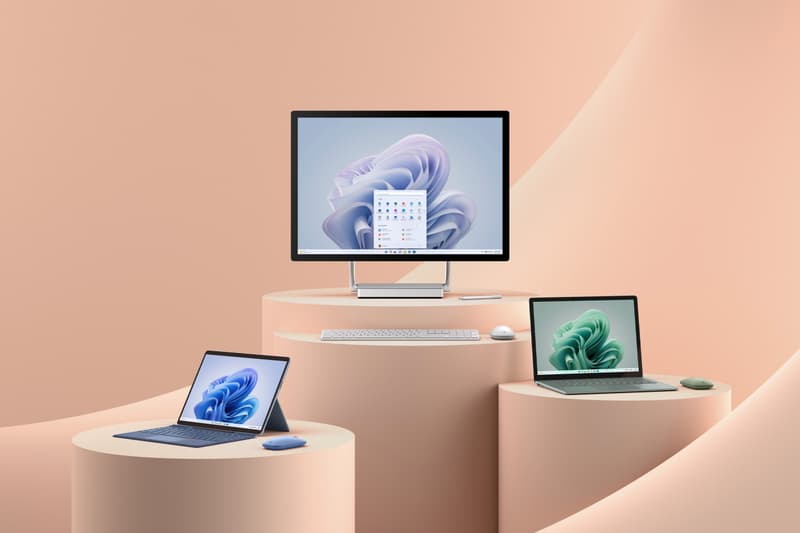 Following up from their Silicon Valley rivals Apple, Google and Meta's own recent announcements, Microsoft held their Fall Event 2022 today and continued to show that the first half of the season isn't just for fashion weeks, but also a time for big tech to let us know what they've been cooking. Billed as a Surface event — Microsoft's flagship range of touchscreen devices — the Washington-based brand announced three new PCs, a range of new accessories, and some software.
Here's a summary of the new Surface lineup, announced today.
With the latest iteration of the their popular tablet series, Microsoft has introduced the new Surface Pro 9 claiming it's their "most powerful" device yet. While not much has changed on the outside — cosmetically, it's very similar to the Pro 8 — there are new color options and a limited edition Liberty London version that comes laser-etched in a floral motif borrowed from Windows 11. The tablet has also seen a marked increase in performance through the inclusion of an Intel 12th Gen chip. And, for those on the move or those simply requiring an always-on connection, Microsoft is releasing a new 5G compatible model that uses the new Microsoft SQ 3 processor, powered by Qualcomm Snapdragon.
Pre-orders are open now with shipping commencing October 25. Prices start at $1,000 for the 13-inch Intel model, and $1,400 for the 5G model. 
One thing Microsoft has that its main rivals do not are laptops with touchscreens. For the uninitiated, it can be quite difficult going back to "normal" once you've become acquainted with using your laptop display in a similar way to how you've been used to using your phone for the past decade. It's just a different ƒexcperience and, for some, ideal. The Surface Laptop 5 evolves the franchise with updates including faster DDR5 memory, Thunderbolt 4, and better battery life owing to a processor bump up to Intel's 12th Get chip. The laptop arrives in a lightweight and portable 13.5" PixelSense™ touchscreen, or a larger 15" option.
Pre-orders are open now with shipping commencing October 25. Prices start at $1,000 for the 13-inch model, and $1,300 for the 15-inch.
In terms of PC announcements, the star of the show is — arguably — the bendy Surface Studio 2+. Seemingly resurrected from the dead, having not been seen on shelfs for over year, Microsoft's Surface Studio 2+ is a huge desktop all-in-one computer aimed at creative professionals. It's essentially their 2018 Surface Studio 2 revisited and upgraded to include a NVIDIA GeForce RTX 3060 graphics card, Intel 11th Gen CPU, a a much welcomed edition of Thunderbolt 4 USB-C. The 28" PixelSense™ Display is build using Gorilla Glass.
The Surface Studio 2+ will set you back at least $4,499 USD — that is for the base configuration. For those interested, it's available for pre-order now ahead of its launch on October 25.
In other tech news, Meta has unveiled the most advanced VR headset to date.