Best New Tracks: Post Malone, Arctic Monkeys, Baby Rose
Enjoy the weekend with these 10 music projects.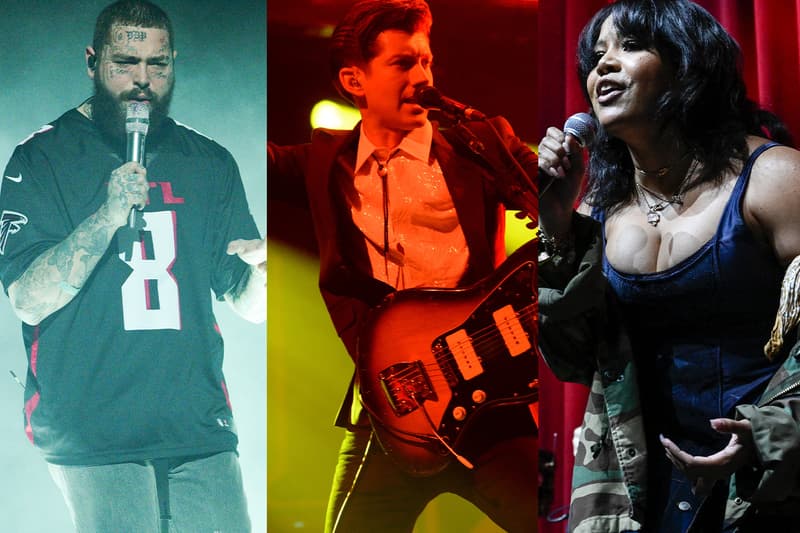 As the week in music comes to a close, HYPEBEAST has rounded up the best projects for the latest installment of Best New Tracks.
This week's lineup is led by Post Malone with Mark Morrison and Sickick, Arctic Monkeys and Baby Rose, who released the viral track "Cooped Up / Return Of The Mack," the album The Car and the two singles "Fight Club" with Georgia Anne Muldrow and "Go," respectively. Also joining this selection are offerings from MOUNT WESTMORE with P-Lo, Boldy James, Armani Caesar, Nick Hakim, Pivot Gang, Jeezy and JID.
Post Malone x Mark Morrison x Sickick – "Cooped Up / Return Of The Mack"
Sickick's fusion of Post Malone and Mark Morrison's "Cooped Up" and "Return Of The Mack" is officially available on digital streaming platforms. The mashup proved to be a hit on the internet, with more than 100,000 Instagram Reels created, over 15,000 TikTok Creates and millions of views on YouTube.
Listen: Spotify | Apple Music
Arctic Monkeys - The Car
Arctic Monkeys return after four years with their seventh studio effort, The Car. The 10-track record hears orchestral rock, baroque pop and funk play a heavier influence on the Sheffield four-piece's sound, and was produced by their longtime collaborator James Ford.
Listen: Spotify | Apple Music
Baby Rose – "Fight Club/Go"
Baby Rose continues an exciting run with "Fight Club," which features Georgia Anne Muldrow, and "Go" — both of which were created in partnership with Secretly Canadian. "'Fight Club' is like a switch went off. I'm being urged to let go of what was for what could have been. A higher version of consciousness enters the chat, picture the role played by Georgia Anne Muldrow, urging me to abandon the comfort of familiarity and take a risk. To live life with vigor and trust myself. We made this record within the matter of a few hours. It was a flow, guided energetically by the urge to break out of any box I was put in," she said of the song, adding, "'Go' is about fighting to hold onto past love by any means necessary. That love is redefined depending on the state of mind I'm in when listening. Sometimes sourced from within (my essence and purpose), but sometimes it's the past – people and things. The record is nostalgic. It finds me in a space fighting for the familiar and fading. This record was created in Nashville while I was in a state of peak blessings, but at the time felt fearful in the back of my mind because I knew nothing lasts forever. That is a beautiful and equally painful fact of life."
Listen: Spotify | Apple Music
MOUNT WESTMORE x P-Lo – "Too Big"
MOUNT WESTMORE joins forces with P-Lo for their latest single, "Too Big." The supergroup, comprised of Snoop Dogg, Ice Cube, E-40 and Too $hort, is set to release their upcoming album Snoop, Cube, 40, $hort on December 9.
Listen: Spotify | Apple Music
Armani Caesar - THE LIZ 2
Armani Caesar follows up her 2020 effort with THE LIZ 2, featuring appearances from Kodak Black, Conway The Machine, Westside Gunn, Benny The Butcher and more. "It's been a long time coming. The Liz 2 displays my growth lyrically, sonically, vocally and as a woman," the First Lady of Griselda shares. "I'm more vulnerable in my music this time around. I put blood sweat and tears (and a couple years) into this project. It's a body of work that is timeless, and still can measure up among the greats; male OR female."
Listen: Spotify | Apple Music
Jeezy x DJ Drama - SnoFall
Jeezy and DJ Drama deliver their newest entry into the Gangsta Grillz mixtape series, SnoFall. The 16-track project features guest appearances from the likes of Lil Durk, EST Gee and 42 Dugg, and follows 2020's The Recession 2.
Listen: Spotify | Apple Music
JID – "Bruddandem/Crack Sandwhich"
JID releases an accompanying music video for his The Forever Story cut, "Bruddanem/Crack Sandwich." Helmed by the East Atlanta rapper's longtime collaborators Mac Grant and Chad Tennies, and creative produced by the artist himself, the visual arrives just after the announcement of his upcoming joint "Luv Is 4Ever Tour" with Smino.
Watch: YouTube
Boldy James – "Flag On The Play"
Boldy James shares a music video for "Flag On The Play" along with the announcement on his upcoming album, Mr. Ten08. The project is set to drop on November 4 and is entirely produced by Futurewave, while 2100 Bagz serves as the sole guest feature.
Watch: YouTube
Nick Hakim - COMETA
Nick Hakim follows up WILL THIS MAKE ME GOOD with COMETA, the Spanish translation of "kite." Recorded in Texas, North Carolina, California and New York, the 10-track effort is billed as "a collection of romantic songs written through different lenses that are guided by Hakim's experience of falling in love in a way that made him feel like he was floating." He said, "The key is to find that extremity of love for yourself. It's about growing into someone you want to be; it's about finding pure love within yourself when the world around us seems to be crumbling."
Listen: Spotify | Apple Music
Pivot Gang – "Aang"
Pivot Gang is finally back with "Aang," the group's first single since 2019. Produced by Saba with additional production from daedaePIVOT, the track flips the original vocals and guitar work of Gaidaa and Maria Sanchez, and is released alongside the announcement of their annual John Walt Day. Pivot Gang's benefit concert takes place November 26 at Metro Chicago with performances from members Saba, MFnMelo, Joseph Chilliams and Frsh Waters.
Listen: Spotify | Apple Music