Sole Mates: Alan Galloway and the Reebok Club C
The tastemaker speaks on the influences for his various IG pages, Reebok's recent success and more.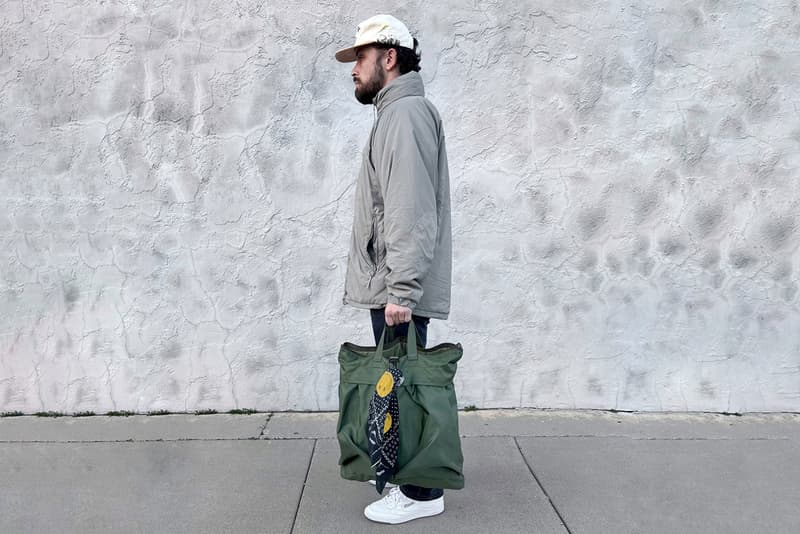 Sneakers and streetwear fashion in the context of social media nowadays is being heavily driven by various Instagram accounts that prove to be fluent in the culture. And despite the fact that it seems like hundreds of these alleged "mood board" profiles erupt on the app every day, there's no question that one of the pioneers of this digital movement is Alan Galloway — better known by his IG handle oldmanalan.
To this day he's managed at least nine Instagram accounts, all of which were, in some capacity, associated with the realms of pop culture, streetwear, sneakers, vintage fashion, cars and film photography. These are all areas of his life that he's developed deep passions for and he's successfully built online communities centered around these topics through consistency and aesthetic detail. Compelling and meticulously curated content is Galloway's bread and butter, and it's on his various accounts that you'll discover vintage footage of Aaliyah shopping in a Nike store, cheeky streetwear-related memes, vintage garments from his Toyojis web shop, moody film flicks, sneaker collaborations and everything in between.
In terms of the his personal style, silhouettes that are minimalistic, neutral-toned and wearable are what he tends to gravitate towards, which makes sense why he elected to go with the Reebok Club C for his installment of Sole Mates. HYPEBEAST had the opportunity to catch up with the Sacramento-based tastemaker to chat about his biggest influences growing up, how Reebok has stayed relevant in the sneaker space and his major plans for 2022.
HYPEBEAST: I think from an industry perspective, many would deem you a tastemaker, digital content creator, s mood board maven even, but how would you describe your current role?
AG: I've figured out a way to create communities on Instagram that are based off of all the things that I'm constantly obsessed with such as film, photography, streetwear, sneakers and outfits. It's always been my focus to make something that represents my taste. SeeReverseForCare started out as an inspo page and evolved into its own brand. I also run FILMWAVE which is a big community for those who love to shoot film photography.
I know you also started other IG accounts like Minimal Movement, what made you stray away from those and get you to where you are now?
It was sort of just something that I got tired of, one of my homies actually manages it now. It wasn't something that I saw being a long term brand and was more of an early version of SeeReverseForCare. The aesthetic is on the same wavelength, but it was just the beginning of what I'm doing now and it just transitioned, I just had to move on.
Is there any significance behind the name oldmanalan?
Yeah, I didn't name myself that, it was my good friend. He would always joke with me about how I have an older state of mind. Growing up, I remember my friends would always be reckless and partying — and I would do that occasionally here and there as well — but I would always be the homebody that was into the same things I'm into now. We're so used to seeing all of this stuff every day so it's been so normalized that people tend to forget that most of this stuff wasn't as acceptable five to 10 years ago. Even though I was "younger" I always seemed "older" to my peers.
Who or what got you into sneakers?
As a kid, probably Michael Jordan. I was born in 1984, so I kind of feel like I came up in the best era for basketball. I remember being in middle school when the Air Jordan 12s came out. Around the Air Jordan 11 and 12 era of Jordans is when I really started to pay attention and be like "Holy sh*t, what is that shoe?"
Do you remember either the first pair of sneakers that got you into sneakers or the first pair that you copped?
It was these right here (*pulls out a beat pair of Jordans to show on camera) the Air Jordan 11 Low IE "Bred." As you can see the soles are starting to split, but this is the original shoe that I had. It's not anything special, but I remember we didn't have any money when I was growing up and this was the only Jordan that my mom could afford at the time. I remember kids would clown on me cause they weren't the popular Jordans, but this is still one of my favorite shoes because of the silhouette and the lower cut. It's all leather and not flashy, but I still think it's sick as hell. It's probably one of the first shoes that really got me into sneakers as a kid.
Talk to me a little about your background. I know you grew up in Sacramento and I really wonder how you viewed sneaker culture growing up in Sac since it's not really a big sneaker city like say NY or LA.
Sacramento never had designated streetwear stores, but even when I was coming up, the good sh*t was at the mall. I remember this one store specifically called Get a Clue and they sold the original Stussy SB Dunks, BAPEs, "Jedi" Dunks, all the good stuff.
Were you big on Nike SBs back then?
Definitely. I was obsessed with that after the Jordan stuff got a little bit more played out, that was just the obvious transition for me, not only because the shoes were amazing, but I loved the artists tie-ins. But as far as camp-outs and stuff like that, I never really did none of that stuff just because we never really had that here. It was mostly internet-based for me. So I was heavy on NikeTalk and ISS forums.
Much of the content that you curate includes older references whether that be film, NBA basketball etc. who were some of your biggest cultural influences and muses growing up?
As a kid, it was just everything Jordan, Despite looking back on some of his outfits now and how trash they were, I thought he could do no wrong, he just had the whole swag. When I was a teenager, obviously Kanye West, and now I'd say maybe Shia LaBeouf.
"People always told me I should do it, but sometimes you second guess yourself for whatever reason not to do it just out of fear of failing. You kind of just got to jump in there and forget about all that stuff.
Social media has obviously allowed you to get your name out there, express your interests and taste and start up multiple shops. Was that always the vision?
It's always been something I've hoped to rely on monetarily full time. Before this, I used to actually just be a state worker for California. Because of my passion for shoes, photography, all the stuff that I touch everyday, I always knew that one of these things or all of these things would somehow hopefully, if I busted my ass enough and did it the right way, could be something I could consider a job. People always told me I should do it, but sometimes you second guess yourself for whatever reason not to do it just out of fear of failing. You kind of just got to jump in there and forget about all that stuff.
Being in your position, and in the streetwear space, what's been your biggest highlight thus far?
Honestly, the things to me that are the coolest are the relationships I've been able to build that are super authentic and not product-based or you know what I mean? Just being able to text somebody like Teddy Santis from Aimé Leon Dore. I can just text that dude up and just knowing that he'll text me back is dope. He's just such a normal and great guy and I've known him since he almost started his brand. Things like that are always cool, and just to know that's the affirmation that I'm obviously doing something right and to keep running with it. Those things to me are the coolest, the relationships, because all those products I get seeded and parties I could care less about. I would rather have real relationships that I can build with people that I respect and who respect me.
How'd you start Toyojis, where do you usually source your pieces from and why do you think vintage has become such a hot trend right now?
Toyojis is my middle name, and it's kind of a representation of my take on vintage and what I think is cool in that lane. It's mostly sourced items but I'll occasionally throw in stuff from like my personal stash because people request it all the time. It's something that I want to hopefully expand this year and maybe even have a storefront for down the road.
We all know that you are a curator yourself, but what are some of your current fashion/pop culture pages that you're following at the moment?
I don't want to sound like a snob or anything but I've been so focused on what I've been trying to push out that I don't even really have the time to look at other pages. Besides what my friends post, the way IG is set up now makes it hard to see anything too.
"It's affordable at $80 USD, the leather is great and there's so many possibilities for brands to add to it or make it look even better without doing too much."
Not many people in our Sole Mates series chose the Reebok Club C, what is it about this silhouette that resonates with you?
At this point, it's probably my most worn shoe for the past three years. It's just the go-to shoe no matter what. I've always been a fan of low cut shoes so that automatically makes it appealing for me just for comfortability and wearability. Even finding a fresh-off-the-rack GR Club C is dope. It's affordable at $80 USD, the leather is great and there's so many possibilities for brands to add to it or make it look even better without doing too much.
With these collaborations, they're just throwing the brand in the side window of the shoe and upgrading the materials a little bit. It's not a flashy shoe but it's garnered popularity for its wearability.
You have a tendency to toy with your shoes such as taking a utility knife and carving out some of the branded areas. Talk to us a little about your logic behind that.
One of the cool things too is the branding on the shoe itself because there really isn't much there, even with the regular versions. It just has that simple tongue tag which, if you want to make it look cleaner, can just take a couple seams off and it literally just pops off. It just gives it a cleaner look. I think the JJJJounds were the first ones that did that. That version came with nothing on the tongue right out of the box, but you can customize any of them to achieve that same look.
Justin from JJJJound is another person that I've been able to form somewhat of a relationship with. I tagged him on IG once, we kind of just started a conversation over DM and since then I've had the chance to pick his brain a few times.
In recent years, Reebok has aligned itself with some influential partners like JJJJound, EAMES and Brain Dead. What do you admire about the steps they've taken to stay relevant in the space?
I've always been a fan of Reebok for sure. I remember Allen Iverson really started that whole Reebok wave and I remember going to a Sports Authority when the Questions came out because I really wanted them but they didn't have my size. That was one of the first sneaker heartbreak stories that I remember.
But Reebok has always been tied into the culture whether it be through basketball with AI or what they do now. Club Cs are probably one of the silhouettes that gets collaborated on the most, and the collabs they do are with brands that I feel are a little more niche, which I can appreciate because it's different. They're very simple and wearable. A lot of collabs in general nowadays have too much on them and I understand that, but you can't really wear some of that stuff all the time.
What are some of your most favorite Reebok Club Cs that you own?
The JJJJounds are probably my most worn pair period. The brown ADSUM colorway is sick, as well as the EAMES collabs, especially the black pair.
"It might not even come from the shoe itself but the person wearing the shoes whether that be Michael Jordan, AI or artists. I've made some of my best friends through shoes. It's something that you can always tie real memories to that don't ever really go away.
Is there any brand that you think needs to collab on Club C that hasn't yet?
I mean I'm trying to get my own collaboration at this point. I'm hoping to build out SeeReverseForCare to a point where I can accomplish that.
What would you like to accomplish for your brands in the coming years?
This year I'm trying to establish SRFC as a real brand. I'm still going to do the inspo stuff everyday and repost people every day, but I really want to show people what it can be as a brand through different projects and products.
Why are sneakers and the stories they hold important to you?
To me, sneakers are one of the best ways to express your style, yourself and your personality. I know a lot of people just look at it from a surface level as if it's just a shoe, and they don't understand that. Shoes are so important to me because I have so many memories growing up that are tied to them. It might not even come from the shoe itself but the person wearing the shoes whether that be Michael Jordan, AI or artists. I've made some of my best friends through shoes. It's something that you can always tie real memories to that don't ever really go away.