Kevin Durant Officially Out for at Least One Month From Sprained MCL
Coach Steve Nash commented on the situation and how the Nets will cope without KD.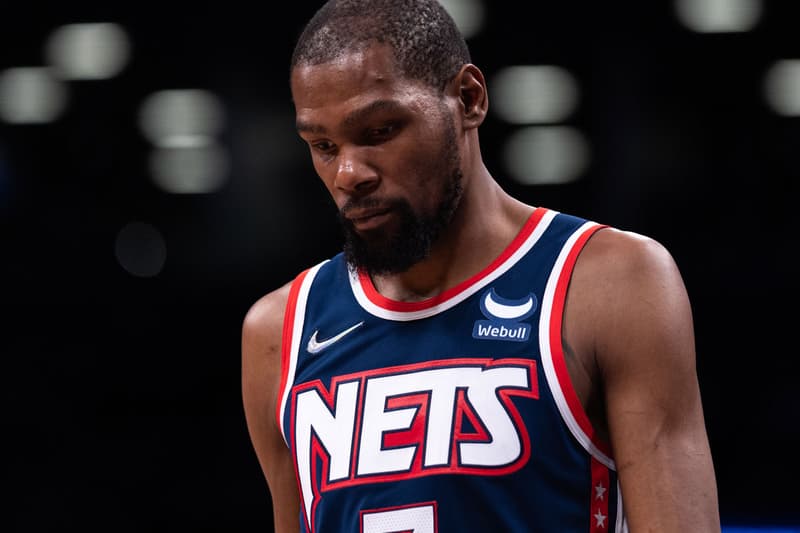 Following the Brooklyn Nets' win over the New Orleans, Kevin Durant was diagnosed with a sprained MCL on his left knee, leaving him out indefinitely for at least a month. The injury occurred after a collision with his own teammate Bruce Brown in the remaining 5:38 in the second quarter. KD did not return after halftime.
ESPN's Adrian Wojnarowski reported that the franchise is hopeful he will be out after four to six weeks of rehab, however, coach Steve Nash addressed that he is also confident that his team will be able to stay afloat with the absence of Durant. The big three, Durant, James Harden and Kyrie Irving have only played two games together this season. With Irving back for away games, the Nets are still hopeful with their successes.
Nash recently commented on KD's status and how it affects the rest of the team, "We'll be playing the cards we're dealt so it's a little bit out of our hands. We just have to do the best we can. We can't cry about it. We can't feel sorry for ourselves. We got to keep building, see what we can learn, how we can grow during this period of Kevin being out and Joe [Harris] being out and how we can continue to move this thing forward so when they do come back, we're in a better place — and he can rejoin us in a place where we can feel better about where we are in that part of the season."
Coach acknowledges that they have now lost a "scorer of the highest caliber" and that the team can no longer rely on his well-rounded skill set, "We can't rely on him in ways that we could, and we have to find ways and solutions to be competitive without him." Nash said that Durant will be reevaluated in the next few weeks and that this will give Irving "the space to regain his rhythm."
In a post-game interview, Irving made it very clear that "You can't replace Kevin." He added, "It's impossible. So I think we just face that reality right now, this second and moving forward on this road trip, I know that we'll probably face more questions, ups and downs to this, but just be very mature about it as a basketball club. And just be ready to be flexible game to game."
Following an MRI this morning, Kevin Durant was diagnosed with a sprained medial collateral of the left knee. Durant is expected to return to full strength following a period of rehabilitation. Updates regarding his return will be provided as appropriate.

— Brooklyn Nets (@BrooklynNets) January 16, 2022
There's optimism within Nets that will be a four-to-six week rehab and return for Kevin Durant, sources tell ESPN. https://t.co/xKYtu0l4VL

— Adrian Wojnarowski (@wojespn) January 16, 2022
In other NBA news, James Harden now holds the record for the most three-pointers missed in the history of the league.