Best New Tracks: NBA YoungBoy, Shenseea x Megan Thee Stallion and More
10 music projects to dive into this weekend.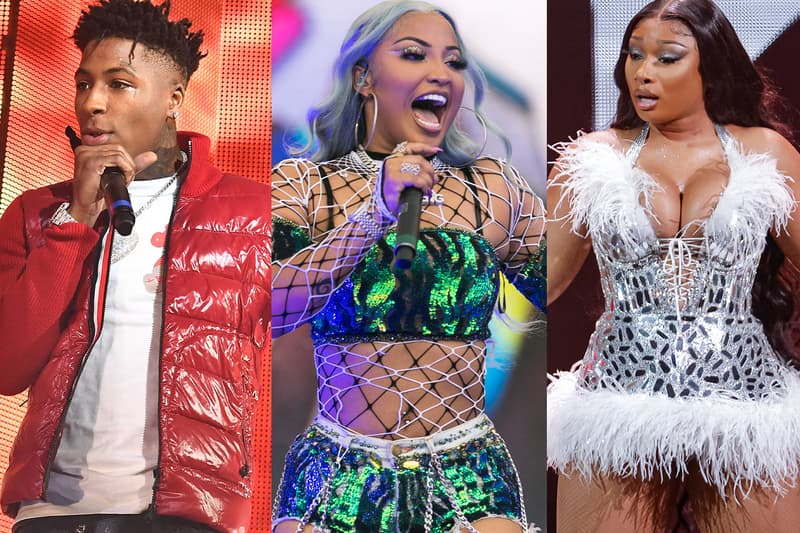 As the week in music comes to a close, HYPEBEAST has rounded up the best projects for the latest installment of Best New Tracks.
This week's list is led by releases from YoungBoy Never Broke Again, Shenseea and Megan Thee Stallion and 2 Chainz with Moneybagg Yo and Beatking, who dropped the mixtape Colors, the collab cut "Lick" and the single "Pop Music" respectively. Also joining this week's list are offerings from Fred again… with Romy and Haai, Fly Anakin and Madlib, Guapdad 4000, Che Noir, Lana Del Rey, Brahny and Honey Dijon with Dave Giles II, Cor.Ece and Mike Dunn.
YoungBoy Never Broke Again - Colors
Less than a month after dropping From the Bayou with Birdman, YoungBoy Never Broke Again is back on his grind with the mixtape Colors. His first project of 2021 features 20 tracks and only one guest appearance from Quando Rondo on "Gangsta," and is also billed as his first solo album since 2021's Sincerely, Kentrell.
Listen: Spotify | Apple Music
Shenseea x Megan Thee Stallion – "Lick"
Shenseea is kicking off her 2022 with the Megan Thee Stallion-assisted cut, "Lick." The new single marks the DONDA collaborator first single from her debut album ALPHA, which drops March 11, and is produced by Murda Beatz. "Lick" hears a snippet from Pupa Nas T and Denise Belfon's "Work," which is then reimagined by Shenseea in the track's hook.
Listen: Spotify | Apple Music
2 Chainz x Moneybagg Yo x Beatking – "Pop Music"
As 2 Chainz prepares to drop his newest album DOPE DON'T SELL ITSELF on February 4, he enlisted the help of Moneybagg Yo and Beatking for the record's second single "Pop Music." The cut follows "Million Dollars Worth Of Game," which featured 42 Dugg and was released earlier this month. Fans can also cop exclusive album merch, customizable lithographs and limited edition autographed CDs on 2 Chainz's website.
Listen: Spotify | Apple Music
Fred again… x Romy x Haai – "Lights Out"
Fred again… joined forces with Haai and The xx's Romy for the new cut "Lights Out." The GRAMMY-nominated producer revealed in a statement, "I started this song on my laptop on a train up to the Scottish Highlands and immediately sent it to Romy and Teneil (Haai) because it felt super special to me." He added, "Romy's lyrics and voice are just like a hug from a rave angel."
Listen: Spotify | Apple Music
Fly Anakin x Madlib – "No Dough"
Fly Anakin has officially announced his debut studio album Frank with the release of his newest single "No Dough" featuring the legendary Madlib. Clocking in at one minute and 30 seconds, the track is Fly Anakin's reflection of his journey to this current in point in time, and is also a reaffirmation of his self-worth. Frank is set to include the 2021 singles "Ghost" and "Sean Price" and drops March 11.
Listen: Spotify | Apple Music
Guapdad 4000 – "I Need Bands"
Guapdad 4000 is ringing in the new year with "I Need Bands," his LL Cool J-inspired cut produced by Link+Up. The slow jam pays homage to "I Need Love" and arrives with an accompanying music video helmed by Paul Middleton, which spots the rapper enjoying a lavish trip to Miami.
Listen: Spotify | Apple Music
Che Noir – Food For Thought
Che Noir is back with her latest full-length effort, Food For Thought. The 12-track project features guest appearances from Ransom, 38 Spesh and 7xvethegenius, and is produced by the likes of CartuneBeatz, Tricky Trippz, Chupz, JR Swiftz, Motif Alumni and Noir herself. "I wrote and recorded Food for Thought during one of the darkest and most trying times of my life" she said in a statement. "I turned my thoughts to a full meal."
Listen: Spotify | Apple Music
Lana Del Rey – "Watercolor Eyes"
The rumors are true — Lana Del Rey has recorded a song for the second season of the HBO show Euphoria entitled "Watercolor eyes." The cut was first teased in the preview for the series' January 23 episode, and will be included in the official soundtrack which drops February 25.
Listen: Spotify | Apple Music
Brahny – "Nimbus"
Brahny is entering the turn of the new year with his latest single, "Nimbus." The dreamy, three-minute cut arrives with an accompanying self-directed music video, and features choreography and a performance by Jessica Mak and Brayden Cair. "The video is inspired by 嫦娥 from chinese folklore and her man who love loved her even though she was a moon goddess," he revealed in a statement.
Listen: Spotify | Apple Music
Honey Dijon x Dave Giles II x Cor.Ece x Mike Dunn - "Work"
Honey Dijon enlisted the help of lyricist Dave Giles II, Brooklyn singer-songwriter Cor.Ece and house legend Mike Dunn for her newest track "Work." The three-minute cut (six minutes for the extended) is billed as the fourth single from her upcoming album Black Girl Magic!, which was first announced in 2020.
Listen: Spotify | Apple Music