Antonio Brown Is "No Longer Part of the Bucs"
After tossing his equipment mid-game.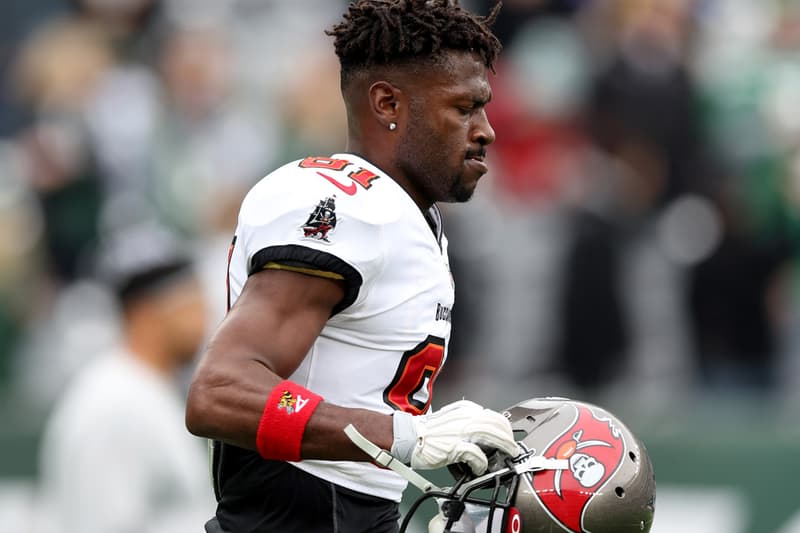 The Tampa Bay Buccaneers escaped a near-shocking defeat to the New York Jets this afternoon at MetLife Stadium.
If the scoreline wasn't surprising enough, Antonio Brown expressed frustration toward the third quarter, where the star wideout was seen ripping off his pads and uniform and throwing his shirt and gloves in the stands. Shortly after, the shirtless receiver went into the end zone, performed jumping jacks, then gave the peace sign to Jets fans as he went into the locker room.
It wasn't clear as to what caused the incident, but when asked about Brown post-game, Bucs head coach Bruce Arians was quick to note, "I'm not talking about him. He's no longer part of the Bucs." The hasty decision echoes a similar stance Arians took back in 2020: "He screws up one time, he's gone."
Arians on AB "He is no longer a Buc" pic.twitter.com/SXkvWvs2Ly

— Billy M (@BillyM_91) January 2, 2022
According to a source close to ESPN, Brown was not benched before storming off the field, rather, "He quit." From a series of disagreements with the Pittsburgh Steelers, foot and helmet troubles with the Las Vegas Raiders, a sexual assault case shortly after signing with the New England Patriots, to a recent suspension after faking his vaccination card — the latest debacle ends Brown's tenure with the Buccaneers and he will not return with the team back to Tampa Bay.
Also in the news, Aaron Rodgers is considering retiring after 2021.