Tommy Cash and Rick Owens Unite for "Mona Lisa" NFT Auction
The duo created six GIFs from the Estonian rapper's collaborative music video.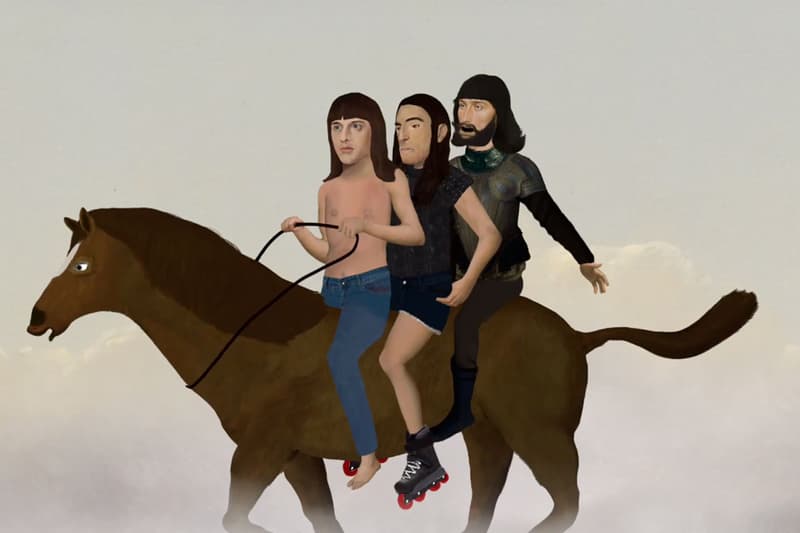 Estonian rap artist Tommy Cash has joined forces with renowned fashion designer Rick Owens to present a full collection of six GIFs from his latest video for "Mona Lisa," off his 2018 album, ¥ € $. The duo on Wednesday launched an NFT auction for the first of the six digital assets via Foundation, titled "MONA LISA: 2 IS BETTER THAN 3."
The "Mona Lisa" video was shown exclusively at the artist's joint exhibition with Owens earlier this month at KUMU Art Museum under an exhibition named "The Pure and The Damned." Dubbed the "manifesto of Tommy Cash as a visual artist," the exhibition showed Cash's stage images and visual language through a variety of mediums including installations, sculpture and painting, while Owens' work manifested across a series of garments, objects and furniture.
Owens previously took part in the recording of "Mona Lisa," before working with Cash on the track's accompanying visual, which was brought to life by artist Scorpion Dagger. The six-piece GIF collection will be brought under the Russian company New Digital Broker's umbrella, which will oversee implementation through its final stage.
Take a look at the "MONA LISA: 2 IS BETTER THAN 3" NFT auction on Foundation's website.
Meanwhile, Cash is preparing for an international tour, scheduled to take place kick off on February 10, 2022, in San Francisco, and conclude in Copenhagen, Denmark, on May 1, 2022. Tickets are now available for purchase on the official tour website.
Elsewhere, Epic Games' CEO announced that the company is "not touching" NFTs.