What the Tech? Microorganism-Harvested AirCarbon Will Make Your Next Pair of Nikes
Newlight Technologies' CEO on molecule-extracted PHB and how this will make Nike, and fashion, carbon-negative.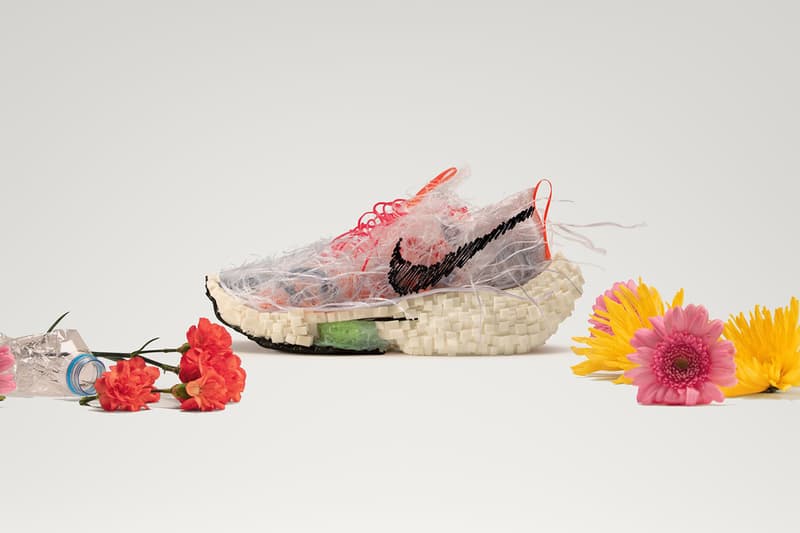 While it may seem that every brand wants to be more sustainable, the term and practice itself is nothing new. Since the 1960s, some forward-thinking brands were trying to develop more conscious models of production. If we somewhat irresponsibly omit everything from the 1990s until the early 2010s, a two-decade nadir of fast fashion, we come closer to a more familiar time when sustainability, or at least ethical fashion, has been at the forefront of most brands' practices. 
But what is sustainability without impact? As Mark Herrema, CEO, Newlight Technologies, puts it, "A lot of the time with sustainability, it's [about] status quo — but we have to do better than that." Simply: doing what everyone else is doing isn't going to cut it anymore.
What made sustainability so exciting just half a decade ago was innovation. This is where Newlight Technologies comes in, the company behind a not-so-new material called AirCarbon. What took 18 years to get to where it is today, AirCarbon is finally being recognized and subsequently scaled by big corporations, such as Nike, meaning very soon it won't just be your straws, sunglasses, or cutlery made from AirCarbon, but also your shoes. 
After speaking to Herrema, Newlight Technologies won't stop until it has explored every possible avenue with the likes of Nike. Can it make a sole unit from AirCarbon? Most certainly. Uppers, and details like eyelets? They'll give it their best shot. 
To better understand what AirCarbon is and how it will change the future of Nike, footwear, and pretty much anything else it wants to tackle, HYPEBEAST sat down with Newlight Technologies' CEO Mark Herrema for our latest installment of What the Tech? Read on for an enlightening and promising insight into the future.
HYPEBEAST: What is a carbon-negative product?
Mark Herrema, CEO, Newlight Technologies: Well, there aren't many. When we say "carbon-negative," we mean: as a result of the production process, more greenhouse gas has been removed from the atmosphere than created. The analog that we often point to, to make it more tangible, is when a tree grows a leaf for it to do that it pulls carbon dioxide out of the air, and synthesizing that into a solid material. As a result of that growth, there's now less carbon in the air. 
When we carry out our production process, we certainly have some level of emissions from some of the materials we use and the power steps, but on the other side, we're bringing greenhouse gas [so that] there's less in the air than when we started the production process. Carbon-negative means we are reserving, rather than adding to it. 
Is it naive to ask how using the ocean's microorganisms is a sustainable process? How does this all work?
We use microorganisms to make the material. The way that happens is… In the early years — we've been around for 18 years — we were looking for microorganisms that could make this molecule. The molecule's technical name is PHB (Polyhydroxybutyrate), almost all life makes it, you and I, humans, we make it.
"This feels like a distinctive step-change in terms of the impact of our materials, so if it causes people to think about sustainability and regenerative products, then I think that's a good thing."
It turns out that there are microorganisms in the ocean that eat methane or carbon dioxide as their food source, and when they do that, one of the things that they make inside their cells is kind of like muscle, the molecule PHB. When you extract that you can turn it into a fine white powder and that is meltable, so now you have a replacement for things like plastic. 
We found these microorganisms after a lot of field trips, but once you have them, you don't have to keep going back to the ocean. The way our process works is that we grow a batch of these guys, and they fill their cells with AirCarbon, or PHB, and we extract that. We take a small amount of the microorganisms from that batch and put them into the next batch, so the standard production process is that we grow more and take a little bit, and put it into the next batch — so we never have to go back to the ocean. 
I've never heard someone say "It's made of ocean microorganisms," but I guess technically it is, they made it. Thinking of it that way is kind of cool. The way we think of it is that they make this molecule inside of their cells, and then we separate the microorganisms' biomass from the polymer. We don't include the microorganism as part of the product, this is just the molecule they make. 
Once you have the microorganisms from the sea, how do you actually take out the molecule and then turn it into AirCarbon?
Eagle 3 is our first production facility just outside of L.A., and that middle tank, think of it like a slice of the ocean. It's a big stainless steel tank filled with saltwater, and into that, we add in these naturally occurring, not genetically modified, microorganisms. Into that, we add our gases which they eat as their food source, fill themselves with PHB, and once that batch is done it goes inside our building and we basically push it through a high-pressure filtration process. What happens is the microorganism biomass goes through the filter and the polymer is left behind. We chase that with water, and now we have a purified but wet polymer cake. We put that into a drier, and that spins, and at the bottom of that we get a fine white powder. With that powder, we push it into an extruder which heats it up and it comes out as long spaghetti strands, and those go through water so it's no longer molten but solid, and then we can chop that into pellets.
Pellets are the currency of the current plastic industry, so we can then use these to cut them up and make straws, or injection mold into making cutlery, and then we can also injection mold eyewear, or make long sheets of material to make our "leather" material. [Shows black leather] we add coconut shells with activated carbon to turn it black, we can stitch this into different parts and pieces. 
Once you have the pellet, you can use a lot of pre-existing processing equipment. 
And all of this is adaptable and equivalent to plastic or leather.
The term we use is biomaterial because we're trying to replace plastic, but probably the closest analog is plastic. 
One of the key features of plastic is that it's meltable, so you can turn it into different things, but that's how we stumbled upon this leather thing — if you can melt it, you can form it into sheets, and now you do have a replacement for a leather material. 
There's a lot of sustainable alternatives to leather, such as mushroom leather. How does AirCarbon compare, or how is it positioned differently?
For me, it comes down to the carbon footprint, but I'm not aware of other carbon-negative leather alternatives. They may exist, but I haven't heard of them. So that's probably the thing that's most distinguishing about this stuff. 
Nike is the latest brand to use AirCarbon and in a press release Nike's Chief Sustainability Officer Noel Kinder says, "AirCarbon offers an opportunity to further reduce our impact on the planet." With this in mind, how do you aim to work with Nike on this project?
The big picture is to use AirCarbon to help Nike reduce its carbon footprint. We have a relationship now to explore all the different ways we can do that. AirCarbon can be used in many different ways, from fiber to leather to injection molded products, and so, Nike has a pretty internal commitment to reducing its carbon footprint. 
A shoe has to be functional. Is AirCarbon adaptable to these needs?
The products we have on the market are demonstrative of that. You can get AirCarbon eyewear that's high-performance injection molded, and then you can get AirCarbon bags that have different functionality that also works well — my wallet is made from AirCarbon and it works great, granted I'm not putting it through F1 racing. 
On the other side of the spectrum is a fork. What we're trying to show is that we can't do everything, but we can do a fairly nice array of things, so we'll work with Nike to figure out the places that [AirCarbon] fits, and not just from a sustainability standpoint, but also a high-performance standpoint. 
From what you've shown me and explained, it looks like AirCarbon could be used for a sole unit on a shoe.
We're certainly going to be looking at that. The uppers, every component we can. The more AirCarbon we get in there, the lower the carbon footprint. 
How long will the partnership go on for? Is it until AirCarbon is used consistently throughout Nike's product range?
That's a good question, but I think we're going to explore the limits. My hope is that Nike — as a result of selling carbon-negative products — is that their core products have a net reduction of carbon in the air. How cool would that be? That's our goal, and the pathway to getting there is something we're still exploring. 
Do you think AirCarbon will become more popular as we learn more about how to use it?
I think so. It took us many years to get into commercial-scale production and we finally have that. That happened last year when we brought Eagle 3 online for the first time; now with Eagle 3 online and commercial-scale capacity, we hope to be an increasingly important part of the fashion industry — whether that's eyewear or leather or fiber. We're starting to hit a point where we have more material to bring to the industry, so the industry can do things with it. 
I hope we do become a more important part of the industry. I also hope that it really gets people thinking about what's possible. A lot of the time with sustainability, it's [about] status quo — but we have to do better than that. With the amount of time we have to fix the environment, getting it to the plateau is not enough. I'd love if we could inspire people, if we can do this with greenhouse gas, what else can we do and how else can we reinvent our products. This feels like a distinctive step-change in terms of the impact of our materials, so if it causes people to think about sustainability and regenerative products, then I think that's a good thing. 
With all of this in mind, have you faced any challenges in changing people's minds or making footwear and fashion more sustainable?
I think the industry is very eager to adopt sustainable pathways. The challenges have been getting to scale. As much as a company would love to work with you, if you don't have enough product or you're not meeting performance targets… yeah. That was an 18-year journey for us, it was hard. From that point, the industry has been very receptive.
The Nike sneaker demonstrated above is not affiliated with Newlight Technologies, but is Nike's most sustainable sneaker to date.