What the Tech? On's CloudTec Reaches New Heights on the CloudStratus 2
The label has doubled up its proprietary technology to give runners more structure, comfort and support.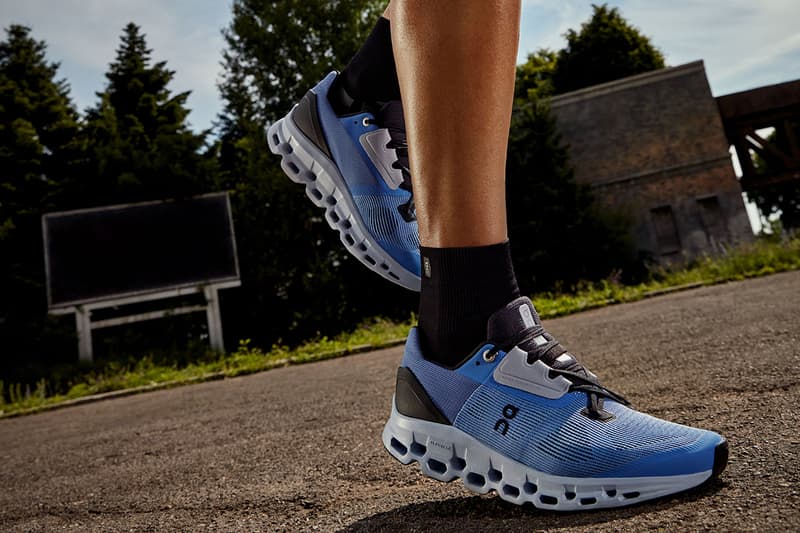 The running market is a contested space. On one hand, you have the major players — like Nike and adidas — who have come to dominate running in the way they dominate most sports, while on the other hand are upstarts like Brooks and HOKA ONE ONE, specialists in the space with a history of innovation. A little over 10 years ago, though, a new player entered the running world.
Founded in 2010 by Ironman champion Olivier Bernhard, On has crafted out a sizable market share in the running industry. This is partly because of its work with Roger Federer — who is also a shareholder — and its sponsorship of the Swiss Olympic team, but it is also down to CloudTec, the brand's proprietary cushioning technology.
CloudTec began life with Bernhard experimenting with a garden hose, exploring how that shape could offer a brand new type of cushioning. In short, the series of "clouds" that run underneath all On silhouettes offer cushioning as the foot lands on the floor, before locking together to create a solid foundation for pushing off on the next step.
The latest evolution of CloudTec is the all-new CloudStratus 2, the first On sneaker to feature two layers of clouds. For the latest installment of What the Tech?, we caught up with Edouard Coyon, On's head of footwear product management, to find out how CloudTec works, why it has been so popular, and what the CloudStratus 2 is doing differently.
The What, Why and How:
HYPEBEAST: What exactly is CloudTec and how does it work?
Edouard Coyon: Basically, you have what we call "clouds" below the foot. The benefit of it is basically that playing with the structure of it helps you to tune the cushioning for softer landings. As the clouds are compressed in the forefoot it creates a firm and stable platform to push off. So you get the benefit of both the soft landing and the explosive push off.
On top of the clouds, to make it work, we have a speedboard which links all of the clouds to create a very smooth transition from heel to toes. What's unique about this technology is how it combines cushioning and energy return, but it also works in combination with the speedboard to provide a very smooth transition.
The result that we have is something that the runner can really feel. You really feel the cushioning, and then as you compress the shoe you feel a stable platform to push off. It means that you can use your energy in a more efficient way to kick off from the ground.
"You really feel the cushioning, and then as you compress the shoe you feel a stable platform to push off."
How has CloudTec been applied to the CloudStratus 2?
The CloudStratus 2 is the first time we've been able to bring in two layers of clouds. They're not on top of each other, they're shifted slightly so they really work together. It's helping to add an extra layer of cushioning. The idea of more cushioning is to help people run longer, and feel less pain as they run longer.
What were the difficulties of doubling up on CloudTec?
We usually start from a benefit, so here that was how can we build a shoe with more cushioning, more clouds? We build what we call "monsters" in our workshop for drilling into shoes, putting pieces together. Then we test, we realise that the double layer of cushioning creates a more comfortable feeling so people would run longer.
To make CloudTec work, you play with the geometry, and you also need the right materials so it doesn't collapse. If you use a material that is very firm, it isn't going to collapse at all, so you'd have a very firm shoe. If you use a material that is too soft, everything will collapse and it doesn't help you.
The massive challenge was to make this actually possible to produce. You have to create a lot of prototypes. You can see from the bottom unit how technical it is, you can imagine the mould that is building this. It's a massive challenge just to build the mould you need to create all of it.
The Details:
What does CloudTec mean for runners? How does it impact the experience?
The idea is that every cloud is independent and every cloud can adapt in a different way. No matter where you land, the shoe will adapt to your way of running. This is the main benefit: you don't have to adapt to your shoes, how the shoe will perform depends on how you run.
If you look at how people land on the ground or how people run from their heel to toes, they create different patterns. What's really unique about our technology is that it adapts to this. We have a lot of signals that people have less injuries in our shoes, and we are conducting a bunch of studies to prove that.
Having a shoe that adapts better to the runner is really helping for a more natural ride. We're not forcing anybody into a position. It's you and your body that decides how a shoe is going to move on the ground.
"No matter where you land, the shoe will adapt to your way of running."
Does that mean that the shoes work for everyone?
We don't want to push people into a position, so it's important that we have a shoe that can adapt to your running style. That's the main benefit.
In terms of cushioning, what's also interesting is that if you land on the ground you will compress the cloud vertically, but you will also move the cloud horizontally. Horizontal cushioning is super important for us, it's almost double cushioning because it moves in two directions. It's adding an extra layer of protection.
Why is the relationship between the clouds and the speedboard so important?
The clouds are totally disconnected elements, and you need a structure to connect them. Consumers are looking for a shoe that feels effortless, you just want to create a super smooth ride, so you need the speedboard to help the shoe.
The speedboard is equally important to bring different benefits, starting from connecting the clouds to create the main benefit you want to bring to the shoe.
The Future:
The CloudStratus 2 is the first time you've doubled up the clouds, but where can CloudTec go next?
With CloudTec, the speciality of On is its structural cushioning. We are the only brand that puts a block of cushioning below the foot, and also plays with the structure of the midsole.
Being the only brand that really explores structural cushioning, there are a lot of things we see that go beyond CloudTec that we can play around with to bring benefits. We have our lab that is set up to play up with the structure of the cushioning — both physically with samples and digitally — to see what we could do.
I don't just mean CloudTec. If you want to make a trail shoe with maximum stability, maybe you play with the structure of the bottom in a totally different way. We have a lot of opportunities to innovate and to bring newness. I think there are still so many opportunities to change running.
"I strongly believe that the running shoe in five years will look different from the running shoe today."
What role do you think On will play as running shoes continue to evolve?
We are still a young company, we've only been here for 11 years. It's still only recently that the company really took off, it's only recently that the research and development department started growing, and we've been able to invest into new tools. If I had to draw a line, today is where we start to be able to create things beyond the traditional clouds that we've been doing.
We have the tools in place, and we have the people in place that can put together all the dreams of runners — to run faster, to run further, to run without pain, and people who just want to run. We can start from the benefit we want to get from the shoe and go a bit crazy and end up with something.
This is still a young brand, the start up vibe is still there, we still work with the founders. We still want to disrupt the market. We can dare to make new things. It's a combination of having a unique technology, a mindset of daring, and new consumers. I strongly believe that the running shoe in five years will look different from the running shoe today. Hopefully we can be the brand that can shape what the running shoe of the future is going to be.