Best New Tracks: Lorde, HOMESHAKE, dvsn x Ty Dolla $ign and More
Enjoy the weekend with these 10 music projects.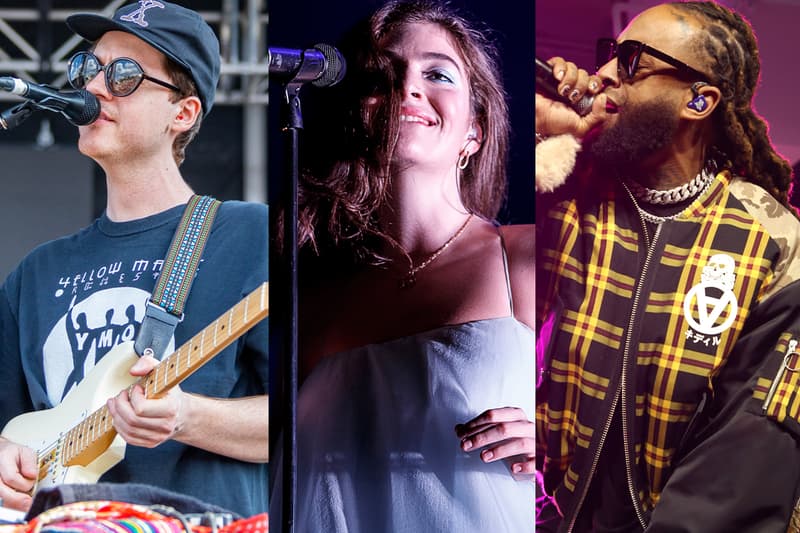 As the week in music comes to a close, HYPEBEAST has rounded up the 10 best projects for the latest installment of Best New Tracks.
This week's list is led by Lorde with her first album in four years, Solar Power, Shaybo's debut mixtape Queen of the South, and the collaborative album of dvsn and Ty Dolla $ign. Also joining this selection are releases from Dreamville's Lute with DEVN, Bakar, HOMESHAKE, Joshua Crumbly and Sam Gendel, TOBi and Jazz Cartier, Mimikat and the deluxe edition of Rod Wave's SoulFly.
Lorde - Solar Power
After four long years, Lorde has returned with her Melodrama followup, Solar Power. A majority of the warm and pensive record is produced by Jack Antonoff and the New Zealand-born artist herself, and is filled with cozy plucked guitar strings, full harmonies and sharp shakers accompanying Lorde's introspective lyrics of escapism, fame and intimate relationships. "'Cause all of the music you loved at 16, you grow out of," she sings on the standout cut "Stoned at the Nail Salon," almost subtly referring to her debut album Pure Heroine which she dropped at 16 years old, but longtime fans of the artist will gladly object to that.
Listen: Spotify | Apple Music
Shaybo - Queen of the South
Shaybo's debut mixtape Queen of the South is finally here. The 11-track project features guest appearances from the likes of Jorja Smith and Wale, and was supposed to release in 2020. "I don't want to glamorize fighting. I don't want to glamorize confrontation," she told HYPEBEAST. "But I do want to glamorize women sticking up for themselves."
Listen: Spotify | Apple Music
dvsn x Ty Dolla $ign - Cheers to the Best Memories
dvsn and Ty Dolla $ign have teamed up for the collaborative project, Cheers to the Best Memories. The two artists dropped the record off following the singles "Memories" and "I Believed It" featuring the late Mac Miller, and arrives after dvsn's A Muse in Her Feelings and Ty's Featuring Ty Dolla $ign.
Listen: Spotify | Apple Music
Bakar – "The Mission"
As Bakar preps his highly-anticipated debut album, the singer/songwriter has dropped off its lead single "The Mission." Billed as a new era for the north London artist, he says of the song, "​​To me, the song is about the want and need for a better future, especially for 1st generation kids of immigrant backgrounds – telling our stories is so important. I'm trying to represent and reclaim my Islamic faith for a new progressive generation. This is ultimately about peace but so often our symbols and flags have been hijacked for the wrong purposes. I see what's happening in Kabul this week and pray for the people there."
Listen: Spotify | Apple Music
Lute x DEVN – "Myself"
Dreamville's rising star Lute enlisted DEVN for the brand new single, "Myself." The Charlotte rapper's latest effort arrives after speaking about his anxiety on Gold Mouf Chronicles — a topic he's been very vocal about. "It's an honor to be transparent with myself and in my music about mental health because I know what being open about my anxiety can do for others," he told GQ.
Listen: Spotify | Apple Music
HOMESHAKE – "I Know I Know I Know"
Before releasing his forthcoming album Under The Weather, Toronto's HOMESHAKE delivered its brand new single "I Know I Know I Know." The cut arrives with an animated laser-lined dancer visual directed by Keith Rankin, who shared, "I had been wanting to work with the dancer Azuki Umeda for a while, she had made a few pieces of choreography for me, and I put one against the Homeshake song thinking it might be too frantic, but it actually matched perfectly. Me and my partner Ellen Thomas came up with an abstracted figure look and did rotoscope animation over the dance sequence, I hope it looks like a dream landscape."
Listen: Spotify | Apple Music
Rod Wave - SoulFly (Deluxe)
Rod Wave dropped off the deluxe version of third studio album SoulFly, adding a total of nine tracks to edition with features from Lil Durk on "Already Won" and Kodak Black on "Get Ready." The Florida-born artist is set to hit the road in support of the record in late August until late October, kicking it off in Houston and wrapping it up in Seattle.
Listen: Spotify | Apple Music
TOBi x Jazz Cartier – "WOAH"
Shortly after joining forces with Mick Jenkins and Baby Rose, TOBi has now reunited with frequent collaborator Jazz Cartier for the collab "Woah." The Juno Award winner will be teaming up with Basstracks for a joint tour beginning September 30 in Chicago, with both artists set to perform the collaborative tracks they have in the works.
Listen: Spotify | Apple Music
Joshua Crumbly x Sam Gendel – "The See"
Bassist, producer and songwriter Joshua Crumbly has announced his sophomore studio effort ForEver with the release of its lead single, "The See," featuring renowned producer and multi-instrumentalist Sam Gendel on saxophone. "'ForEver' began with an out of the blue call from Shahzad [Ismaily]," Crumbly explained of the upcoming album. "He told me that I needed to record a solo bass album. It started out as such, then I added some other instruments. It branched out even further when I reached out to a few friends, whose voice I was strongly hearing on particular songs. I'm grateful they were down to be a part of the record."
Listen: Spotify | Apple Music
Mimikat – "Lantau"
Rising indie R&B star Mimikat shared her brand new single "Lantau," an ode to an island in Hong Kong where she grew up. The Sheffield-born and Singapore/Hong Kong-raised artist said of the song, When I first moved there, I lived on Lantau Island – This beautiful slice of paradise where people live amongst lofty buildings, tropical jungle, sandy beaches and sweeping mountains. I think the song really reflects that sense of serenity, wide-eyed curiosity and happiness that I had when I lived there."
Listen: Spotify | Apple Music