Kevin Durant Clarifies If His Argument With Draymond Green Caused Him To Leave the Warriors
Draymond and KD finally clear the air.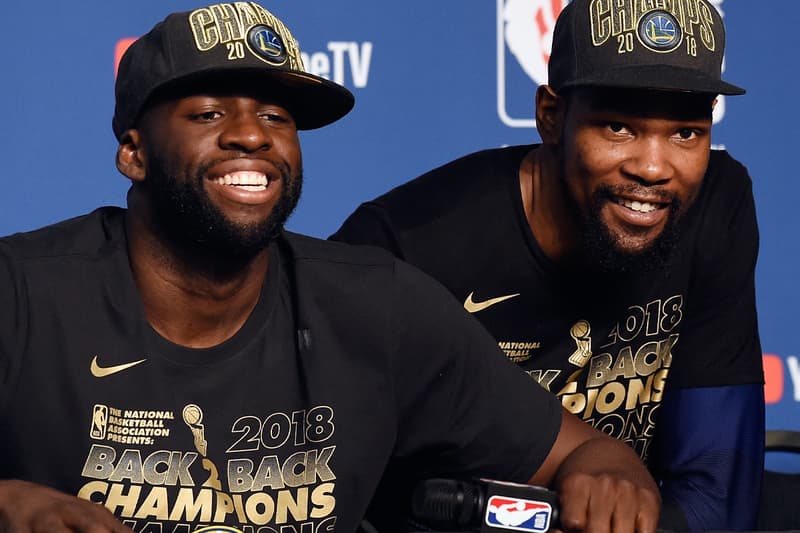 In a recent segment of Chips from Bleacher Report, Draymond Green sits down to talk with his former Golden State Warriors teammate, Kevin Durant. The two NBA stars have an honest conversation about the events that transpired and caused KD to depart from the Warriors.
Green does not hold back in the conversation and asks Durant how much of their argument during a game against the Los Angeles Clippers in KD's final season with the Warriors influenced his decision to leave. Fans may remember the animated conversation that drew the attention of many fans and even caused Green to be suspended by the front office. The argument later led to the Warriors ultimately falling short of a three-peat after KD and Klay Thompson sustained season-ending injuries.
KD clarified that the moment was not exactly what caused him to leave. He said,
"It wasn't the argument, it was the way everybody acted like it didn't happen. Steve Kerr acted like it didn't happen. Bob Myers tried to discipline you and think that that would put the mask over everything. I really felt like that was such a big situation for us as a group. The first time we went through something like that. We had to get that sh*t all out.

I remember watching 'The Last Dance," and when Scottie didn't go into the game, the whole team in the locker room said, 'Scottie that was f****d up that you did that.' We needed that. We just needed to throw all of that shit out on the table and say, 'Yo, Dray, K, that was f****d up that we even had to go through that. Let's just wipe our hands of that and go finish the task.' I don't think we did that. We tried to dance around it. I just didn't like how all of that, just the vibe between all of that, it just made sh*t weird to me. And I'd rather us, be who we say we are.

Family first. Communication is key. Like we didn't show that. And that's what rubbed me the wrong way more than anything."
Green later weighed in and gave his own opinion on when he thought KD was done with the Warriors, "After year two, you were over it, you were done with it, and you were on to the next thing. But we had the opportunity to three-peat, and in my mind what brought you back to Golden State for year three was just that opportunity to three-peat. But it didn't feel right to me no more."
In other sports news, LeBron James reacts to getting zero votes from NBA execs on being the best player going into next season.