2020 Should Have Belonged to Shaybo
The rising rapper had a new record deal, a forthcoming EP and a summer of shows. But nothing went quite as planned.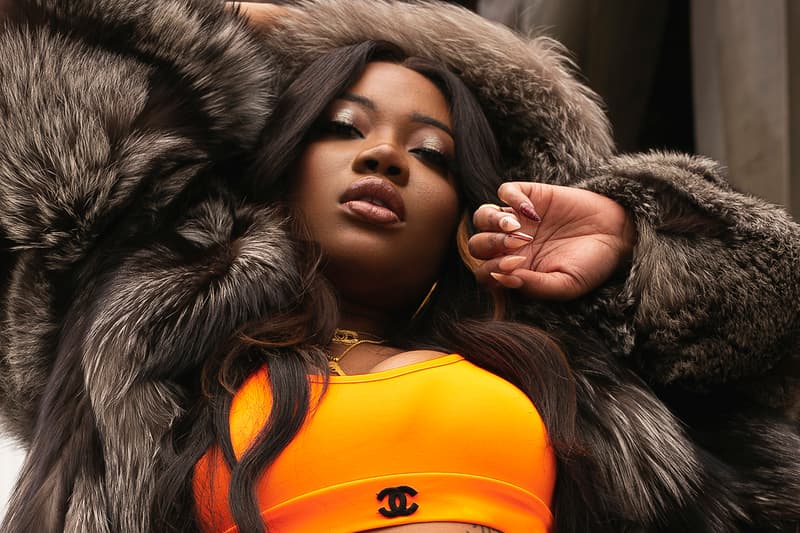 I'm often perplexed by music magazines that attempt to predict the year's "next big thing." It would be fascinating to know what the success rate of their forecasts are: for every music editor who correctly anticipated the arrival of a breakthrough star, there are so many more that were impossible to see coming (for proof, look no further than The New York Times' spectacular early review of Beyoncé.) The very nature of popular music is such that it's nigh-on impossible to tell who, or what, is likely to capture the public's attention, even for the most experienced of experts. It might be educated guesswork, but it's guesswork all the same.
Nevertheless, at the start of this year, Shaybo seemed like a pretty safe bet. The South London rapper had been signed by Black Butter Records (the starmakers behind artists including Octavian, Gorgon City and J Hus) and was releasing a steady drip-feed of tracks incorporating her spiky, drill-inflected style, which flips from an unmistakably British sense of humor (We roamin' like Vatican / no chitter, no chattеrin' / or your face getting batterin') into lines delivered in Yoruba, an acknowledgement of her Nigerian heritage.
By the early spring, the British music press had touted her as "the darling of the UK drill scene" and proclaimed that "there's no MC in the UK that sounds like Shaybo." She had appearances scheduled at Wireless and Reading festivals and was set to perform in Ibiza for the first time. A debut EP, Queen of the South, was also due to launch this year. What could possibly go wrong?
Oh, right.
As the COVID-19 lockdowns took hold around the world, the music industry imploded overnight. Music magazines collapsed, nightclubs closed their doors, the future of even the biggest festivals fell into doubt, and Shaybo found herself in the unenviable position of watching all of her carefully-laid plans being scattered into the air. All of her appearances were canceled, while Queen of the South was postponed without a new launch date in sight.
It has been, to say the least, a frustrating experience.
"This year was supposed to be the 'go' year for me," she says, when we meet at her record label's offices in East London. "I came into 2020 saying, 'Yeah! This is going to be the year!' So I was really panicking. As an artist, it drives me crazy. I just want to execute, execute, execute. I wanted to be out there doing the shows. And we don't even know when this is going to be over."
She checks herself. "Of course, corona affected everybody. I had to train myself to understand that things f*ck up sometimes — that's what I've learned this year. All you can do is plan. And sometimes, sh*t don't go to plan."
"I don't want to glamorize fighting. I don't want to glamorize confrontation. But I do want to glamorize women sticking up for themselves."
Though she's philosophical — and, for the most part, upbeat — about the setback, it's also left her in a strange position: suspended between her former life and the starry future that she was promised. She's spent this summer in a kind of limbo between the two. "The transition is quite hard," she says. "Last year, I was working as a support worker. Wake up, come home, wake up, come home. And I've lost that routine since being signed by the label and not having to work. But I can't really hang out with my friends now, because they're still working during the day. I found that the hardest part: feeling like I can't do what I want to do. I'm literally stuck in the middle."
Undaunted, she took the opportunity to recenter, refine and refocus. "I'm looking at every single detail," she says. "My music, my branding, my signatures, everything." At the same time, she's reconsidering her image. In person, she is softly spoken, faultlessly polite and makes for witty and relaxed company. Her public persona, though, has been more confrontational up until this point — both in the barbs she includes on her tracks (F*ck the talking ting, I tried before / I don't want blood on my Christian Dior) and on her Twitter, which is peppered with allusions to conflicts and public venting of exasperation.
"We have our own slang, our own sound, our own way of partying. Not everyone is going to understand us."
Even since before the lockdowns began, Shaybo has been trying to navigate how to handle the "aggressive" image that's so often foisted on young Black women in music. "People, when they meet me, they think I'm gonna be this bitch," she says. "And I'm not." She concedes, though, that her priorities have shifted over the course of preparing her EP. "I don't want to keep portraying anger," she says. "There's more to me than that. There's more to everybody. I still want to keep that strength and audacity in my voice, but I want to touch on more real things."
As a result, Queen of the South will expand her subject matter beyond the braggadocio of her early tracks — it touches on themes including domestic violence, heartbreak and Black identity. "I don't want to glamorize fighting. I don't want to glamorize confrontation," she says. "But I do want to glamorize women sticking up for themselves."
In that regard, she shares the outlook of one her biggest inspirations, Nicki Minaj, whose early mixtapes were a seminal influence on Shaybo growing up. "I never used to hear a lot of female rappers," she says. "And the ones that I saw — I liked them, but they weren't me. I couldn't relate to them. But Nicki Minaj was like, 'I'm a bad b*tch.' I just fell in love with her. And a lot of people – even though they might not say it – their influences definitely come from Nicki."
Beyond the music, Shaybo considers Minaj's career progression – and her widely-publicized insistence that she receive the same treatment afforded to the men in her industry — as a path to follow. "She's a blueprint of how to be a girl that came from nothing and ended up as a successful businesswoman," she says. "No one can tell her what to do."
The U.S. has proven notoriously difficult for British female rappers to crack; while male artists from Stormzy to AJ Tracey have made waves in the States in recent years, remarkably few women have made an impact beyond the occasional single. I'd expected that Shaybo would have her sights set firmly on the American market, which is so often held up as the sole benchmark for success. But it's not her priority. "I don't necessarily think about breaking the U.S.," she says. "America has its own culture. They support their own first. But in the U.K., we're so quick to push U.S. artists before we push ourselves. It puts us at a disservice."
She pauses. "And besides, we have our own thing here. A lot of U.K. musicians, we come from the hood. We have our own slang, our own sound, our own way of partying. So, not everyone is going to understand us."
Authenticity is a non-negotiable for Shaybo: it's something she discusses frequently and passionately over the course of our conversation. Above all, she's unwilling to tone down her Britishness, her South London-ness, or her Nigerian background, in order to fit more easily into the American mold. "It's so easy for U.K. artists to get lost," she says. "But the people who are doing their own thing, that's who the cool kids want to come to." She hopes, too, that doubling down on the qualities that make her unique will bring in an entirely different cross-section of fans. "It's like, there are so many Yoruba-speaking communities all over the world," she says. "And they will take to me, because I'm relatable to them in that sense. Besides, if you spend too much time thinking about where you have to crack, you're gonna miss out on everything else."
For now, though, the rest of the world will have to wait – at least until the dust clears, and the music industry returns to some kind of normality. But Shaybo has been surprised to discover that slowing down her plans hasn't been the disaster she expected.
"So much drama has happened," she says. "But it has changed my perspective. Everybody wants to be the biggest. But they don't understand that it comes with a lot. You have to look the part all the time. You have to be mentally ready, and that's something you have to build up. I mean, you have to be ready that you won't even be able to go to the shop." As she says it, she seems to realize it herself.
"In terms of becoming the world's biggest…I don't know if that's where I want to be in a year's time," she says. And for the first time, her gaze drops to the floor.
"I'm not ready."
She drums her fingers on her water bottle, and briefly seems caught in a mental calculation. A moment later, she snaps back into the room, and her gaze meets mine again.
"I think maybe I'll be there in three years time, instead."