Who Will Save London's Nightlife?
How community and inclusivity could define the future of clubbing.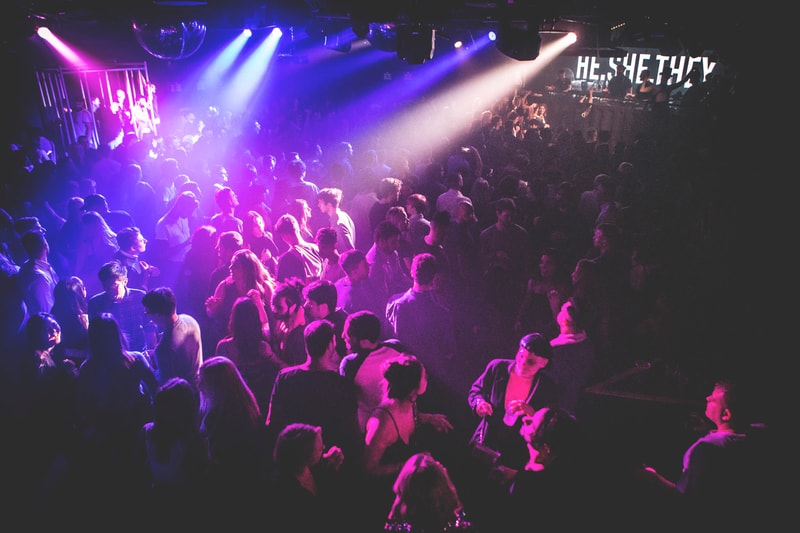 In early July, a few of London's nightlife spaces slowly began to creak open. The Glory, a queer performance pub in Haggerston, has opened its doors following a new set of unusual, but necessary, coronavirus guidelines set out by the government. Around England, table service is mandatory (unless it's not possible), serving assistants are clad in face masks and surfaces are anti-bacced to an inch of their inanimate lives. Despite the quiet music, lack of bar service and the fact that punters aren't able to sit near each other or dance, the pub experience is surprisingly more personal, and revelers (like myself) have appreciated the intimacy of sitting down. While pubs and bars have received the green light to reopen, nightclubs have not received the same amount of attention from officials. It is far more difficult to maintain social distancing on a dance floor, so for now, these spaces are closed for the foreseeable future. 
Even aside from the challenges of reopening in the midst of a pandemic, London's nightlife has a mountain to climb. Today, the hospitality industry has to face rising costs (rent, overheads, events, supplies) and a growing generation of punters that seem less interested in clubs. In 2015, the BBC reported that nearly half of the U.K.'s nightclubs had shut their doors in the previous 10 years. Jonny Woo, a co-owner of The Glory, reminds us of that reality: "Nightlife thrives on its underground scene and as clubs are forced to have ever more present security and prices for drinks go up because the overheads are so high; the wild, hedonistic nature of clubbing gets strangled."
There are other issues to consider, too. In 2016, Fabric — one of London's best-known and most beloved techno clubs — was forced to close its doors following two drug-related deaths (although it has since reopened thanks to a petition appeal that attracted over 160,000 signatures). It's hard to avoid the feeling that the nightlife industry might just be having its last dance.
Such petitions show how important and powerful community spirit is to many pubs, bars and nightclubs. Josh Caffe, a seasoned member of the underground house and techno scene known for his nights with Love Child LDN, reminisces on nightlife not too long ago. "Despite all the challenges and closures London nightlife was experiencing, people were out in full force to support the ones that were pushing on." 
"When the line-ups are more mixed the crowds are too, because if you look up and see someone on stage from a DJ to a dancer who looks like you, it lets you know it's a place for you."
Woo also noted another critical component of the future of nightlife: the threat of gentrification. He says, "Clubs are already at risk due to lack of space in central London, the proliferation of flat building which is turning non-residential areas into areas with high-density accommodation and rent prices going up. Clubs will be the last to open, and I worry that the spaces that are left may be in danger if they remain closed for too long."
Prior to the coronavirus outbreak, London's nightlife — especially in the LGBTQ+ scene — was thriving. "I think the queer scene in London is the best it's been since I moved to London 15 years ago," says Steven Braines, co-founder of the international house and techno event series HE.SHE.THEY., a place without prejudice for people to be people. "There is a camaraderie between nights that didn't exist when I first hit the scene. It was a lot more competitive than collaborative. There are a lot of people using their nights as agents for change within the queer community," they added in reference to collectives like BBZ, Pxssy Palace and Sink the Pink.
Pioneering collectives such as HE.SHE.THEY. and pubs like The Glory strive to provide a safe space, and showcase talent and creativity. Through this, they create a sense of community within LGBTQ+ culture as well as for other marginalized groups. "HE.SHE.THEY. literally exists to break up the straight, white male-monopoly of most big clubs… Even queer clubs are often gay, white male-dominated spaces. When the line-ups are more mixed the crowds are too, because if you look up and see someone on stage from a DJ to a dancer who looks like you, it lets you know it's a place for you; that you're represented and welcomed in the space. It's very simple," say Braines and HE.SHE.THEY. co-founder Sophia Kearney.
All venues are a place for people to come together. In today's coronavirus climate, "bringing people together" takes place on Zoom, where the act has taken on a new form. Whereas nightclubs and pubs serve as a place for hedonism, Instagram Live streams and Google Hangouts have become the venue's way of keeping its community feeling loved. This has been successful for many, such as Love Child LDN and its TALKS series that has truly helped its community.
Community is at the forefront of a good night. At a time when we're arguably more connected than ever before thanks to social media, the likes of HE.SHE.THEY. are using platforms not just to reach out to people but for positive change. "We like to amplify different voices, suggest people who are interesting to be followed, shed light on causes, protests, charities we like. It's a watershed moment for change with Black Lives Matter, the continuing transformative power of #MeToo and a push back against the erosion of LGBTQIA+ rights, especially for the trans community. Our community is a broad church and what we do is intrinsically political as it is ideological. House and techno are political at their roots," say Braines and Kearney.
FOLD, a "venue built with artists and audiences at the forefront of everything," also has community at its core. FOLD's nights are compelling enough to make you "come out [of their venue] with another view on things." David Conde, head of marketing and communications at FOLD, thinks the community is not just what is keeping venues afloat but will see them thrive hereafter. He says, "We have a very strong community at FOLD, we have thankfully been able to stay connected through technology. Social media has allowed our community to stay united and active, through our live streams, releasing online content and spotlighting local talent. Streaming and online contact is crucial to keeping connected and providing for the communities we support until we can open back up and celebrate under one roof again."
Since the lockdown, the world has experienced an uprising in the Black and POC communities. Social uprising and recent events have encouraged people to educate themselves. Venues can, and are, doing the same. Speaking on behalf of FOLD, Conde says, "Since its inception, FOLD has been built on fundamental policies and taken measures to ensure that POC, women, members of the LGBTQ+ community, as well as other minority groups, feel represented and safe whilst attending events." This message of inclusivity is exercised through training in inclusion and awareness. "This is also maintained by FOLD being active members of the communities it represents. These are our people," adds Conde. 
"If there's one thing that we've learned from closures, it's that once these venues go, they don't come back."
The pandemic might act as a reset for many venues. This is a moment for organizers to rethink their approach, or to regenerate an underground scene that goes against the bourgeoisie. Or, as Conde says, it could give people time to "think about what is necessary and what isn't." FOLD, The Glory, Sink the Pink, HE.SHE.THEY. and more are intrinsic in queer culture (and arguably society as a whole, albeit for different reasons). "Nightlife is necessary, so much of the magic and beauty of nightlife comes from being under one roof, sharing the space, and we can't wait to have that back," adds Conde. The time off has allowed those like Conde and FOLD to further connect with their audiences, expand upon its sense of community, and for many, realize the importance it plays in many people's lives. "The cultural and social importance of these places is invaluable, despite what developers and accountants say," says Caffe.
The so-called "reset" is what could save London's nightlife. Nightlife venues alone can't address the fact that queer people of color feel pushed out of many spaces; there's more that everyone can do. In a recent HYPEBEAST article, many queer people of color, and other members of the LGBTQ+ scene, spoke about people being pushed out of a lot of venues — queer-centric or not. 
As venues reopen, they need to look at how their internal policies can better support everyone in the community that has in turn supported them. "I think there needs to be more LGBTQ+ POC inclusion on line ups. It gets exhausting and frustrating still seeing all-white lineups especially for nights or clubs that center their music around house and techno," says Caffe. While venues like those listed above are positively promoting inclusivity, the same cannot be said for all clubs across the country.
The overarching theme in order to save London's nightlife is community, inclusivity and awareness. In the same vein, many people also just want a traditional local pub to go to. "We talk a lot about losing queer venues, but no one talks about the community pub that's been there for years and becomes a hipster pub or a gastropub. [It] presents in such a way and has price points too high, so they feel very unwelcoming to the long-term local residents," says Woo. Such places thrived off community, and as Caffe reminds us all, "If there's one thing that we've learned from closures, it's that once these venues go, they don't come back."
While London definitely isn't the night-time mecca it used to be, many believe there is a future after COVID-19. Despite Woo's realistic attitude, he's confident that "there will always be individuals and small groups who want to do things their way, and they will find spaces to do it in." And these places thrive off of community. They're just like FOLD, The Glory, HE.SHE.THEY. and more. It's about the people that are keeping not just these venues open, but spirits alive. As Conde says, "Everyone coming together to show their support proves there is a future for independent nightlife spaces and, in fact, with backing, we will flourish."