'TIME' and Cool Cats Are Holding a Meme Competition for Limited-Edition NFTs
400 cats are up for grabs.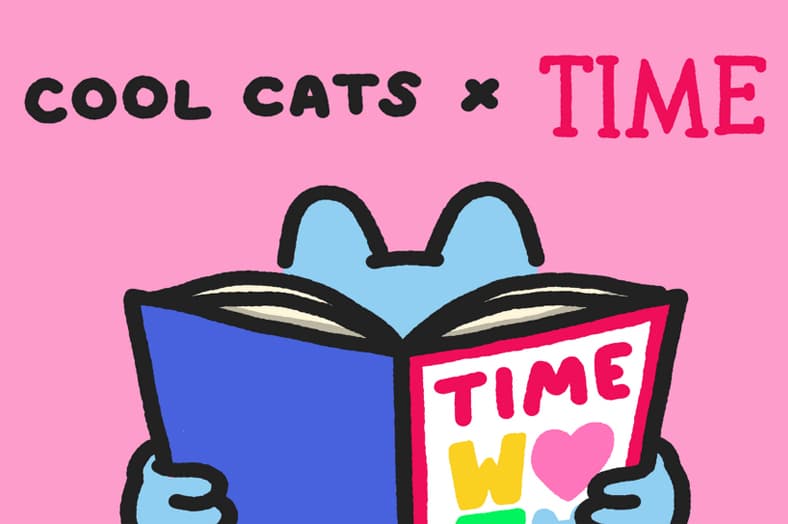 Following its release of four NFT magazine covers and announcement that it will accept cryptocurrency payments for subscriptions, TIME has revealed its most exciting crypto-related project yet in collaboration with Cool Cats.
Cool Cats is a wildly popular NFT collectible on the Ethereum blockchain consisting of 10,000 randomly generated cartoon cats. Each cat has a unique body, hat, face and outfit drawing from over 300,000 total options. Current weekly trading volumes range in the millions, and a single Cool Cat can fetch upwards of 200,000 USD.
TIME is working with Cool Cats to release 400 images across four different designs which will feature the quirky Cool Cats illustrations reading a TIME magazine. In a tweet, TIME president Keith Grossman revealed they chose to pursue this project because the "community exudes positivity and optimism," "Cool Cats are family-friendly and connect cross-generationally" and "WLTCS (We Like The Cats)! Simple as that!"
Instead of selling or auctioning the digital collectibles, TIME and Cool Cats are staging a meme competition. The creators of the eight best memes related to this project will each receive one of the NFT pieces for their efforts. The remaining 392 NFTs will be distributed via raffle exclusively to Cool Cats owners who chose to participate in the meme competition.
The competition will begin on August 13 and close on August 20 at 12 p.m. EST. To enter, submit your meme to the Twitter competition thread by including the hashtag #CoolCatsTIME. If you are a Cool Cat owner, include the id of a Cat you hold by using the following format: CC1234. Head over to the Cool Cats Medium page for more information.
Top 3 Reasons for @TIME & @coolcatsnft collab:

1.) This community exudes positivity and optimism.
2.) ??'s are family friendly and connect cross-generationally – which is important when you have @timeforkids!
3.) WLTCs! Simple as that! https://t.co/GqIH4gI2MP#CoolCatsTIME pic.twitter.com/bDf1uh7dnE

— Keith A. Grossman (@KeithGrossman) August 13, 2021
@TIME X Cool Cats Collab details below!! ???https://t.co/A8o1UkEM6V

— Cool Cats ?? (@coolcatsnft) August 13, 2021
In case you missed it, Axie Infinity becomes the first NFT game to hit $1 Billion in sales.